Sub Menu Toggle
Harlingen ninth-grader worked with UTRGV medical school faculty on genetic research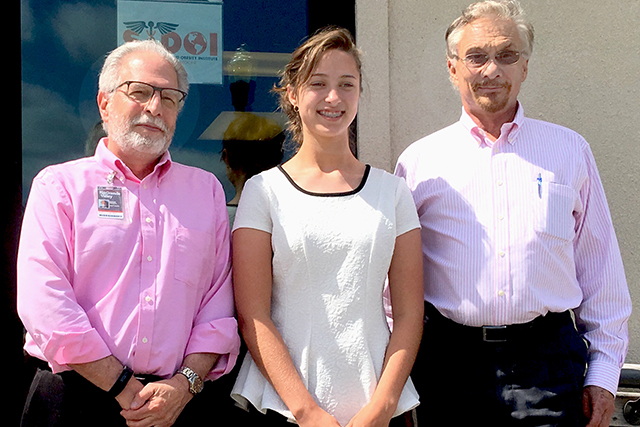 Dr. Michael Mahaney (at left), a genetic epidemiologist at the UTRGV School of Medicine's South Texas Diabetes and Obesity Institute, helped direct Camryn Hale (center), a Harlingen ninth-grader, in genetic research with STDOI. At right is Dr. John VandeBerg, director of Laboratory Opossum at the South Texas Diabetes and Obesity Institute. Under the instruction of the two faculty members, Camryn studied the differences in organ weights among the Monodelphis domestica, also known as the Brazilian opossum. (Courtesy Photo)
By J. Edward Moreno

HARLINGEN, TEXAS – OCT. 6, 2017 – Camryn Hale, 14, a ninth-grader at Dr. Abraham P. Cano Freshman Academy in Harlingen, used to look at her cats and wonder about their genetic make-up and how that might affect their behavioral traits.

"I have two cats, Mini and Maxi, and they have very different personalities," she said. "One likes to vocalize and be with me at all times, and the other is timid and does not like to be held. I wondered what makes one creature behave so socially, while the other is reserved. So I did a lot of research on breeds and their genetic differences, and it made me curious about genetics as a career."

She was able to address some of that curiosity this summer. Under the instruction of Dr. Michael Mahaney, a genetic epidemiologist at the UTRGV School of Medicine's South Texas Diabetes and Obesity Institute, Camryn had a chance to study the Monodelphis domestica, also known as the Brazilian opossum, characterized by its relatively small size.

Unlike other marsupials, the Brazilian female opossums lack a pouch, making them perfect for research on developing fetuses. The research, which compared organ weights among the Brazilian opossums, concluded that about 41 percent of the variation in body weight is caused by genetic factors, and that there is a strong genetic link between liver weight and body weight in species.

Camryn is one of the youngest students to have worked on such research with UTRGV, and Mahaney said one of the institution's goals is to encourage younger students in the Valley to participate in biomedical research. He also hopes a partnership can develop between STDOI and the Harlingen Consolidated Independent School District (CISD).

"We thought, if we can give them the opportunity to see what's being done – at a very young age – that might increase their appreciation for biomedical research and give a sense of what it's like," Mahaney said. "They might be more inclined to participate, or at least be more literate on the subject."

Harlingen Superintendent of Schools Dr. Art Cavazos said he is excited to have his students take advantage of opportunities like this in the future.

"In Camryn, I see the inquisitive nature of all our students, so we must do all we can to help develop their interests," Cavazos said. "We are continuously exploring further opportunities for our students. Opportunities for high school students at this level of study are unheard of but, now that Camryn has had a chance to work with Dr. Mahaney, we hope to work with UTRGV to open the program to more students."

Camryn said she now looks at her cats – and her future – with a little more certainty.

"As of now, I am not sure what exactly I would like as a career, but I will continue to investigate the genetics field," she said.

"There is a lot of pressure for a kid to start making decisions early, and this gave me a real hands-on idea of what a life in STEM would involve," she said. "I didn't have to wait until I was in my first year of college to find out if this was something I wanted to do."

ABOUT UTRGV

The University of Texas Rio Grande Valley (UTRGV) was created by the Texas Legislature in 2013 as the first major public university of the 21st century in Texas. This transformative initiative provided the opportunity to expand educational opportunities in the Rio Grande Valley, including a new School of Medicine, and made it possible for residents of the region to benefit from the Permanent University Fund – a public endowment contributing support to the University of Texas System and other institutions.

UTRGV has campuses and off-campus research and teaching sites throughout the Rio Grande Valley including in Boca Chica Beach, Brownsville (formerly The University of Texas at Brownsville campus), Edinburg (formerly The University of Texas-Pan American campus), Harlingen, McAllen, Port Isabel, Rio Grande City, and South Padre Island. UTRGV, a comprehensive academic institution, enrolled its first class in the fall of 2015, and the School of Medicine welcomed its first class in the summer of 2016.
MEDIA CONTACTS

J. Edward Moreno
UTRGV Staff Writer / 956-665-3639
Marci Caltabiano-Ponce
UTRGV Director of News and Internal Communications / 956-665-2742