Sub Menu Toggle
HESTEC's Robotics Day showcases middle and high school students' talents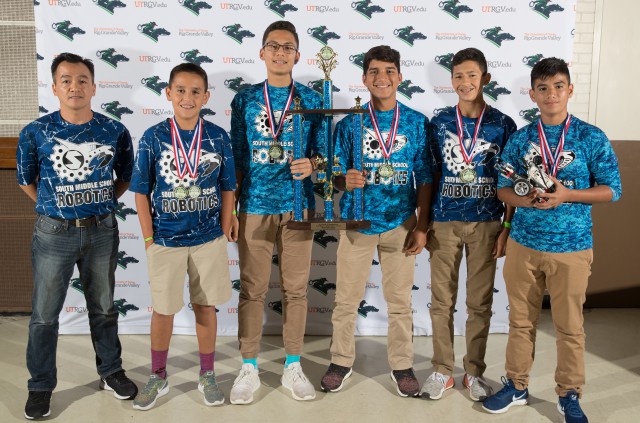 Pictured are the first-place winners of the UTRGV Robotics Day Competition held in Brownsville on Thursday, October 5. The winners were from South Middle School at Edinburg CISD. (UTRGV Photo by David Pike)
By Steven Masso
BROWNSVILLE, TEXAS – OCT. 5, 2017 – Hundreds of middle school and high school students from across the Valley gathered in Brownsville at the Jacob Brown Building-Auditorium for HESTEC Robotics Day.
The students built Lego robots, which they used to compete in a series of challenges, including a search and rescue maze, a race and an obstacle course.
South Middle School (Team Two) of Edinburg received first place overall for their robot. Their coach, Timothy Do, praised his students for their hard work.
"We've been practicing every day for the past month," Do said. "They put in the commitment and dedication, they deserve it."
Emiliano Martinez, an 8th grader from South Middle School, was excited to be a part of this winning team.
"Our group was the underdog," said Martinez. "To win this, it just feels amazing."
 
Milton Hernandez, UTRGV program coordinator for the Division of Governmental and Community Relations, said having events like this are important for the youth community.
"These competitions cater to them and teach them how to problem-solve" Hernandez said. "In life, we all have to learn how to make changes and adapt to situations, and that's what we're trying to push with these kids."
Other awards included:
Kenneth White Jr. High School (Team One) of Mission, 2nd Overall
South Middle School (Team One) of Edinburg, 3rd Overall
Mission High School, winners of the Lego Speed Challenge
United High School (Team One) of Laredo, winners of the Lego Search and Rescue Challenge.
South Middle School (Team Two) of Edinburg, winners of the Lego Tracer Challenge.
Donna North High School, winners of the Lego Maze Challenge
HESTEC events continue with the U.S. Navy SeaPerch Challenge on Friday, October 6 in Harlingen.
ABOUT UTRGV
The University of Texas Rio Grande Valley (UTRGV) was created by the Texas Legislature in 2013 as the first major public university of the 21st century in Texas. This transformative initiative provided the opportunity to expand educational opportunities in the Rio Grande Valley, including a new School of Medicine, and made it possible for residents of the region to benefit from the Permanent University Fund – a public endowment contributing support to the University of Texas System and other institutions.
UTRGV has campuses and off-campus research and teaching sites throughout the Rio Grande Valley including in Boca Chica Beach, Brownsville (formerly The University of Texas at Brownsville campus), Edinburg (formerly The University of Texas-Pan American campus), Harlingen, McAllen, Port Isabel, Rio Grande City, and South Padre Island. UTRGV, a comprehensive academic institution, enrolled its first class in the fall of 2015, and the School of Medicine welcomed its first class in the summer of 2016.
MEDIA CONTACTS
Steven.Masso01@UTRGV.edu
UTRGV Student Writer / 956-882-4330
Marci.Caltabiano@UTRGV.edu
UTRGV Director of News and Internal Communications / 956-665-2742