Sub Menu Toggle
Mothers and daughters enjoy inspirational messages during Latina Day at UTRGV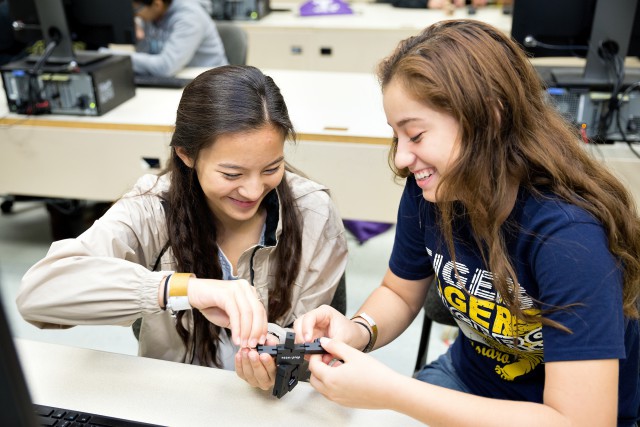 Students here are working on a robot puzzle, during an 'Intro to Programming" session presented by Facebook during UTRGV's HESTEC Latina Day on Wednesday, Oct. 4, 2017, at the Fieldhouse on the Edinburg Campus. (UTRGV Photo by Paul Chouy)
Story by Jennifer L. Berghom
EDINBURG, TEXAS – OCT. 4, 2017 – Hundreds of high school girls and their mothers learned about the educational and career opportunities that await them – and about the power of hard work and ambition – during the 16th annual Hispanic Engineering, Science and Technology (HESTEC) Week at The University of Texas Rio Grande Valley.
The girls and their mothers attending Wednesday's Latina Day heard from community leaders at the UTRGV Fieldhouse on the Edinburg Campus about the importance of setting goals, following their dreams, developing strong networking and communication skills and staying positive.
Linda Tovar, senior manager of public affairs for H-E-B border region, shared her life story and offered lessons in life to the mothers and daughters in attendance, among them, keep an open mind to opportunities that come along; don't be afraid to take risks and try new things; never become complacent; and always strive to do and learn more.
She urged mothers to be patient with their ambitious daughters, because that ambition will allow them to succeed in life.
"No matter what your circumstance is, with dedication, ambition and commitment, you can persevere," she said.
Tovar also offered the women one more life lesson: to pass on the message to those who follow in their footsteps that education is the key to their success.
"I would not be here today if it was not for the university now known as UTRGV, and the dedicated pursuit of higher education," she said. "Work hard, dream big, my beautiful Latinas."
Also on the agenda for Latina Day were Sarah Sagredo-Hammond, of Atlas RGV, and Cristina Solis-Wilson, of CM Institute of Leadership, who gave a presentation on the importance of developing strong communication and networking skills.
Bridgett Krause, an executive coach with the John Maxwell Team and founder and CEO of the Dream Big Facility, a leadership development company, talked to the group about leadership and the importance of staying positive even in adverse situations.  "Leadership is influence," Krause said.
Karen Torres, an 18-year-old senior at Mercedes High School, and her mother, Maribel Torres, said they enjoyed the speakers and the uplifting messages.
"They were very motivational," Karen Torres said.
She said she especially enjoyed the breakout sessions about STEM fields, because she is interested in studying biology and business.
HESTEC continues Thursday at the Jacob Brown Building-Auditorium on the Texas Southmost College Campus with Robotics Day, where hundreds of students will compete in a robotics Quadrathon Challenge for prizes.
Visit the HESTEC website for a complete list of events and News to read more about HESTEC.
ABOUT UTRGV
The University of Texas Rio Grande Valley (UTRGV) was created by the Texas Legislature in 2013 as the first major public university of the 21st century in Texas. This transformative initiative provided the opportunity to expand educational opportunities in the Rio Grande Valley, including a new School of Medicine, and made it possible for residents of the region to benefit from the Permanent University Fund – a public endowment contributing support to the University of Texas System and other institutions.
UTRGV has campuses and off-campus research and teaching sites throughout the Rio Grande Valley including in Boca Chica Beach, Brownsville (formerly The University of Texas at Brownsville campus), Edinburg (formerly The University of Texas-Pan American campus), Harlingen, McAllen, Port Isabel, Rio Grande City, and South Padre Island. UTRGV, a comprehensive academic institution, enrolled its first class in the fall of 2015, and the School of Medicine welcomed its first class in the summer of 2016.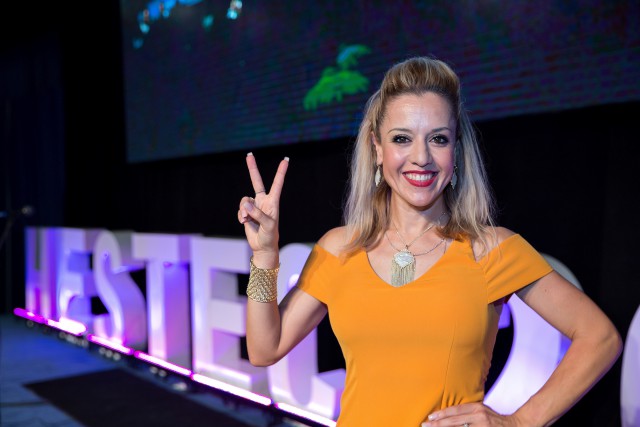 Linda Tovar, senior manager of H-E-B border region public affairs, was the keynote speaker for UTRGV's Latina Day during HESTEC Week. (UTRGV Photo by Paul Chouy)

Hundreds of high school girls and their mothers learned about the educational and career opportunities – and about the power of hard work and ambition – during Latina Day, part of the 16th annual Hispanic Engineering, Science and Technology (HESTEC) Week at UTRGV. The Mother-Daughter luncheon event was held Wednesday, Oct. 04, 2017, at the Fieldhouse on the Edinburg Campus. (UTRGV Photo by Paul Chouy)
PHOTO GALLERY
https://utrgv-umc.photoshelter.com/galleries/C0000OxOMyzQL3z4/G0000wcaz_0ZIPGo/20171004-HESTEC-Latina-Day-EC-PC
Password: hestec (case sensitive)
VIDEO QUOTE OF THE DAY
LINDA TOVAR: https://www.youtube.com/watch?v=uvsUfpTcKb8&feature=youtu.be
MEDIA CONTACTS
Letty.Fernandez@utrgv.edu
UTRGV Community Relations Liaison / (956) 882-6535
Jennifer.Berghom@UTRGV.edu
UTRGV Senior Writer / 956-665-7192
Marci Caltabiano-Ponce
UTRGV Director of News and Internal Communications / 956-665-2742