Sub Menu Toggle
Grand Hank the Hip-Hop Scientist rocks the house on Student Leadership Day
Grand Hank, the Hip-Hop Scientist, gave the keynote presentation during the 16th annual HESTEC Student Leadership Day, Tuesday, Oct. 3, 2017, at the UTRGV Fieldhouse on the Edinburg Campus. (UTRGV Photo by Paul Chouy)
Story by J. Edward Moreno
EDINBURG, TX -- OCT. 3, 2017 – Science teachers don't typically use elements like hip-hop music in their lesson plans. But Tyraine Ragsdale is anything but typical.
Better known as Grand Hank, the Hip-Hop Scientist, Ragsdale is a master scientist and television personality who is trying to change the way science teachers … well, teach.
A former research chemist for Johnson & Johnson, Ragsdale presented his "edutainment" show on Tuesday to 265 high school students and chaperones from 14 school districts across the Rio Grande Valley, as part of Student Leadership Day during UTRGV's 16th annual Hispanic Engineering, Science and Technology (HESTEC) Week.
Between dance battles and hip-hop beats, courtesy of his colleague and "Turntable Wizard" Marty G, Ragsdale performed interactive science experiments and shared the personal story of how a low-income African American student pursued a science education.
"I didn't want to stay in the situation my family was in, so I had to use my mind to get out of that situation," he said. "I went on to college. And when I graduated, I was the only African American out of 38,000 people to get a degree in chemistry."
At the end of his presentation, a sea of students with raised hands sang his staple tune, "Anybody can be a scientist!"
Student Leadership Day also included remarks by Daniel Pittaluga, senior manager of production engineering and vehicle planning lead for Mexico projects for Toyota Motor North America, and a keynote address from Stephen Ritz, STEM/STEAM executive director of Green Bronx Machine.
Students also participated in breakout sessions, where they performed hands-on activities and learned more about opportunities in postsecondary education.
HESTEC continues Wednesday with Latina Day.
Visit the HESTEC website for a complete list of events and News to read more about HESTEC.
ABOUT UTRGV
The University of Texas Rio Grande Valley (UTRGV) was created by the Texas Legislature in 2013 as the first major public university of the 21st century in Texas. This transformative initiative provided the opportunity to expand educational opportunities in the Rio Grande Valley, including a new School of Medicine, and made it possible for residents of the region to benefit from the Permanent University Fund – a public endowment contributing support to the University of Texas System and other institutions.
UTRGV has campuses and off-campus research and teaching sites throughout the Rio Grande Valley including in Boca Chica Beach, Brownsville (formerly The University of Texas at Brownsville campus), Edinburg (formerly The University of Texas-Pan American campus), Harlingen, McAllen, Port Isabel, Rio Grande City, and South Padre Island. UTRGV, a comprehensive academic institution, enrolled its first class in the fall of 2015, and the School of Medicine welcomed its first class in the summer of 2016.
Students used cell phones and tablets to capture an 'edutainment' performance by Grand Hank, the Hip-Hop Scientist, during the 16th annual HESTEC Student Leadership Day, Tuesday, Oct. 3, 2017, at the UTRGV Fieldhouse on the Edinburg Campus. (UTRGV Photo by Paul Chouy)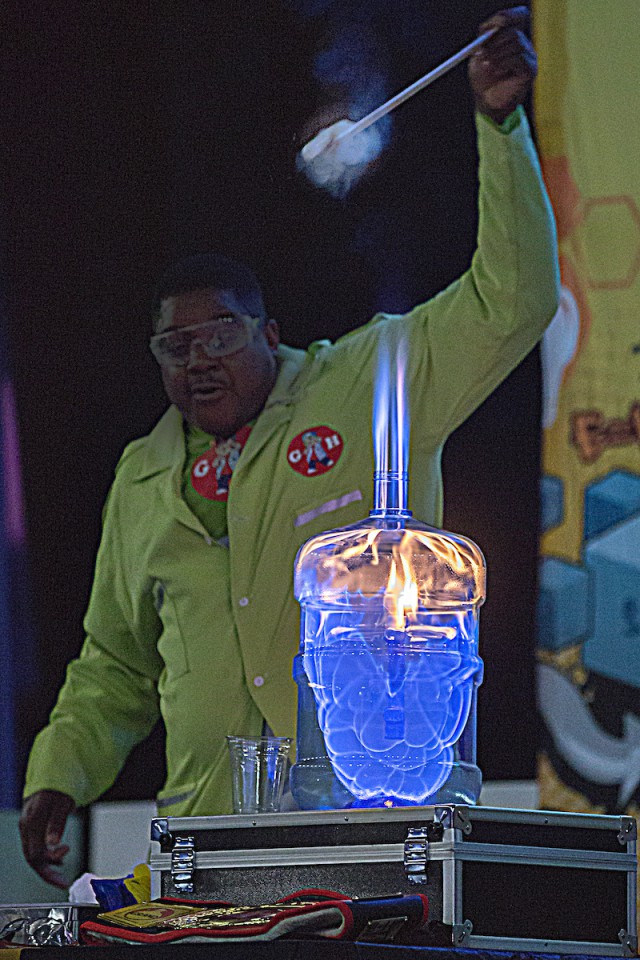 Grand Hank, the Hip-Hop Scientist, broke out the hip-hop science during his keynote appearance at the 16th annual HESTEC Student Leadership Day, Tuesday, Oct. 3, 2017, at the UTRGV Fieldhouse on the Edinburg Campus. (UTRGV Photo by Paul Chouy)
PHOTO GALLERY
https://utrgv-umc.photoshelter.com/galleries/C0000OxOMyzQL3z4/G0000ICVG_Ekzr2c/20171003-HESTEC-Student-Leadership-Day-EC-PC
Password: hestec (case sensitive)
VIDEO QUOTE OF THE DAY
GRAND HANK, THE HIP HOP SCIENTIST: Tyraine Ragsdale (a.k.a Grand Hank, the Hip-Hop Scientist) rocked the UTRGV Fieldhouse on Tuesday during HESTEC's Student Leadership Day. A former research chemist, he shared his life story and his innovative approach, using Hip Pop music and hands-on demonstrations to reach out to students about STEM.
https://www.youtube.com/watch?v=uvsUfpTcKb8&feature=youtu.be
MEDIA CONTACTS
Letty.Fernandez@utrgv.edu
UTRGV Community Relations Liaison / (956) 882-6535
 
J. Edward Moreno
UTRGV Staff Writer / 956-665-3639
Marci Caltabiano-Ponce
UTRGV Director of News and Internal Communications / 956-665-2742