Sub Menu Toggle
Legislators Awards Dinner opens HESTEC Week at UTRGV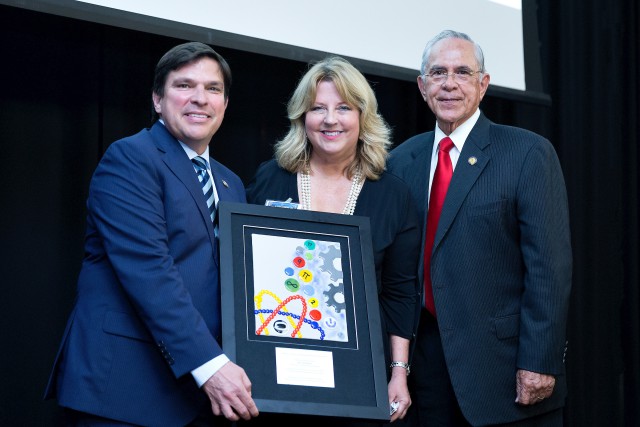 Dr. Tina Atkins, longtime educator (recently retired) and administrator for the Center for Excellence in College, Career and Life Readiness at Region One Education Service Center, was honored for her many years of service, with the Rubén Hinojosa "Champions in Engineering and Science Advancement" (CIENCIA) Award. She accepted the award during the UTRGV launch of HESTEC Week 2017, during the Legislators Reception and Awards Dinner on Sunday, Oct. 1, at the University Ballroom on the UTRGV Edinburg campus. She is shown here with U.S. Rep. Vicente Gonzalez (TX-15) (at left) and retired U.S. Rep. Rubén Hinojosa (TX-15), the first recipient of the CIENCIA Award, bestowed in 2016. (UTRGV Photo by Paul Chouy)
By Letty Fernandez
RIO GRANDE VALLEY, TEXAS – OCT. 2, 2017 – The University of Texas Rio Grande Valley launched the 2017 Hispanic Engineering, Science and Technology (HESTEC) Week with a Legislators Reception and Awards Dinner on Sunday, Oct. 1, at the University Ballroom at the UTRGV Edinburg Campus.
HESTEC Week brings thousands of middle and high school students, educators and parents to UTRGV campuses and classrooms to take part in presentations by world-renowned speakers, interactive educational exhibits, dynamic robotics competitions and more.
The weeklong conference is designed to spur interest in the science, technology, engineering and mathematics (STEM) fields for middle and high school students, and has had a total impact on more than 1 million people.
At the Legislators Reception and Awards Dinner, the audience heard from lifelong educator Steven Ritz, of the Green Bronx Machine. Originally an after-school, alternative program for high school students, Green Bronx Machine has evolved into a K-12+ model fully integrated into core curriculum. Students grow, eat and love their vegetables en route to spectacular academic performance.
"I am excited to be in the Rio Grande Valley for HESTEC Week," Ritz said, "and I look forward to sharing our message this week with students, parents and educators."
Ritz will speak at Educator Day and Student Leadership Day during HESTEC Week.
HESTEC CIENCIA AWARD
Dr. Tina Atkins, longtime educator (recently retired) and administrator for the Center for Excellence in College, Career and Life Readiness at Region One Education Service Center, was honored for her many years of service with the Rubén Hinojosa "Champions in Engineering and Science Advancement" (CIENCIA) Award.
Atkins led regional college access efforts for Deep South Texas, including oversight of three Region One ESC GEAR UP partnerships supporting more than 25,000 students in 29 school districts, working with seven college and university systems along the Texas-Mexico border. GEAR UP has been an integral part of HESTEC since it began in 2001.
Former U.S. Congressmen Rubén Hinojosa, along with congressmen Henry Cuellar, Filemón Vela and Vicente Gonzalez, presented the award to Atkins. Hinojosa was the recipient of the first CIENCIA award, bestowed in 2016.
The award draws its name from the Spanish word for "science" and is based on an acronym for "Champions in Engineering and Science Advancement." The award, which carries visual symbols related to STEM, was designed by two UTRGV students.
FIRST HESTEC SCHOLARSHIPS
2016 was a special anniversary for the HESTEC program, and to mark that milestone, a scholarship program was created to help Rio Grande Valley high school seniors entering UTRGV and pursuing a degree in a STEM-related field.
Eight students who are recent graduates of a GEAR UP program and who have committed to a STEM field of study at UTRGV were awarded the first scholarships.
Those scholarship recipients are Katelyn Aguilar, Edinburg, Joel Flores, Roma, Sonia Garza, Brownsville, Cecilia Gonzalez, Rio Grande City, Arianna Guerra, Rio Grande City,  Ashley Olivarez, Pharr, Mario Saenz, Roma, and Yazmin Salinas, Hidalgo.
ABOUT HESTEC 2017
HESTEC Week runs Oct. 1 through Oct. 7, with events in Edinburg, Brownsville and Harlingen.
The final event of the week is HESTEC Community Day on Saturday, Oct. 7, at UTRGV in Edinburg. The Rio Grande Valley community is invited to the free festival, which features family-friendly activities and entertainment.
In conjunction with HESTEC Week, a special exhibit – MAYA: Hidden Worlds Revealed – will be on display in the Visitors Center on the UTRGV Edinburg Campus. The original, one-of-a-kind traveling exhibit features Mayan cultural artifacts, photographic panels, original Mayan clothing, and hands-on modules, which allow visitors to explore Mayan architecture, history, the calendar and hieroglyphics. It will be on exhibit until Jan. 5, 2018.
MEDIA CONTACTS
Letty.Fernandez@utrgv.edu
UTRGV Community Relations Liaison / (956) 882-6535
Marci.Caltabiano@UTRGV.edu
UTRGV Director of News and Internal Communications / (956) 665-2742