Sub Menu Toggle
UTRGV International Students join in on Thanksgiving festivities on Brownsville Campus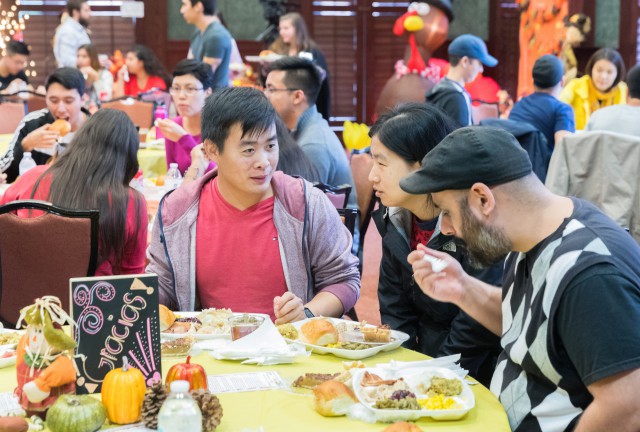 UTRGV students from around the world gathered at Salón Cassia on the Brownsville Campus for a traditional Thanksgiving meal of turkey, ham and all the trimmings. This is the third year the International Admissions and Student Services (IASS) department has invited the university's international students to celebrate Thanksgiving. (The meal for international students on the Edinburg Campus was on Tuesday.) Samantha Lopez, director of IASS, said the university's students are from some 80 countries, and the meal is a way to introduce them to U.S. traditions. (UTRGV Photo by David Pike)
By Maria Elena Hernandez
BROWNSVILLE, TEXAS – NOV. 22, 2017 – UTRGV students from around the world gathered at Salón Cassia on the Brownsville Campus to celebrate an American tradition.
Steam rose from mounds of turkey and ham, and the mouth-watering aroma of a Thanksgiving meal filled the air –a meal very different from the one Andrés Eduardo Treviño had planned.
"I was going to eat Ramon noodles, but this is much better," said Trevino, a student from Mexico.
This is the third year the International Admissions and Student Services (IASS) department has invited the university's international students to celebrate Thanksgiving. (The meal for international students on the Edinburg Campus was on Tuesday.) The students represent about 65 countries, said Samantha Lopez, director of IASS, said the meal is a way to introduce the students to U.S. traditions, and a way to thank them for choosing to attend UTRGV.
The tables at Salón Cassia filled up quickly. Treviño described the food as "super good," and another student said she'd been eating turkey since Friday and didn't mind at all.
Several students said that, while their countries don't have a holiday similar to Thanksgiving, gathering with family and friends over food is often how they mark a celebration.
In addition to the meal, students were invited to write down what they are thankful for on paper leaves, which were then hung on a lighted tree. Several of the leaves mentioned friends and family.
The IASS director said she understands international students may not be able to be with family on the holidays.
"We want them to feel like they're at home," Lopez said. "We are their family – UTRGV family."
ABOUT UTRGV
The University of Texas Rio Grande Valley (UTRGV) was created by the Texas Legislature in 2013 as the first major public university of the 21st century in Texas. This transformative initiative provided the opportunity to expand educational opportunities in the Rio Grande Valley, including a new School of Medicine, and made it possible for residents of the region to benefit from the Permanent University Fund – a public endowment contributing support to the University of Texas System and other institutions.
UTRGV has campuses and off-campus research and teaching sites throughout the Rio Grande Valley including in Boca Chica Beach, Brownsville (formerly The University of Texas at Brownsville campus), Edinburg (formerly The University of Texas-Pan American campus), Harlingen, McAllen, Port Isabel, Rio Grande City, and South Padre Island. UTRGV, a comprehensive academic institution, enrolled its first class in the fall of 2015, and the School of Medicine welcomed its first class in the summer of 2016.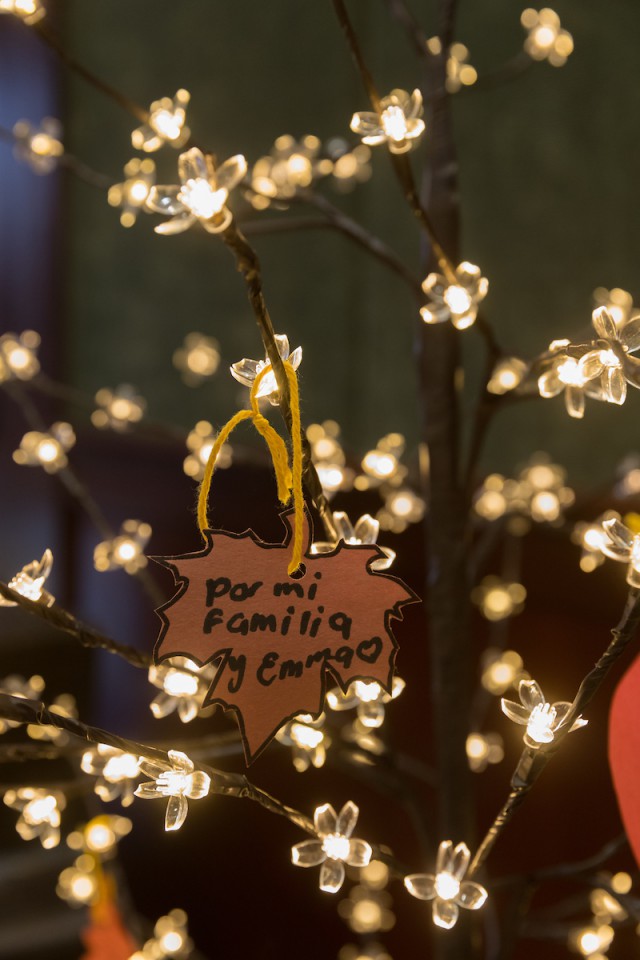 UTRGV held a special Thanksgiving luncheon for international students on Wednesday on the Brownsville Campus. In additional enjoying a traditional meal, students were invited to write down what they are thankful for on paper leaves, which were then hung on a lighted tree. (UTRGV Photo by David Pike)
UTRGV PHOTO GALLERY by DAVID PIKE: https://utrgv-umc.photoshelter.com/galleries/C0000OxOMyzQL3z4/G0000POVLIJwAqpE/20171122-Intl-Student-Thanksgiving-Lunch-BC-DP
Password: turkey (case sensitive)
UTRGV VIDEO by RICARDO CAMARGO: https://youtu.be/n__1suT-NTQ
MEDIA CONTACTS
Malena.Hernandez@utrgv.edu
UTRGV Senior Writer / 956-882-8787  
Marci.Caltabiano@UTRGV.edu 
UTRGV Director of News and Internal Communications / 956-665-2742