Sub Menu Toggle
UTRGV shows gratitude to international students with a Thanksgiving meal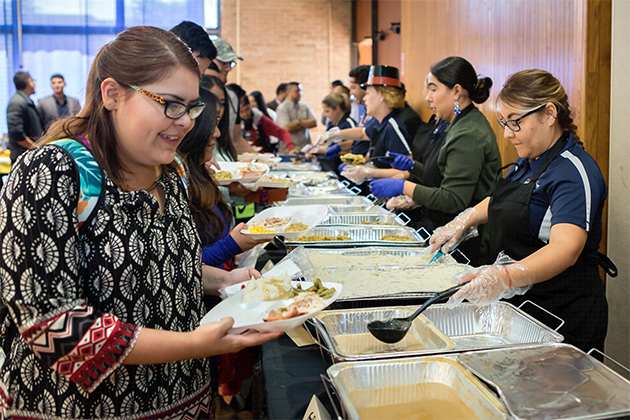 The University of Texas Rio Grande Valley International Admissions and Students Services office treated hundreds of international students to a Thanksgiving meal Tuesday at the UTRGV Ballroom on the Edinburg Campus. International Admissions and Student Services will provide a Thanksgiving meal to international students Wednesday on the Brownsville Campus. (UTRGV photo by Silver Salas) 
PHOTO GALLERY
PASSWORD: ogelunch
By J. Edward Moreno
EDINBURG, TX—NOV. 21, 2017—Hundreds of international students gathered at The University of Texas Rio Grande Valley Edinburg Campus Ballroom Tuesday to share a staple Thanksgiving meal of turkey, mashed potatoes, green beans, stuffing and, of course, pumpkin pie.
Students from around the world shared laughs and conversations as they celebrated the unique American holiday.
Samantha Lopez, director of International Admissions and Student Services (IASS), said the university hosts the event to welcome students to UTRGV by showing them a part of American culture that they may not have experienced before.
"IASS celebrates Thanksgiving since it is a national holiday in the U.S.," she said. "We want to expose the international students to American traditions that are part of our culture. We also want to express our gratitude for choosing UTRGV as their school to pursue their studies in the U.S."
Daniel Trekn, an international student from Ghana earning his Ph.D. in information systems, said the message behind Thanksgiving resonates in his culture as well.
"In my culture we love to show our appreciation a lot," he said. "I like that in America there is a specific day to show your appreciation."
Aminur Chowdhury, a graduate chemistry student from Bangladesh, echoed that sentiment, adding that he particularly enjoys the international community at UTRGV.
"Thanksgiving is completely new to me, but in my country we have similar things," he said. "I am almost 10,000 kilometers from my family so this (the students sitting around him) is my family for now."
For international students on the Brownsville Campus, the Thanksgiving lunch will take place at noon Wednesday, Nov. 11, in Salon Cassia. 
ABOUT UTRGV
The University of Texas Rio Grande Valley (UTRGV) was created by the Texas Legislature in 2013 as the first major public university of the 21st century in Texas. This transformative initiative provided the opportunity to expand educational opportunities in the Rio Grande Valley, including a new School of Medicine, and made it possible for residents of the region to benefit from the Permanent University Fund – a public endowment contributing support to the University of Texas System and other institutions.
UTRGV has campuses and off-campus research and teaching sites throughout the Rio Grande Valley including in Boca Chica Beach, Brownsville (formerly The University of Texas at Brownsville campus), Edinburg (formerly The University of Texas-Pan American campus), Harlingen, McAllen, Port Isabel, Rio Grande City, and South Padre Island. UTRGV, a comprehensive academic institution, enrolled its first class in the fall of 2015, and the School of Medicine welcomed its first class in the summer of 2016.
MEDIA CONTACTS
J. Edward Moreno
UTRGV Staff Writer / 956-665-3639  
Marci.Caltabiano@UTRGV.edu
UTRGV Director of News and Internal Communications / 956-665-2742