Sub Menu Toggle
Manufacturing Innovations Hub established by UTRGV, GBIC to bring manufacturing to RGV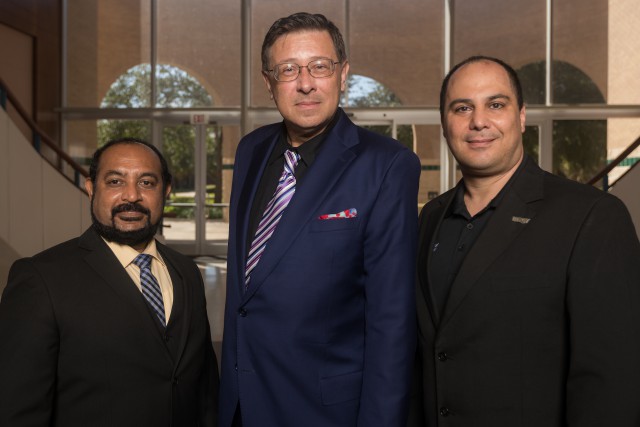 The UTRGV College of Engineering and Computer Science has received a grant from the Greater Brownsville Incentives Corporation to lead the Manufacturing Innovations Hub (MIH) in Brownsville. Leading the project are, from left, Dr. Immanuel Edinbarough, associate dean for External Affairs and Innovation; Dr. Alexander Domijan, dean of the College of Engineering and Computer Science; and Dr. Constantine Tarawneh, director of the University of Transportation Center for Railway Safety and associate dean for Research. (UTRGV Photo by David Pike)
By Vicky Brito
BROWNSVILLE, TEXAS – MAY 31, 2017 – The UTRGV College of Engineering and Computer Science (COEC) and the Greater Brownsville Incentives Corporation (GBIC) have signed a Memorandum of Understanding to develop a $20 million Manufacturing Innovations Hub.   
The hub will work to develop a manufacturing ecosystem that helps transform ideas into actual products. The on-site members and students will assist in making and proofing designs, develop production tools and build the prototype to manufacture a commercial product.
Students from UTRGV, Texas State Technical College, Texas Southmost College will be able to participate in the MIH.
"We are actively engaging with the City of Brownsville to implement a strategic vision targeted at making the Rio Grande Valley the next Silicon Valley, but with a broader emphasis on bringing back manufacturing to the USA," said Dr. Alexander Domijan, dean of the College of Engineering and Computer Science, who serves as principal investigator of the project.
"We will be partnering with many stakeholders globally, and leverage the tremendous people assets of the Valley, which represent the changing face of the nation," he said. "With industry and government, and use of our strategic plan that is based on compassion, community and technology as the drivers, we will produce jobs, create wealth locally and provide a path to a better life for all."
Joining Domijan on the project for the COEC are:
Co-PI Dr. Immanuel Edinbarough, associate dean for External Affairs and Innovation.
Co-PI Dr. Constantine Tarawneh, associate dean for Research.
Co-PI Dr. Javier Kypuros, associate dean for Academic Affairs.
Edinbarough will oversee the manufacturing aspect of the MIH.
"The idea is to keep the talented student pool in the Valley by providing them with an apprenticeship to build upon their skills," Edinbarough said.
The site will be at Highway 511 and Highway 48 near the Port of Brownsville, housed in a 20,000-square-foot facility.
The GBIC will fund the center for five years, until the center is self-sustaining. Projected revenue from the hub project is estimated at $1 billion.
STUDENT ROLES
There are three levels of training a student can earn on this project.
The first level provides students with training to receive a certificate in tool and die making.
The second level is participating in an apprenticeship in tool and die making.
In the third and final level of training, the students will become master tool and die makers.
The process is designed to engage engineering and technical students at all levels.
In return, students will gain real life experience on industry projects and train to be professionals working in the field of advanced manufacturing capable of  developing complex industry parts made from the variety of manufacturing processes – including, computer numerical control machining, coordinate measuring machines and rapid prototyping machines.
"This is a once in a lifetime opportunity for them to get trained for real life industry jobs and hone their skills through the apprenticeship," Edinbarough said. "They will get a unique a certification in tool and die making and can become a master tool and die makers. When the students are benefiting, the college is benefiting."
At the Manufacturing Innovations Hub, students will develop skills in advanced manufacturing processes, including development and maintenance of enterprise resource planning software, lean and six sigma manufacturing, programmable logic controllers, robotics and industrial automation, and all other aspects of industrial engineering.
MEDIA CONTACTS

Roxanna.Rosas@cob.us
City of Brownsville Public Relations Officer / 956-548-6189
Victoria.Brito @UTRGV.edu
UTRGV Informational Writer / 956-882-4330
Marci.Caltabiano@UTRGV.edu
UTRGV Director of News and Internal Communications / 956-665-2742