Sub Menu Toggle
UTRGV to receive almost $14M in federal funding for Upward Bound programs across the Valley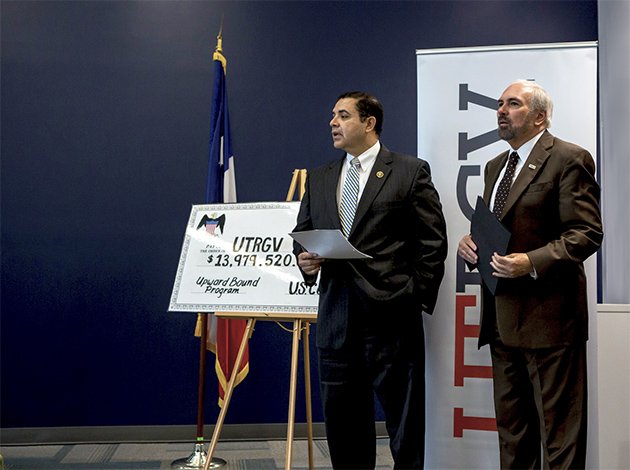 During a press conference May 26, Congressman Henry Cuellar (TX-28) (at left) and UTRGV President Dr. Guy Bailey announced the receipt of nine federal grants under the U.S. Department of Education's Upward Bound Program, to help Valley high school students prepare for college. UTRGV will receive $2,795,904 the first year, beginning September 2017, and over the five years of the program could receive nearly $14 million. The funding will allow four current Upward Bound  programs in Hidalgo and Cameron counties to continue, and will provide for five new programs in Port Isabel, Raymondville, Lyford, La Gruella and Rio Grande City. (UTRGV Photo by Silver Salas)
Congressman Henry Cuellar, UTRGV President Guy Bailey make joint announcement at May 26 press conference in Mission
By Gail Fagan
MISSION, TEXAS – MAY 26, 2017 – The University of Texas Rio Grande Valley will receive nine federal grants worth almost $14 million over the next five years, to help Valley high school students prepare for and enter college.
Congressman Henry Cuellar (TX-28) made the announcement of the awards at a press conference May 26 at the Mission CEED Building attended by UTRGV officials and representatives from the offices of U.S. Sen. John Cornyn and Congressman Vicente Gonzalez (TX-15). The funding will support students in the districts of Cuellar, Gonzalez and Congressman Filemón Vela Jr. (TX-34). 
The funding is under the U.S. Department of Education's Upward Bound Program, one of eight Federal TRIO programs offering outreach and student services programs for individuals from disadvantaged backgrounds, including low-income individuals, first-generation college students and individuals with disabilities, to progress through the academic pipeline to post baccalaureate programs.
"Education changes lives, and every child in my district deserves the opportunity to strive for college," Cuellar said in a prepared statement. "I fought for these funds to give the students in my district at Rio Grande City High School and Mission High School, as well as students throughout South Texas, the resources they need to attend a great institution like UTRGV."
Cuellar, who is a member of the U.S. House of Representatives Appropriations Committee, said he worked to increase funding for the TRIO Program to $950 million for the 2017 fiscal year – an increase of $50 million from the 2016 fiscal year budget.
UTRGV will receive $2,795,904 in the first year, beginning September 2017. The program is anticipated to continue for five years, which means UTRGV may receive a total of $13,979,520.
The funds will support the continuation of four Upward Bound programs – one in Hidalgo County and three in Cameron County – which currently serve a total of 358 students, and provides funding for five new Upward Bound programs – in Port Isabel, Raymondville, Lyford, La Gruella and Rio Grande City – which will serve an additional 300 students. 
UTRGV President Guy Bailey recounted his own college experience.
"I was a first generation college student and I was completely lost," he said. "TRIO programs provide that mentoring and set of relationships that kids who have a tradition of going to college already have. We are going to reach a lot of students who have never been reached before."
UTRGV's Upward Bound Program, which currently serves students in Rio Hondo, Brownsville, Edinburg, Edcouch-Elsa and Mission, has been in existence since 1972 and has been successfully refunded every five years since then.
At UTRGV Upward Bound, services include test preparation for the SAT, ACT and TSI, financial aid information and application preparation, career interest inventories, college essay preparation workshops and college road trips.
A six-week summer enrichment program offers classes in math, science, literature and Spanish, to prepare students for fall classes in their school districts. During the summer, Upward Bound also offers the Summer Bridge/College Academy for graduating seniors, where they can enroll in and live at UTRGV the summer before their first college semester, and take six hours of coursework.
Tutoring and mentoring at target schools is also provided. Nearly 2,000 hours of after-school tutoring was made available to Upward Bound students during the 2015-16 school year.
Dr. Sylvia Leal, UTRGV associate vice president for Student Education Outreach, said UTRGV is able to provide more individualized and customized attention to the students' college preparation on topics like financial aid, but also on quality academic preparation.
"We can help to monitor students' grades, give them feedback, provide tutoring, help students and parents understand the kind of academic preparation and courses they need in high school to adequately prepare to enter and succeed in an institution of higher education," Leal said.
Dr. Beatriz Becerra-Barchkholtz, executive director of College Access Outreach Programs at UTRGV and principal investigator on all nine grants approved, said the receipt of all nine grants applied for was unprecedented. 
"My goal was to grow these programs alongside the growth of UTRGV. UTRGV is growing in so many directions, so I wanted to keep up with that growth in the areas of pre-college programs," she said.
That was why she wanted to expand into Rio Grande City in Starr County, and Lyford in Willacy County, where the need for such programs is high.
"It is gratifying to know that we can continue to do this important work for our students," she said.
Dr. Kristin Croyle, UTRGV vice president for Student Success, said the student educational outreach staff that writes these grants decided they wanted to go beyond serving the students they already serve.
"Now their plan is that every time they write a renewal of a grant for an area already served, they are going to approach other areas – particularly those not served before – and write a grant for them as well," she said. "Although double the effort, the potential payoff is fantastic."
MEDIA CONTACTS
Gail.Fagan@UTRGV.edu
Senior Writer / 956-665-7995  
Marci.Caltabiano@UTRGV.edu
UTRGV Director of News and Internal Communications / 956-665-2742