Sub Menu Toggle
UTRGV computer science, art students share their prototypes at Game Showcase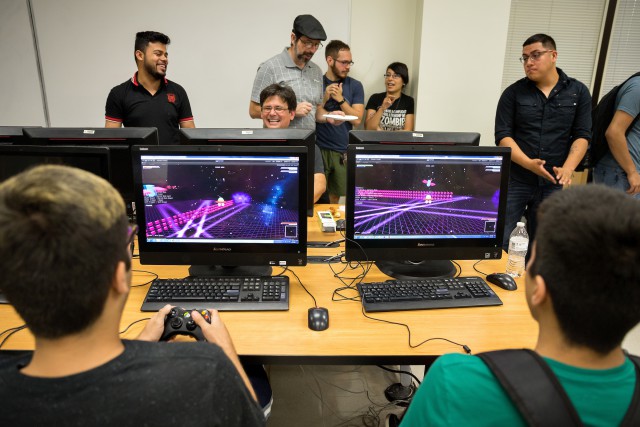 UTRGV students turned out to test and vote for the best of nine video game prototypes, during the UTRGV Game Showcase, held May 11 at the Edinburg Campus Computer Systems Lab. The prototypes were created by computer science and art students in a Game Design course offered at the university. (UTRGV Photo by Paul Chouy)
By Gail Fagan
RIO GRANDE VALLEY, TEXAS – MAY 26, 2016 – Avid video gamers and students at UTRGV found themselves running from encounters with scary clowns in "Hellstorm" to protecting a sweetheart from evil in a survival game, "Call of Candy: Modern Marshmallow."
The event was a Game Showcase, held May 11 at the UTRGV Edinburg Campus Computer Systems Lab. Students were testing and voting for the best of nine showcase games created by UTRGV computer science and graphic arts students enrolled in the Game Design course co-taught by Dr. Emmett Tomai, associate professor of computer science, and Donna Sweigart, associate professor of art and design.
Taking home the first place honor was "Cyber City," a game created by programmers Alfredo Martinez and Mario Cerda and artists Erick Rodriguez and Alexander Cortez.
In the game, the player is a third-person shooter set in a cyberpunk world. The goal is to find a way into a nightclub by going into city slums, finding a passkey to gain entry and getting past a sub-boss before traveling to the club's roof for the big showdown with the last boss of the game.
"In the class, I've learned a lot about optimization, how to make a game, and about the struggles finding the time to create it," said Martinez, a senior computer science major interested in game development or computer graphics as a career.
The games were judged by the nearly 100 student testers attending the showcase.
"Hellstorm" placed second, and "Star Ships" was third.
Tomai said he and Sweigart developed the course about four years ago to give students skills in working in teams with people in different fields to create what he called "rapid prototypes."
"We want people to learn the basics, technically speaking – the art basics, 3-D modeling, the programming – but we really want them to work together to make a game," he said. "The majority of their work involves their team doing design exercises week-by-week, developing prototypes and testing them."
One of the newest technologies, which one game incorporated this year, is virtual reality, he said. Past trends have been mobile or augmented reality.
"Each year, one team always takes a new technology and tries it," he said. "We love to see games that really try something different. It might be more story – there is one game here where you are chasing a dog around … the final version of it is pretty simple. It didn't have a lot of game play into it, but they started with an idea that was very different. It was not combat, which is a well-known formula."
Tomai said the showcase allows first- and second-year students to see the possible fruition of the skills they are developing, and the older students to display their work.
"They put in weeks of sleepless nights. The ones that take it very seriously put a lot of time into it and the payoff isn't just a grade; it's getting to show it off," Tomai said.
MEDIA CONTACTS
Gail.Fagan@UTRGV.edu
Senior Writer / 956-665-7995
Marci.Caltabiano@UTRGV.edu
UTRGV Director of News and Internal Communications / 956-665-2742