Sub Menu Toggle
UTRGV's tuition cap saves money and time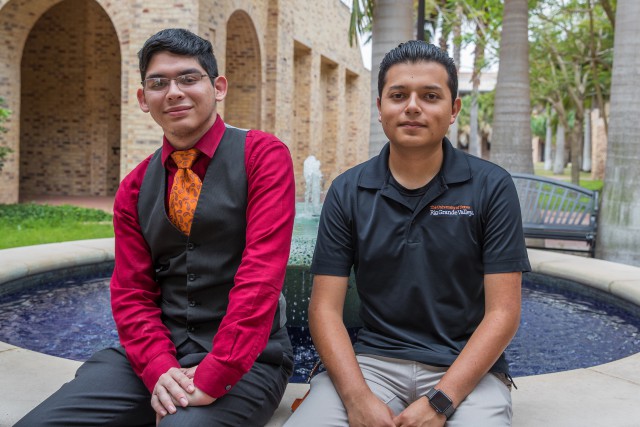 UTRGV students Florentino Saenz (at left) and Raul Martinez both say they were able to save money on tuition by taking advantage of a 12-credit cap. With the tuition cap, students can take 15 or more semester credit hours for the cost of 12 credit hours, and students say the savings are substantial. (UTRGV Photo by David Pike)
By Jennifer L. Berghom
RIO GRANDE VALLEY, TEXAS—MAY 18, 2017— Raul Martinez is on track to complete his bachelor's degree in computer engineering a year ahead of schedule, thanks to a 12-credit tuition cost cap UTRGV offers to students who pay in-state tuition.
With the tuition cap, students can take 15 or more semester credit hours – which is five classes or more – for the price of 12 credit hours, which equates to four classes. University statistics show that students who started at UTRGV in fall 2015 could save more than $7,000 and graduate a full year earlier by taking 15 semester credit hours instead of 12.  
Martinez, who is studying computer engineering, said he has been taking between 14 and 17 credit hours each semester since he entered UTRGV in the fall 2015 semester, but he only pays for 12 credit hours, because of the cap.
"It's like when you go to H-E-B and you see the candies; if you buy these two candies, you get these two free," Martinez said. "We're getting the best deal … the 12-hour cap really helps you finish faster, and it'll help you get to your dream career."
The 20-year-old from Los Fresnos said taking on the extra course load isn't hard to manage. In addition to traveling four days a week to the Edinburg Campus for classes, Martinez works as a graphics designer for the Dean of Students' office on the Brownsville Campus and is involved in the Student Government Association and other clubs on campus.
"It's all about time management," he said.
Florentino Saenz, who is enrolled in the university's A-PRIME TIME program and is studying biomedical sciences, said taking extra credit hours will allow him to complete his education and training as a neurosurgeon two to three years earlier than following a more traditional schedule.
"It's a huge savings of both time and money for me," the 20-year-old Brownsville resident said. "It really gives students the incentive to try to finish as fast as possible."
Saenz estimates he will save between $50,000 and $60,000 on his education by taking extra credits.
Like Martinez, Saenz keeps a busy schedule. In addition to taking a full course load, Saenz is involved in research with faculty members, does clinical rotations at Valley Baptist Medical Center, and volunteers at The Rio at Fox Hollow retirement home in Brownsville.
"The more you learn to manage your time, the better you'll get," he said.
Last fall, 30 percent of UTRGV students enrolled in 15 or more hours, and this spring, the as yet unofficial number is 35 percent.
Dr. Kristin Croyle, vice president for Student Success, says the tuition cap is an amazing opportunity.
"It really is an unusual deal, and is part of the university's commitment to keep our costs as reasonable as we can for students, while still providing them with a great educational experience," she said.
Citing data collected by Complete College America, a nonprofit organization that works with states to increase the number of Americans with a college degree or credential, Croyle said students who take more semester hours not only save money and complete their degrees faster, but also perform better academically.
"That's actually the biggest concern among our staff and faculty who work with students – that if they take too many hours, they get overwhelmed," she said. "But, when they're taking enough hours, they really understand that they are now really full-time university students and they need to take it seriously."
For more information on the 12-credit-hour tuition cap and the benefits of taking 15 or more credit hours per semester, visit http://www.utrgv.edu/ucentral/paying-for-college/why-enroll-15-hours/index.htm, or contact UCentral at the Student at (956) 882-4026 or ucentral@utrgv.edu.  
MEDIA CONTACTS
Jennifer.Berghom@UTRGV.edu
UTRGV Senior Writer / 956-665-7192
Marci.Caltabiano@UTRGV.edu
UTRGV Director of News and Internal Communications / 956-665-2742