Sub Menu Toggle
Brownsville skies clear for UTRGV Spring Commencement ceremony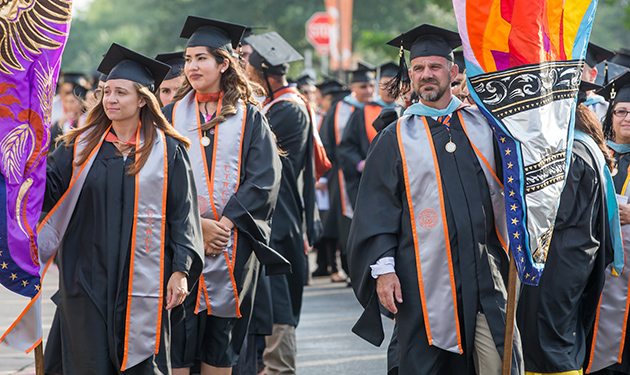 The rain cleared Friday afternoon in Brownsville, just in time to make way for the parade of colorful gonfalons that mark UTRGV commencement ceremonies. Each college in the university has its own gonfalon, or specially designed standard, which is carried at the head of each group of graduates. (UTRGV Photo by David Pike)
MAY 2017 BROWNSVILLE COMMENCEMENT PHOTO GALLERY
PHOTO GALLERY OF DECORATED GRADUATION CAPS
By Cheryl Taylor
BROWNSVILLE, TEXAS – MAY 12, 2017 –  Family and friends were not deterred by a spring shower that blew over the Brownsville Campus of The University of Texas Rio Grande Valley shortly before the start of the Spring Commencement ceremony on Friday, May 12.

Graduating from the Brownsville Campus were 727 students – undergraduate, graduate and one Doctor of Education – along with 61 students graduating from the UTRGV Math and Science Academy.

"This is a special moment for our university and our communities, and especially for our graduates," said Dr. Havidán Rodríguez, provost and executive vice president for Academic Affairs, as he welcomed the graduates and guests. "We are one university distributed throughout the Rio Grande Valley. Today, we come together to celebrate a major accomplishment in the lives of our students and we celebrate their success. Thank you for being part of this memorable moment."
Rodríguez reminded the audience of another achievement toward one of UTRGV's core priorities: expanding educational opportunities throughout the Rio Grande Valley.
"We are delighted to report that tonight we are graduating our first cohort receiving their Bachelor of Science in Rehabilitation Services and Counseling here at the Brownsville Campus," he said.
Rodríguez welcomed Dr. Guy Bailey, UTRGV founding president, to the podium.
"I want to congratulate all of our graduates; you have really accomplished something," Bailey said. "This is a major milestone in your life. You should be proud of what you have done. Your families are certainly proud of what you have done."
Bailey reminded graduates that commencement is not the end – it is the beginning.
"You're just getting started. You're going to be measured in your life far more by what happens to you in the next 40 years than what's happened in the last four years. The challenge for you is to take what you've learned in the last four – or maybe five or six years – and to use that going forward the next 40."
Bailey spoke of graduates not only learning about their fields of study, but also learning persistence and resilience.
"As you go through the next 40 years, those are the lessons that will be just as important as any substantive thing you learn in the classroom, all those things that helped you persist through graduation."
He told the graduates they now have the tools to do great things.
"Go out and do them!" he said. "Again, Congratulations. It is an honor for me to be part of this university, to be your president and to be your friend."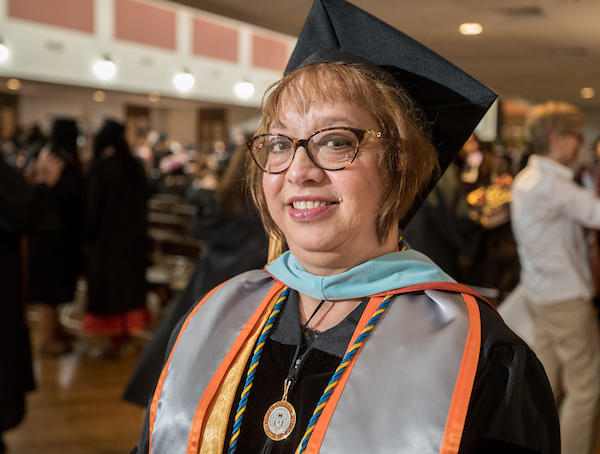 DOCTOR OF EDUCATION
Viola Vela is the sole doctoral graduate in Brownsville this semester, receiving her Doctor of Education in Curriculum and Instruction with a specialty in bilingual education.
She has been a distance education student, as part of a three-part cohort of educators. Her group met for classes in an elementary school in Spring Branch, Texas. The other two groups comprising the cohort were in San Antonio and Brownsville.
A retired educator, Vela has been a classroom teacher and, as a school district administrator, currently is instructing Studies in Languages and Culture to undergraduate and graduate students at the University of Houston Clear Lake.
"Although the drive to Spring Branch was two hours, I always looked forward to meeting up with my cohort for classes," she said. "It was exciting to be part of an innovative program that incorporated technology to meet the needs of this generation of students to further their professional growth. I am thrilled this day has come and I am here in Brownsville to accept my doctoral degree."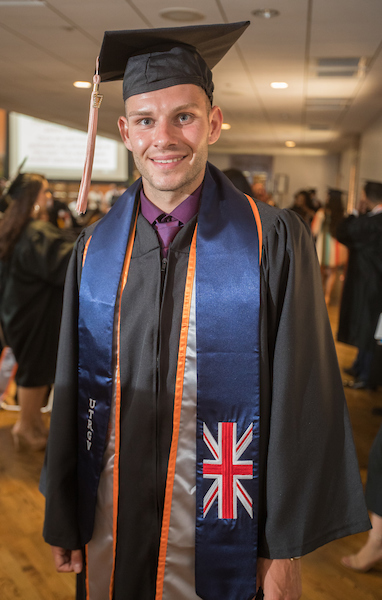 HOME AWAY FROM HOME
Luke Mazingham, from London, England, received his Bachelor of Science in Health and Human Performance. He arrived in Brownsville on a soccer scholarship to play on Coach Dan Balaguero's high-achieving team. When the soccer program was dissolved after the spring 2015 semester, Mazingham and the other players' scholarships were honored for four semesters.
"It worked out for me. I fell in love with Brownsville right away, and I fell in love and am now engaged," Mazingham said. "The people here are wonderful, so passionate about everything – the Cowboys on Sunday, a holiday for every occasion, and fabulous, hot weather. England is just too cold."
Mazingham is awaiting his Optional Practical Training (OPT) paperwork to come through any day, to begin his job as a trainer at Freedom Fitness. However, his heart is still in soccer. He wants to coach, so he will begin an alternative teacher preparation course in the near future.
FINANCIALLY SAVVY
Alejandra Euresti has been busy since graduating from Brownsville's Pace High School in 2014, finishing her Bachelor of Business Administration in Finance in three years. She brought in some credits from high school, and has been taking at least 15 credit hours per semester, as well as summer classes.
No stranger to finances, she also has been taking advantage of the money saved when taking more than 12 credits per semester at UTRGV; any additional credits are free.
Knowing she wanted to study finance, Euresti worked at IBC for a year, then got a good offer to join PlainsCapital Bank, where she has been at the Olmito branch for more than a year.
"Everyone at my branch has been so good to me, especially my supervisor, working my schedule around my classes, which was pretty tricky since I had some classes in Edinburg," Euresti said. "And they were always understanding if I had a big exam coming up. Their support has been amazing."
Euresti is hoping to become an underwriter and credit analyst at the corporate office of PlainsCapital Bank in Dallas. She already has had one successful interview, and her second has been scheduled.
TRADITIONS
After the last graduate had accepted a diploma, Rodríguez called Denisse Molina-Castro and Eric Silva to the stage to represent the graduating class and ring the celebratory bronze bell.
Two graduating students who have been actively involved in student life initiatives, demonstrated academic excellence and who embody the Vaquero and Vaquera Honor Code, are invited to ring the bell.

"Ringing this stately bell symbolizes a rite of passage and proclaims that an outstanding individual has passed from one station in their life to a new and distinguished stage in their life," Rodríguez said.

After recognizing all family and friends who supported the graduates in their journeys, Rodríguez gave a special thanks to las madres.

"Last but not least … to all the mothers graduating today, and to those in the audience, desde mi corazón a su corazón, felíz día de las madres. Happy mother's day!"
In honor of all the mothers present, the Mariachi Juvenil Aztlán performed a Mother's Day medley of traditional Mexican music.
In closing, Rodríguez reminded the graduates:
"UTRGV is your university. Student success is at the core of our institution; we want you to be successful…you have proven you can be successful. We look forward to your contributions in transforming the Rio Grande Valley, the state of Texas, the country and, yes, the world."
MORE SPRING 2017 GRADUATE PROFILES
UTRGV physics grad evolves into research scientist and determined Vaquero 
Masterful mentorship helps lead May grad to a master's in electrical engineering 
UTRGV ROTC couple 'Go Army' and pursue individual careers
UTRGV graduate in elementary bilingual education can select from wide variety of schools
UTRGV grad's future will focus on studying the past 
MEDIA CONTACTS 

Cheryl.Taylor@UTRGV.edu
UTRGV Senior Writer / 956-882-8787
Marci.Caltabiano@UTRGV.edu 
UTRGV Director of News and Internal Communications / 956-665-2742