Sub Menu Toggle
UTRGV physics grad evolves into research scientist and determined Vaquera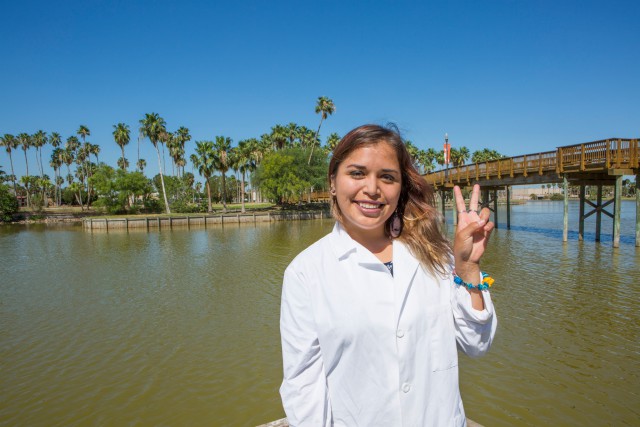 Ramona Luna, who graduates May 12 from UTRGV with a bachelor's degree in physics, has worked for the past three years on research in biophysics with Dr. Ahmed Touhami, associate professor of physics at UTRGV. She says she started her time at the university in Brownsville as a Scorpion, then became an Ocelot and is now a proud Vaquera. "Evolution is possible," she says. (UTRGV Photo by Veronica Gaona)
By Vicky Brito
BROWNSVILLE, TEXAS – MAY 11, 2017 – Ramona Luna has had to make choices about her education, and she stands by all of them. Those decisions meant growth, she says, and that sort of evolution is her personal key to success.
Luna, 24, who graduates from UTRGV on May 12 with a Bachelor of Science in physics, readily admits the road has had its share of challenges, but that road has guided her toward continuing her education, and led her to complex research in biophysics.
She started college during the The University of Texas at Brownsville/Texas Southmost College partnership, as a proud Scorpion.
When UTB and TSC split, she said, she weathered the changes and kept going as an Ocelot.
And when UTRGV was created after the dissolution of UTB/TSC and The University of Texas-Pan American, Luna carried on as a Vaquera.
A U.S. citizen from Matamoros, Mexico, she went to high school there and graduated in 2011. Her decision to go to college in Brownsville meant she had to make the daily trip across the international bridge to study, and after two years of commuting, she relocated to Brownsville.
"When I graduated high school, I had the option to stay in Matamoros, or I could come here to Brownsville since I am a U.S. citizen," Luna said. "It was a better opportunity for me to come here and study something that was a bit more challenging."
She wanted to study physics, and knew of UTB/TSC's physics department, so she decided to take advantage of a curriculum not available to her in Matamoros.
"We don't have a lot of opportunities in the science field in Matamoros," she said. "I have always liked biology, but I am not able to confront my fear of doing experiments with animals. So I searched for something else, and during orientation, a physics major I know was talking about biophysics."
RESEARCH OPPORTUNITIES
For the past three years, Luna has worked on research in biophysics with Dr. Ahmed Touhami, associate professor of physics at UTRGV. Her research is titled "Effect of pH and Temperature on the Nano-structural and Nanomechanical Properties of Chitosan Films."
ScienceDirect.com describes chitosan as "a biodegradable biocompatible polymer derived from natural renewable resources with numerous applications in various fields, and one of which is the area of edible films and coatings. Chitosan has antibacterial and antifungal properties which qualify it for food protection."
"I synthesize and characterize chitosan films," Luna said. "We are developing films that are biocompatible with biological systems, so we can increase their lifetime and performance in the lab."
Touhami first met Luna in class in summer 2013, when she took University Physics I.
"Each year, I notice that a few outstanding students who offer a unique perspective and really embrace their learning of the subject matter," Touhami said. "Ramona has consistently shown such a strong desire to learn."
She has been Touhami's undergraduate research-assistant since summer 2014 as a RISE –
Research Initiative for Scientific Enhancement – scholar.
"Ramona has had no difficulties to learn and perform lab work and gives poster and oral presentations at national conferences," he said. "She is well focused in her experimental work. She meets the challenges."
Touhami said Luna excels in the lab, and her skills were recognized by Achievement Awards at the 6th annual PACE Bioethics Conference in 2014 and at the annual Biomedical Research Conference for Minority Students held in Seattle in 2015.
"This young woman is motivated, selfless and incredibly smart," Touhami said, "and I have no doubt that she will prosper in whatever graduate program she desires. Ramona understands that becoming a successful scientist involves incredible sacrifice."
ADVICE TO INCOMING VAQUEROS
Luna admits that she is strong-willed, and while pursuing a physics curriculum may see daunting, she believes that all you need is the will to go for it.
"Don't be scared, and don't get discouraged," she said. "Often, people think physics is only for very smart people. But it is for everyone. You just have to learn what methods are best for you to learn physics."
Getting involved is helpful when adjusting to the college experience. Since her freshman year, she has been involved with the Texas Freedom Network, a nonpartisan organization that supports religious freedom, individual liberties and public education.
"I was a volunteer and then I was an intern with them for almost three years," she said. "I was very ignorant of many things about social justice and basic human rights. Getting involved with Texas Freedom Network taught me lot about what is going on and it made me more aware and helped make me warrior for justice."
NEXT STEPS
When she isn't in the lab being scientific, Luna spends her time visiting her mother in Matamoros.
"Whenever I have a chance, I escape to Matamoros and surprise her," Luna said. "We go out for tacos or to my favorite café in Matamoros and eat burgers."
Her hobbies include spending time with her French poodle, named Cotton, playing volleyball, taking morning bike rides, and catching up with friends over a good meal or cup of coffee.
After commencement, Luna will start the job hunt, and already has begun looking into graduate programs in physics. She will pursue a master's degree, she said, and plans to get a Ph.D.
UTRGV and its legacy institutions have been a home for Luna for six years, and she has built lots of memories, she said, but she is looking forward to moving forward into the next phase of her personal evolution.
"I survived three transitions, so that is also an accomplishment," she said with a laugh. "I went from being a Scorpion, to an Ocelot, and now I'm a Vaquera. Evolution is possible."
MEDIA CONTACTS
Victoria.Brito@UTRGV.edu
UTRGV Informational Writer / 956-882-4330
Marci.Caltabiano@UTRGV.edu
UTRGV Director of News and Internal Communications / 956-665-2742