Sub Menu Toggle
Masterful mentorship helps lead May grad to a master's in electrical engineering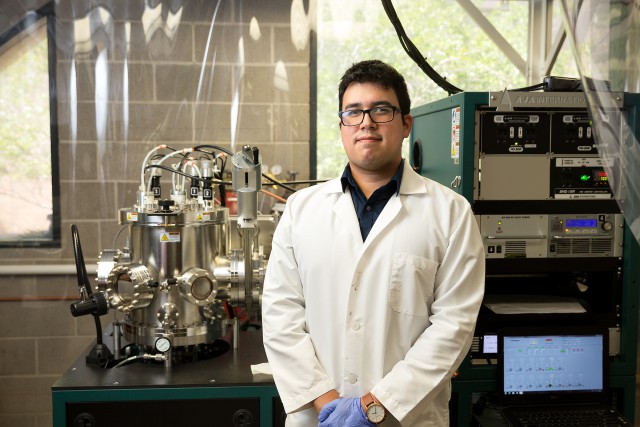 UTRGV electrical engineering student Jorge Castillo works with a RF Magnetron Sputtering System, used for creating semiconductors, at the Engineering building on the UTRGV Edinburg Campus. Castillo graduates from UTRGV on May 13 with a master's degree in electrical engineering. (UTRGV Photo by Paul Chouy)
By Gail Fagan
RIO GRANDE VALLEY, TEXAS – MAY 10, 2017 – Jorge Castillo, 26, has already set his first two goals after graduating from The University of Texas Rio Grande Valley on May 13 with a master's degree in electrical engineering.
"I am just focused on defending my thesis," said Castillo, a native of Rio Bravo, Tamaulipas, Mexico. "Then I will apply for full-time positions in the United States, where I would like to work either doing research in a research facility or, at least, in the semiconductor industry."
Castillo, who earned his bachelor's degree in electrical engineering at then-UT Pan American in 2014, recalled his early interest as a teenager in "electronics, circuits and how the world and things like computers work."
"Electrical engineering was the field that caught my eye. It looked interesting compared to some of the other engineering fields," said Castillo, whose father is an agricultural engineer.
Dr. Hasina Huq, UTRGV associate professor and graduate program director of the Department of Electrical Engineering, gave him the opportunity to work on research involving the characterization of new materials for electronics purposes, like chips.
"We look for materials that have better properties, for example, for heat transfer or that can withstand more power," Castillo said.
In fall 2016, he presented two papers – "Silicon-based UV Photodetectors" and "Growth and Characterization of Gallium Oxide" – at the biennial International Semiconductor Device Research Symposium in Bethesda, Maryland. The annual symposium focuses on exploratory research worldwide in electronic and photonic materials and devices.
The conference included participants from Korea, India, China, Japan and Germany, among others, and from universities like Brown, Northwestern and MIT. Castillo said that, at first, he felt intimidated because there were people presenting from all over the world. Then he realized that he understood their presentations.
"Everyone had a Ph.D. except us (the UTRGV students attending), but that was good because it showed that we were at that level in our research and field," he said. "The program at UTRGV prepares you to be at that level."
Castillo, who has worked as a graduate assistant and a summer research assistant, said it was important that he had access to many of the high-tech instruments he needed for his research at UTRGV – equipment that not all universities have, he said.
His faculty mentor, Huq, praised her student's publishing success – Castillo already has published four peer-reviewed international conference papers and a journal paper.
"It is a great opportunity to represent UTRGV students at this international level," Huq said of Castillo's accomplishments. "Jorge is resourceful, creative, and a solution-driven person who is able to present his research results in front of the international community and, thus, he has promoted our department and the university."
Castillo also has shared his knowledge with visiting middle and high school students in UTRGV's Sputtering System Research Laboratory, a system that allows researchers to deposit materials into something else on a nanoscale level. The system is used to create semiconductors.
"It is like painting something with copper or aluminum, but with this system, you can actually control the atomic structure of a coating that is a requirement of building electronics as accurately as possible," Castillo said. "We showed the students how the system works."
Castillo said his parents and girlfriend will be in the commencement audience. And the person he especially would like to thank on his graduation day would be Dr. Huq.
"She gave me everything I know," he said. "She always pushed me to be better, to teach students like colleagues … to transfer knowledge to someone else. That is the goal. I am really grateful for her."
MEDIA CONTACTS

Gail.Fagan@UTRGV.edu
Senior Writer / 956-665-7995
Marci.Caltabiano@UTRGV.edu
UTRGV Director of News and Internal Communications / 956-665-2742