Sub Menu Toggle
UTRGV ranked second in the country for lowest private student debt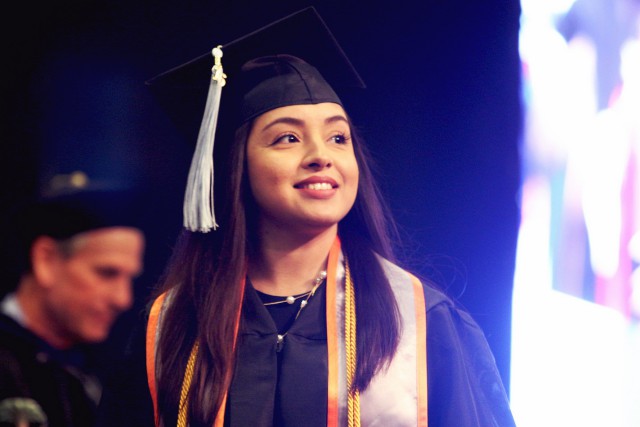 A website that analyzes student loans and debt issues says UTRGV is the second best public university in the country for controlling student debt. UTRGV ranked second in StudentLoans.net's list, 'Top 250 Public Colleges that Give Students the Least Private Student Debt.' (UTRGV Archive Photo by Silver Salas)
RIO GRANDE VALLEY, TEXAS – MAY 9, 2017 – A website that analyzes student loans and debt issues says UTRGV is the second best public university in the country for controlling student debt.
Studentloans.net, which writes about higher education-related financial matters, ranked UTRGV second, behind first-place Dalton State College in Georgia, in its list, "Top 250 Public Colleges that Give Students the Least Private Student Debt."
"Private student debt" refers to loans taken out through private lenders.
The rankings are based on data compiled from Peterson's Publishing & Research, a Nebraska-based company that specializes in providing data and other information on education about four-year colleges and universities.
UTRGV was ranked based on the average private debt per borrower – calculated by multiplying the percentage of students with private debt by the average private debt per borrower.
"In our new study, we analyzed thousands of schools in the United States and selected the top 250. These schools were evaluated based on two factors: percentage of students with private debt, and average private debt per borrower," said Drew Cloud, founder and editor of Studentloans.net.
UTRGV's average debt per graduate is listed at $50.98.
Average debt for Dalton (one of the University System of Georgia) is $20.
The third school on the list is Cameron University in Lawton, Oklahoma, with an average debt per graduate of $60.
The most expensive on the list of 250 schools is Auburn University in Auburn, Alabama, with $2,573.44 average debt per graduate.
SEE THE COMPLETE LIST HERE: https://studentloans.net/public-colleges-least-private-student-debt/
15 HOURS: FREE COURSES, FASTER GRADUATION
One of the ways UTRGV helps control student debt is by offering the 15-Hour opportunity. UTRGV's in-state tuition and fees cap at 12 hours per semester, and any additional courses a student enrolls in after 12 hours are free (excluding books and special course fees).
So, a student enrolled in 15 hours pays nothing for the added course; a student enrolled in 18 hours gets the two extra classes free, etc. Students say they have discovered they can save thousands of dollars on tuition and can graduate semesters sooner than planned by taking more than 12 hours per semester.
"Students and their success have always been our top priority," said UTRGV President Guy Bailey, "so knowing that we are providing opportunities for them to start a career without overwhelming debt is important to us. That's the driving force behind the 15-Hour opportunity we offer.
"We are pleased that StudentLoans.net recognized our efforts at helping students control the cost of their education, and we continue to encourage our students to make the most of cost-saving opportunities like the 15-Hour initiative," he said.
STUDENTLOANS.NET'S METHODOLOGY
Drew Cloud, the editor of StudentLoans.net, said the average debt per graduate was calculated by multiplying the percentage of students with private debt by the average private debt per borrower, with the numbers used in this calculation provided through Peterson's Financial Aid Data Set-2015.
"The report is important to students because the average debt per student borrower in the United States right now is $27,857 (you can find this number on our student loan debt statistics page)," Cloud said in an email.
"The University of Texas Rio Grande Valley has provided its average graduate with the second-lowest private debt average amongst public colleges. This means that students from UTRGV are more likely to be able to invest in their futures sooner, rather than later like so many other college graduates with student debt," he said.
MEDIA CONTACT

Marci.Caltabiano@UTRGV.edu 
UTRGV Director of News and Internal Communications / 956-665-2742