Sub Menu Toggle
UTRGV graduate in elementary bilingual education can select from wide variety of schools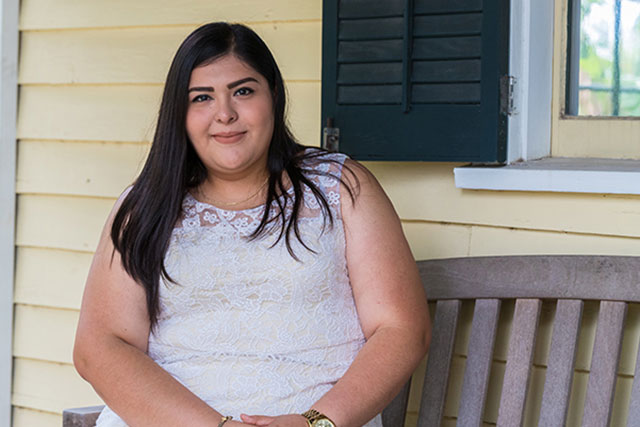 Nancy Navarrete Montalvo, a 21-year-old international student from Matamoros, Tamaulipas, Mexico, will graduate from UTRGV on Friday, May 12, with a Bachelor of Arts in Interdisciplinary Studies, Early Childhood through Sixth Grade, Bilingual, a degree conferred by the College of Education and P-16 Integration. (UTRGV Photo by David Pike)
By Cheryl Taylor
BROWNSVILLE, TEXAS – MAY 9, 2017 – As Nancy Navarrete Montalvo walks across the stage May 12 at the UTRGV Spring Commencement, she will be a few steps closer to becoming an educator – and to following in her parents' footsteps.
Navarrete, a 21-year-old international student from Matamoros, Tamaulipas, Mexico, will graduate with a Bachelor of Arts in Interdisciplinary Studies, Early Childhood through Sixth Grade, Bilingual, a degree conferred by the UTRGV College of Education and P-16 Integration.
"My father encouraged me to study civil engineering. And I almost went that route, but I just couldn't because my heart was not in it," she said. "Engineering is the complete opposite to being in the classroom. I love working with children; I was always thrilled when my younger cousins, nieces and nephews called upon me to help them with their school projects."
This semester, Navarrete is fulfilling her teaching practicum at Brownsville's Skinner Elementary School, teaching in first-, second- and fifth-grade bilingual classrooms.
Throughout her college career, Navarrete has been building her knowledge, skills and abilities in education. As a volunteer for the Read3 Program – a partnership between UTRGV, Brownsville Independent School District and H-E-B – she and fellow education students promoted literacy and a healthy lifestyle while working with 3-year-old children every week at an elementary school.
"The Read3 Program involves parents, not just children, in its approach, so this gave me insight into working with parents, which is crucial in this career," she said.
Also, for two years, Navarrete has been a steady volunteer at Brownsville's Paredes Elementary School.
"That relationship started out when I was fulfilling my volunteer hours, required of all elementary education students," Navarrete said. "I kept returning to help out whenever needed, especially for special days and field trips.
Navarrete feels volunteering at her church as a catechist – one year with first- and second-graders, and one year with the kindergarten age group – also has been tremendously helpful in preparing her for student teaching.
Dr. Sandra Musanti, associate professor in the Bilingual and Literacy Studies Department, praised Navarrete's commitment and dedication.
"Nancy demonstrates qualities that exemplify a great teacher – in-depth content understanding, sensibility to diversity, integration of multicultural approaches to teaching, creativeness, responsibility, and impressive skills to collaborate in teamwork," Musanti said. "I believe Nancy will become a caring, responsible educator who understands how to support bilingual students and helps them on the path to success."
Navarrete has relatives on both sides of the family who are teachers, both in Mexico and in the United States. Her mother is an elementary school teacher and her father is in education administration. Her sister and aunt are elementary school teachers in Matamoros, and her uncle is a principal. Another uncle is a dual-language teacher in an elementary school in Houston.
Always hanging in the air, therefore, has been the question of where Navarrete would try to find employment as a teacher.
"We discussed this topic as a family many times, and while my parents at first wanted me to teach in Mexico, they gave consideration to various possibilities and then encouraged me to pursue a career in the United States. So, I am taking this opportunity to find the right school district somewhere in Texas," Navarrete said.
Navarrete qualified for campus employment in the Student Employment Initiative (SEI) Program, where she worked two semesters for the UTRGV Career Center; during that time, she assisted in the biannual Teacher Jobs Expo.
"I have been attending the expo for the last four semesters because I know how important it is to start networking with recruiters and to start looking at different options for your future," she said. "I had interviews last semester and this semester, and I have been offered positions in several districts."
As a bilingual certified teacher, and graduating with a grade point average (GPA) of 3.90, Navarrete has had no shortage of offers from school districts around the state.
Wisely looking into what each district has to offer, she is discussing options with her family. As an international student graduate, Navarrete is eligible to work in the United States for one year under the Optional Practical Training (OPT) program.
To lure – and retain – bilingual teachers, some school districts offer visa sponsorship. Navarrete said those districts are standing out above the others, and she hopes to make a decision and sign a letter of intent soon.
"I wanted to become a bilingual teacher to promote the love I have for both languages, especially because my first language is Spanish," she said. "I want to show to my future students and their families the important neurological, social and professional benefits of being bilingual and bicultural."
She knows the first year is hard for all new education graduates, especially because they have to focus intently on teaching and working with her students, learning about a new area and adapting to a different environment. Still, Navarrete is looking ahead. A master's degree in bilingual education is on her radar, and after that … she says there are always more options and heights to strive for.
Navarrete has this advice for future UTRGV students: "Never give up. Always work hard for everything you want. Take advantage of the great opportunities our university offers. Get involved in new and different activities, enjoy yourself and appreciate the friendships you make. Study abroad, if possible. But more than anything, do what you love."
MEDIA CONTACTS

Cheryl.Taylor@UTRGV.edu
UTRGV Senior Writer / 956-882-8787
Marci.Caltabiano@UTRGV.edu
UTRGV Director of News and Internal Communications / 956-665-2742