Sub Menu Toggle
Additional Winners of the 2017 UTRGV Faculty Excellence Awards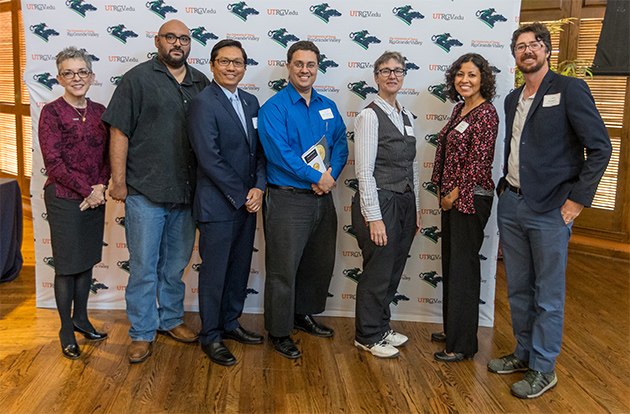 Among faculty members who published books in 2016 are, left to right, Dr. Patricia Alvarez McHatton, Dr. Christopher Carmona, Dr. Dean Kyne, Dr. Gabriel Gonzalez Nuñez, Dr. Jean Braithwaite, Dr. Emmy Pérez and Dr. Britt Haraway. Faculty were recognized for their exceptional efforts during the annual Faculty Excellence Awards ceremony on May 4, 2017, held in PlainsCapital Bank El Gran Salón. (UTRGV Photo by David Pike)
RIO GRANDE VALLEY, TEXAS – MAY 4, 2017 – Also honored at the UTRGV Faculty Excellence Awards ceremony May 4 for their accomplishments during the 2016-17 academic year were five winners of The University of Texas System Regents' Outstanding Teaching Awards, nine faculty winners of national external awards, nine faculty who had books published, 14 faculty who received substantial grants, and one faculty member who received a patent.
UT System Regents 2016 Outstanding Teaching Award winners:
Art Brownlow, professor, School of Music.
Stephen Crown, professor, Department of Mechanical Engineering.
Timothy Huber, associate professor, School of Mathematical & Statistical Sciences.
Christine Mathews, lecturer, Department of Biology.
Alexis Racelis, assistant professor, School of Earth, Environmental & Marine Science.
Faculty recipients of national external awards:
Emmy Pérez, associate professor, Creative Writing Program, National Endowment for the Arts Creative Writing Fellowship in Poetry.
Samuel Snyder, professor, School of Medicine, Leonard Tow Humanism in Medicine Award – Graduating Class of Texas A&M.
Shirley Wells, associate professor, Department of Occupational Therapy, One of the 100 Influential People in Occupational Theory – American Occupational Therapy Association.
Gravitational Wave Research Team, Department of Physics, Special Breakthrough in Fundamental Physics – Gruber Cosmology Prize
Teveit Creighton, associate professor
Mario Diaz, professor
Soma Mukherjee, professor
Volker Quetschke, associate professor
Malik Rakhmanov, associate professor
Joseph Romano, professor
Faculty book authors:
Jean Braithwaite, associate professor, Creative Writing Program
"Chris Ware: Conversations," University Press of Mississippi
Christopher Carmona, assistant professor, Creative Writing Program
"The Road to Llorona Park," Stephen F. Austin State University Press
Gabriel Gonzalez Nuñez, professor, Department of Writing & Language Studies
"Translating in Linguistically Diverse Societies: Translation Policy in the United Kingdom," John Benjamins
Britt Haraway, assistant professor, Creative Writing Program
"Early Men: Stories," Lamar University Literary Press
Dean Kyne, assistant professor, Department of Sociology
"Nuclear Power Plant Emergencies in the United States," Springer International Publishing
Patricia Alvarez McHatton, dean and professor, College of Education & P16 Integration
"Faculty of Color: Navigating Higher Education," Rowman & Littlefield (Co-authored/co-edited with K. Harris Brown and M. Fazier Trotman Scott)
Randall Monty, assistant professor, Department of Writing & Language Studies
"The Writing Center as Cultural and Interdisciplinary Contact Zone," Palgrave Macmillan
Emmy Pérez, associate professor, Creative Writing Program
"With River on Our Face," University of Arizona Press
Philip Zwerling, associate professor, Creative Writing Program
"The Theatre of Lee Blessing: A Critical Study of 44 Plays," McFarland Publishers
Faculty major grant recipients:
Laura Almasy, professor, School of Medicine, U.S. Department of Health & Human Services/NIH/NIGMS, $820,284
Karl Berg, associate professor, Department of Biology, National Science Foundation, $571,373
Isaac Choutapalli, associate professor, Department of Mechanical Engineering, U.S. Department of Defense/U.S. Army, $499,519
Alexander Domijan, dean, College of Engineering & Computer Science, U.S. Department of Energy, $1,250,338
Ravindranath Duggirala, professor, School of Medicine, National Institutes of Health, $565,032
Francisco Fernandez, professor, School of Medicine, United Health Foundation, $939,781
Joseph Hovey, professor, Department of Psychological Science; Walter Diaz, dean, College of Liberal Arts; and Kelly Cronin, vice president for Advancement, Valley Baptist Legacy Foundation, $6,000,000
Dae Kim, associate professor, Department of Biomedical Sciences, U.S. Department of Health and Human Services, $870,402
Richard Kline, assistant professor, School of Earth, Environmental, & Marine Science, Texas Department of Transportation/Environmental Affairs Division, $557,094
Janani Krishnaswami, clinical associate professor, School of Medicine, UTHSC Tyler, $672,847
Yuanbing Mao, associate professor, Department of Chemistry, U.S. Department of Agriculture, $610,931
Hilda Medrano, professor, Department of Human Development & School Services, U.S. Department of Health and Human Services, $4,185,000 & $626,576
Faculty securing patents:
Karen Martirosyan, professor, Department of Physics, U.S. Patent 9345790 B2