Sub Menu Toggle
UTRGV grad's future will focus on studying the past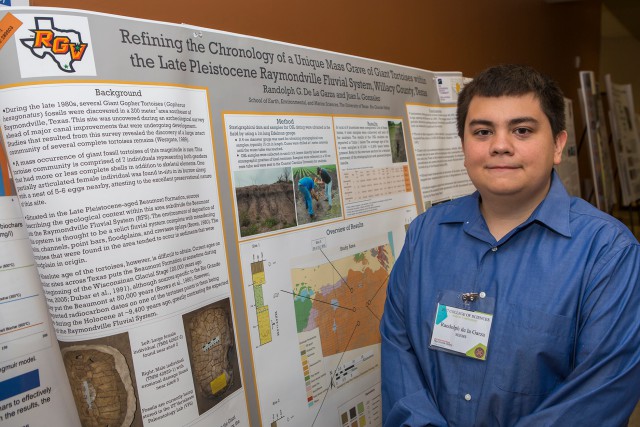 After Edinburg native Randolph Delagarza, 29, graduates May 13 from UTRGV with a degree in biology, he heads to Lund University in Sweden to pursue a Ph.D. in paleontology. While there, he will study with a leading researcher of molecular paleontology, which explores the DNA, proteins and carbohydrates of ancient animal remains, mainly of reptiles from the Mesozioc era.  (UTRGV Photo by Silver Salas)
By Gail Fagan
RIO GRANDE VALLEY, TEXAS – MAY 8, 2017 – Edinburg native Randolph Delagarza, 29, will head to colder weather and exciting new research opportunities following his graduation May 13 from The University of Texas Rio Grande Valley.
In August, he leaves for Lund University in Sweden to pursue a Ph.D. in paleontology, where he will study with a leading researcher in the field of molecular paleontology – the study of the DNA, proteins and carbohydrates from ancient animal remains, primarily of Mesozoic era reptiles.
He will work particularly with melanosomes, which are responsible for color and photoprotection in animal cells and tissues.
Delagarza graduates from UTRGV with a bachelor's degree in biology; he also holds a bachelor's degree in geology from Sam Houston State in Huntsville.
"I'm excited to go to Sweden, but I know that there will some challenges," he said. "For one, it is near the polar Artic region, so it is going to be a lot colder than the Valley. And they do have Mexican food restaurants, but they are definitely not going to be as good as here."
His interest in science developed early in life. A childhood cancer survivor, Delagarza suffered hearing loss as a result of his treatment and now wears a hearing aid in each ear. After each stay in the hospital, his parents indulged his request to visit a museum, particularly his favorite, the Houston Museum of Natural History.
"I've been interested in ancient creatures for a long, long time," Delagarza said, and that early fascination with dinosaurs evolved into what he studies today.
His research mentor, Dr. Juan Gonzalez, said Delagarza decided to earn his second degree at UTRGV after visiting a geology display of rocks, minerals and fossils two years ago at Community Day during HESTEC, the university's annual weeklong event designed to encourage interest by students in STEM fields.
"Another professor and I were so impressed with him then, we offered him the opportunity to be a teaching assistant for us, even before he was accepted by UTRGV," said Gonzalez, an associate professor in UTRGV's School of Earth, Environmental, and Marine Sciences.
Delagarza has been a teaching assistant continually since 2015.
Through an Engaged Scholar Award he received at UTRGV, Delagarza was able to study a unique assemblage of Late Pleistocene Giant Tortoises that were found in the 1980s near Raymondville. The remains are housed at the Vertebrate Paleontology Museum at UT Austin but were never fully documented in a published article.
"What I focused on was trying to establish an age for these tortoises," said Delagarza, who has made numerous visits to the museum and sites where they were discovered.
He found that they were from 47,000 to 50,000 years ago through a method called OSL (optically stimulated luminescence) using samples of various depths of sediment where the tortoises were found.
"Fossils found here and in other places in Texas tell us tales of past environments and changes that occurred where no humans were around to see," Delagarza said.
This spring, Delagarza presented his research poster and findings in San Antonio at the annual meeting of the South-Central Section of the Geological Society of America, which encompasses Arkansas, Oklahoma, Louisiana, Kansas and Texas, as well as the states of Coahuila, Nuevo León, Tabasco, Tamaulipas and Veracruz in Mexico.
Among nearly 200 student posters judged, Delagarza earned the Best Student Poster award, for "Refining the Chronology of a Unique Mass Grave of Giant Tortoises within the Late Pleistocene Raymondville Fluvial System."
Delagarza, who hopes to work in a museum himself one day, touted UTRGV's Engaged Scholar Award Program, which provides opportunities for undergraduates to learn research techniques and collaborate with faculty on research. The program helps fund student wages, travel to conferences and materials needed for their research.
"Being able to have that one-on-one interaction with faculty, and those opportunities to do research, are big factors in how I got to where I am now," he said.
MEDIA CONTACTS

Gail.Fagan@UTRGV.edu
Senior Writer / 956-665-7995
Marci.Caltabiano@UTRGV.edu
UTRGV Director of News and Internal Communications / 956-665-2742