Sub Menu Toggle
UTRGV celebrates new tradition with inaugural ring ceremony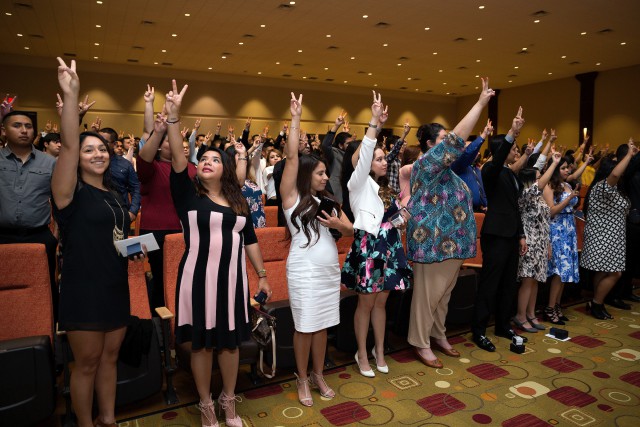 UTRGV students put their V's up for the university fight song, proudly displaying their new class bling, during the Inaugural UTRGV Ring Ceremony, Saturday, May 6, 2017, at the Edinburg Conference Center at Renaissance. (UTRGV photo by Paul Chouy)
By Jennifer L. Berghom
RIO GRANDE VALLEY, TEXAS – MAY 6, 2017 – More than 200 UTRGV students came together Saturday to show their school pride at The University of Texas Rio Grande Valley's first UTRGV Ring Ceremony, held at the Edinburg Conference Center at Renaissance.
The first UTRGV ring, designed by UTRGV students, was unveiled in March and is available for purchase by students who have completed at least 75 credit hours, and to alumni.
The 204 ring recipients heard words of encouragement from university and community leaders before they crossed the stage to partake in the ceremonial "V-Dunk" – where students dip their right index and middle fingers into orange dye to make an orange "V" sign – and receive their rings.
In a taped video message, UTRGV President Guy Bailey congratulated students for their accomplishments. He also congratulated the students who designed the class ring.
"The UTRGV ring is a symbol of the institution that you will carry with you at all times, a symbol of what you have achieved and that you'll look back on for the rest of your lives," he said.
Students also heard from UTRGV Distinguished Alumnus Michael J. Williamson, Edinburg Market president of PlainsCapital Bank. Williamson graduated with a bachelor's degree in business administration from University of Texas-Pan American in 1997 and serves as a board member of the UTRGV Foundation.
Williamson praised the students for their accomplishments and encouraged them to contribute to their communities.
"As you wear this ring, never forget the importance of education, never forget the true meaning of the traditions that you represent, and always remember, you were first," he said.
Amanda Estrada, a 22-year-old Pharr resident who will graduate with her bachelor's degree in political science on May 13, said buying a class ring has become a tradition in her family.
"My entire family who has ever finished college has a ring. I even got a high school ring," she said. "We were just really proud of it."
Estrada said she likes the fact that she is among the first to receive a UTRGV class ring and can take part in a new tradition at the university.
"It's a legacy," she said. "You're wearing it with pride and you're going to represent what you did and what the school did for you."
For James Daniel Unwin, 26, the UTRGV ring he received Saturday was a symbol of triumph.
 "I first enrolled in college in the fall of 2007 – that's a testament to how much rigmarole I had to go through to get all the way here," said Unwin, a Brownsville resident who will receive his bachelor's degree in sociology on May 12. "Now that I'm here, nine and half years later, I can finally say I did it. I succeeded."
Officials from Jostens, the ring's vendor, said that about 400 class rings have been purchased since March.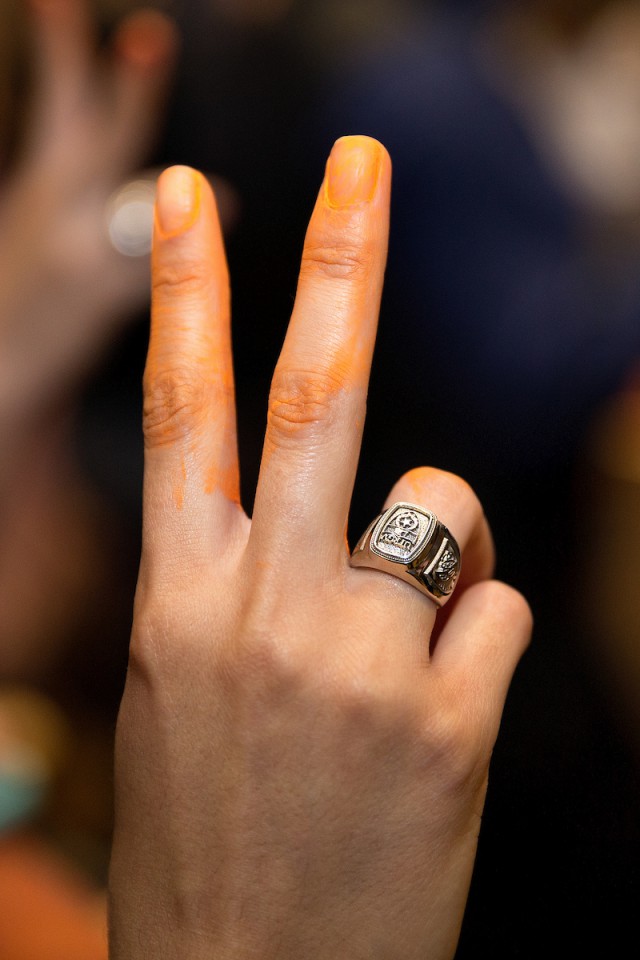 A UTRGV student displays the new UTRGV class ring and the results of the ceremonial "V-Dunk," in which students dip their right index and middle fingers into orange dye and create an orange "V," the Vaqueros sign. (UTRGV Photo by Paul Chouy)
MORE RING CEREMONY PHOTOS HERE: https://utrgv-umc.photoshelter.com/galleries/C0000OxOMyzQL3z4/G0000zAXflZP..Wg/20170506-Ring-Ceremony-EC-PC
Password: utrgvring (case sensitive)
MEDIA CONTACTS 
UTRGV Senior Writer / 956-665-7192
UTRGV Director of News and Internal Communications / 956-665-2742