Sub Menu Toggle
UTRGV Zika experts sit on panel with Gov. Greg Abbott in Brownsville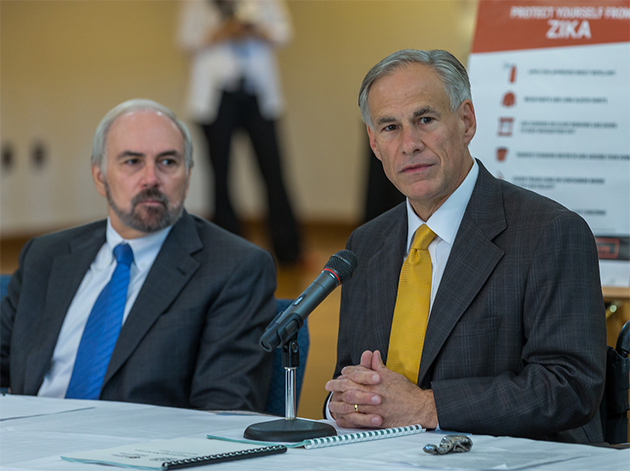 Texas Governor Greg Abbott hosted a Zika prevention roundtable, in conjunction with the Texas Department of State Health Services, at The University of Texas Rio Grande Valley Brownsville Campus on Friday, May 5. Organized by the governor's office, the roundtable was held in preparation for the height of mosquito season in the state. Pictured with Abbott is UTRGV President Guy Bailey. (UTRGV PHOTO BY DAVID PIKE)
PHOTO GALLERY
(Photo Gallery Password: zika) 
By Vicky Brito
BROWNSVILLE, TEXAS – MAY 5, 2017 – Two biology faculty members from The University of Texas Rio Grande Valley contributed their expertise as panelists on a Zika prevention roundtable organized by Texas Governor Greg Abbott's office in preparation for the height of mosquito season in the state.
Dr. Christopher Vitek, associate professor of medical entomology, and Dr. John Thomas, assistant professor of virology, participated in the May 5 event along with Abbott, community leaders and health officials from Cameron and Hidalgo Counties.
Vitek and Thomas currently participate in a multi-institutional consortium, the Western Gulf Center for Excellence for Vector-Borne Diseases, which focuses on Zika research and monitoring.
Abbott said with the summer season around the corner, the rise of the mosquito population is a concern.
"This is a time when all of us at the nation, state, county and local level can come together and work together to have a profound impact on making our communities safer," Abbott said. "And who would think something as small and meaningless as a mosquito could pose such great danger? Everyone here knows the danger it poses."
The event, held at the PlainsCapital Bank El Gran Salón on the UTRGV Brownsville Campus, also featured Dr. Guy Bailey, UTRGV president; Dr. Havidán Rodríguez, UTRGV provost and executive vice president for Academic Affairs; and Dr. John Hellerstedt, Texas Department of State Health Services commissioner.
"We look forward to increasing collaborations through the UTRGV School of Medicine and our College of Health Affairs at fighting Zika," Bailey said. "We're on the frontline in the Zika fight here in deep South Texas. I am very proud that we have two respected experts from our UTRGV faculty – Dr. Vitek and Dr. Thomas – who have quite a lot of experience with vector-borne diseases, including the administration of a CDC (Centers for Disease Control and Prevention) grant on Zika."
The governor's office is working toward a public relations campaign to better inform the public of the dangers of Zika.
"I think it is something that we can all agree upon, that it is something that we need to tackle as a quickly as possible to ensure that we can minimize, reduce, if not eliminate, the harm and danger posed to citizens, especially in the Rio Grande Valley area, but as well as across the state of Texas," Abbott said.
ABOUT ZIKA
Zika virus is a mosquito-borne disease transmitted by Aedes mosquitoes, which also transmit dengue, chikungunya and yellow fever. Symptoms include fever, rash, conjunctivitis, muscle and joint pain and headache. Zika can be transmitted through the bite of an infected mosquito or sexually. There is currently no vaccine to protect against contracting Zika. Infants born from mothers who have contracted Zika often are born with microcephaly, a severe fetal brain defect.
MEDIA CONTACTS
Victoria.Brito @UTRGV.edu
UTRGV Informational Writer / 956-882-4330 
Marci.Caltabiano@UTRGV.edu
UTRGV Director of News and Internal Communications / 956-665-2742