Sub Menu Toggle
UTRGV faculty expertise recognized at annual excellence awards ceremony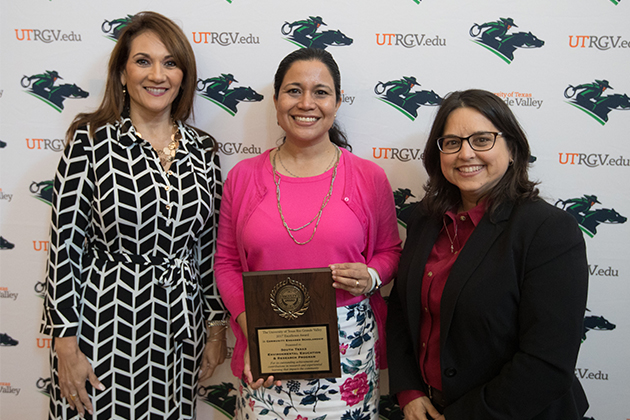 Dr. Beatriz Tapia, assistant dean for faculty development, professor in the Department of Pediatrics and director of the STEER Program, accepted the Community Engaged Scholarship Award during the annual Faculty Excellence Awards ceremony on May 4, 2017, held in PlainsCapital Bank El Gran Salón. Dr. Tapia is shown with Veronica Gonzales, Vice President for Governmental and Community Relations (left), and Dr. Doris Mendiola, data and research manager for Governmental and Community Relations (right). (UTRGV Photo by David Pike)
PHOTO GALLERY
Password: awards
By Cheryl Taylor
BROWNSVILLE & EDINBURG, TEXAS – MAY 5, 2017 – Five faculty members and two academic departments at The University of Texas Rio Grande Valley were recognized May 4 for their exceptional efforts, during the annual Faculty Excellence Awards ceremony.
The Faculty Excellence Award winners who went above and beyond in the areas of teaching, service, research, student mentoring and sustainability education were:
TEACHING: Alyssa Cavazos, assistant professor, Department of Writing & Language Studies, College of Liberal Arts.
SERVICE: Dumitru Caruntu, professor, Department of Mechanical Engineering, College of Engineering & Computer Science.
RESEARCH: Karen Lozano, professor, Department of Mechanical Engineering, College of Engineering & Computer Science.
STUDENT MENTORING: Scott Roeder, associate professor, School of Music, College of Fine Arts.
SUSTAINABILITY EDUCATION:

Alfonso Mercado

, assistant professor, Department of Psychological Sciences, College of Liberal Arts.
Dr. Havidán Rodríguez, founding provost and executive vice president for Academic Affairs, praised the talent, contributions, commitment and hard work of the awardees.
"We celebrate and applaud each and every one of you for all your achievements," Rodríguez said. "We know faculty success is critical for the success of our students. The number of faculty recognized today truly shows that UTRGV is a university on the rise, leading the way to becoming an emerging research institution."
The Faculty Excellence Award program is co-sponsored by the Office of the Provost and the UTRGV Foundation Board. An external selection committee chose the winners from nominees recommended by their peers at the college level.
Each faculty winner received a plaque and a $5,000 monetary award. The two departments that were recognized each received $3,000 in travel funds to support the faculty in their department/school.
Award in Teaching: Alyssa Cavazos, Ph.D.
Cavazos is a leader in the university's growth toward becoming a bilingual, bicultural, and biliterate institution, cites nominator Amy Cummins, associate professor, Department of Literatures & Cultural Studies.
"Her efforts have already been transformative and are moving UTRGV in a positive direction regarding translingual writing instruction and border rhetorics," Cummins said.
As part of this ongoing work, Cavazos received the UTRGV Internal Seed Research Program Grant for the project "Biliterate/Multiliterate Writing Practices in Academic and Community Discourses."
"Outside of her traditional classrooms, Cavazos has emerged as a dedicated provider of professional development for teaching assistants and other teachers through a variety of workshops she's designed in multilingual pedagogy, along with more traditional writing pedagogy themes," said Colin Charlton, chair, Writing & Language Studies.
Cavazos explains her engaged pedagogy as centering on growing intellectually and spiritually with her students by creating the necessary conditions for learning in a linguistically inclusive environment where everyone develops as readers, writers, listeners, and conscious users of language.
"We are models of effective teaching for our students," she said. "I think about this often because I have a little girl. Her name is Alyxia, and I see my students as her potential future teachers or mentors. I want to ensure I teach in a way that will one day positively impact my little girl and future generations."
Former student Jacquelyn Ann Medina, English language arts teacher at Donna North High School, said Cavazos creates a student-centered classroom environment, which helps promote autonomous learning and higher order thinking.
"I try to model Dr. Cavazos, and often have been praised by my coaches because I was taught how to lead students into formulating ideas by asking probing questions," Medina said.
Excellence Award in Service: Dumitru Caruntu, Ph.D.
Caruntu has rarely had a moment's rest since joining the UTRGV mechanical engineering faculty 10 years ago.
Nominator Robert Freeman, interim chair, Department of Mechanical Engineering, cites Caruntu's outstanding contributions to the university in service at all levels – department, college, university – as well as to the American Society of Mechanical Engineering (ASME) and the scientific community.
Caruntu's impressive service includes holding 26 capacities at the department level in the past 10 years. He has been elected and has served, or continues to serve, as ABET (Accreditation Board for Engineering and Technology) coordinator and as chair for several committees, including the Annual Evaluation Committee, Dynamics and Control Curriculum Committee, Enrollment Management Committee, and Mechanical Engineering Analysis Task Force.
Through his leadership, Caruntu made significant changes to the mechanical engineering curriculum that has been implemented, including new electives and modifications in the engineering mathematics sequence.
Caruntu's vita details his impressive service record," said Alexander Domijan, dean, College of Engineering and Computer Science. "What the vita does not convey, though, is the fact that Micky Caruntu is a servant leader who contributes to his students, his department, his college, the university, his discipline, and the community because he cares. He wants to make a difference in the lives of others. He truly believes in the mission of the university and our students."
Excellence Award in Research: Karen Lozano, Ph.D.
Lozano, the Julia Beecherl Endowed Professor and founder and director of the UTRGV Nanotechnology Center of Excellence, has been with UTPA/UTRGV for 17 years.
Nominator Arturo Fuentes, associate chair, Department of Mechanical Engineering, said Lozano has been instrumental in the development of the university's engineeringprograms.
"Dr. Lozano's tireless leadership and efforts in student recruitment, faculty mentoring, development of a first-class and state-of-the-art infrastructure for undergraduate and graduate research activities are producing many fruitful results that are making long-lasting contributions in the RGV community and in the scientific community," Fuentes said.
A noted role model for women in STEM careers, Lozano has been named Engineer of the Year, Great Minds in STEM, 2015, and she received the National Science Foundation Career Award.
She has been principal investigator or highly involved in 52 funded proposals totaling $14.5 million for expanding student and faculty research development programs
In addition, Lozano has over 45 patents/patent applications, with some of the patents – including the new technology Forcespinning® – establishing the foundation of Fiberio Technology Inc., co-founded by Lozano.
"The work Dr. Lozano has done has often been seen as foundational and it has contributed to a growth in nanotech research related to polymers, processing, composites and other nanomaterials. She stands at the top of the work done, including forced spinning and nanomanufacturing," said Enrique V. Barrera, professor, Materials Science and NanoEngineering, Rice University George R. Brown School of Engineering.
Excellence Award in Mentoring: Scott Roeder, D.M.A.
"Going the extra mile" seems to be all in a day's work for Roeder, associate professor of music, who has proven himself to be not only a professor of tuba/euphonium but also a mentor, coach, advisor, guide, travel and booking agent, fundraiser and role model.
Nominator Krista Jobson, assistant professor of flute, said she sees an energy in Roeder's students that she attributes to his ability to connect – encouraging students to reach further and hone their art as they prepare for national and international competitions.
"The tuba/euphonium ensemble that he leads is among the most traveled university ensembles in the country," Jobson said. "I estimate that Dr. Roeder has helped secure close to $50,000 since 2012 to help his students perform at all these events."
Abel Ocanas, a former student and now assistant band director for Nikki Rowe High School in McAllen, said he was able to travel to a competition in Austria. "By exposing me to so much talent in the United States and Europe, Dr. Roeder changed my life."
Former students also say their professor was always available, approachable, and remains a source of support as they pursue their careers in music education.
"A great way to mentor is to listen, and get to know your students – get to understand where they're coming from, what's going on in their lives – if you can see into their lives, you have a better avenue to help guide them to get to them where they want to go," Roeder said.
Excellence award in Sustainability Education: Alfonso Mercado, Ph.D.
Nominations for the Sustainability Education Award were based on the candidate's incorporation of United Nations Sustainable Development Goals, and their contributions to the areas of teaching, research, and service.
Mercado, a National Register Health Service Psychologist, provides psychological services to children, adolescents and adults, including individual therapy, specialized group therapies, and conducts psychological evaluations.
He has directed his latest research to documenting the effectiveness of Dialectical Behavior Therapy (DBT) within the Latino population. DBT is first-line treatment for Borderline Personality Disorder and other complex clinical disorders.
Graduate students in clinical psychology co-facilitate group therapy with Mercado on a weekly basis for 17 weeks at a time.
"You don't usually get to participate in this environment until you have graduated," said Yvette Hinojosa, a graduate student in clinical psychology and one of Dr. Mercado's students. "Being able to learn about this therapy and to co-facilitate a group is an amazing opportunity. You can really see how you can make a difference in people's lives."
Mercado is pleased to see his students accepted into master's and doctoral programs upon graduation. Many students continue to help him in this research and writing, and many have presented at local, state, and national conferences or have published in peer-reviewed psychology journals.
In addition to his professional career, Mercado serves his community in several capacities. He is a trustee for the Texas Psychological Association where he also serves as the Diversity Division chair, is an active member of the American Psychological Association, a board member at the South Texas Psychological Association, and works with two other nonprofit organizations in the Rio Grande Valley.
In the summer of 2017, he and psychiatry residents from the UTRGV School of Medicine will be providing a culturally adapted DBT treatment program to the Rio Grande State Center Medical Outpatient Clinic in Cameron County.
The department awards in the categories of engaged scholarship and faculty mentoring were:
Dr. Guy Bailey, UTRGV president, closed the program by saying the awards ceremony is always a highlight of the academic year, honoring teaching and research.
"I am so proud of all of you," Bailey said. "You are providing opportunities for students they may never have again. To receive one of these awards is a remarkable achievement, not only for yourselves, but for your students."
Additional Winners of the 2017 UTRGV Faculty Excellence Awards
MEDIA CONTACTS

Cheryl.Taylor@UTRGV.edu
UTRGV Senior Writer / 956-882-8787
Marci.Caltabiano@UTRGV.edu
UTRGV Director of News and Internal Communications / 956-665-2742