Sub Menu Toggle
Crawfish take up residence in new agroecological garden at UTRGV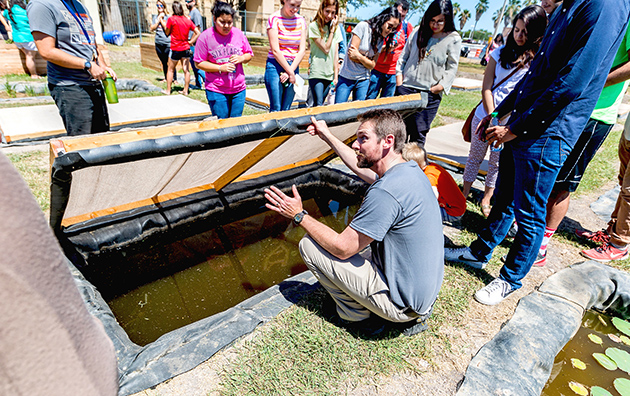 Dr. Christopher Gabler gave students, staff, faculty and the community a tour of Project CRAWFISH, a new research garden on the UTRGV Brownsville Campus, at a ribbon-cutting ceremony that officially opened the community garden and agroecological wetlands experiment. (UTRGV Photo by David Pike)
'All parts of the garden are designed to create food'
By Vicky Brito
BROWNSVILLE, TEXAS – MAY 5, 2017 – Behind UTRGV's dorms on the Brownsville Campus, you'll find a community garden that is anything but typical.
Dr. Christopher Gabler, assistant professor in the School of Earth, Environmental and Marine Sciences, has spearheaded the Brownsville Research and Community Garden, known academically as Project CRAWFISH – Climate Resilient Agroecological Watershed-Food Integration System for Husbandry.
The name is a clever wink to an important component of the project – crawfish. And the end game for the project is alleviating – in fact, eliminating – hunger. That may be a daunting goal, but Gabler is adamant: "We will eliminate hunger in the Rio Grande Valley," he says.
On Thursday, May 4, the university held a ribbon-cutting ceremony to officially open the garden to the campus and community.
"Our work is focused mainly on biodiversity and ecosystem function, which are both critically important to humans," Gabler told the visitors gathered for the opening. "They support our economies, and they are essential to our society in general."
Gabler, a trained ecologist, and his team of graduate and undergraduate students and volunteers created, a garden that replicates an agroecological watershed system as found in the world's larger systems.
There are 12 "cells," or garden units, each made up of three rectangular plots connected hydrologically – that is, via PVC pipes that allow water to move between the plots.
Each cell has an agricultural bed, with seasonal fruits and vegetables; a wetland, with plants, like rice, that grow in wet soil; and a pond for aquacultural species – that's where those crawfish live.
All together, the garden is comprised of 36 plots that make up 12 garden systems, with the entire project surrounded by an earthen berm to help control infiltration by rising water that is not part of the garden's ecosystem.
'TRANSFORMATIONAL'
In January, a group of students from the UTRGV College of Sciences began construction on the garden, which meant staking out and topping out each of the 36 plots, just for starters.
"The group I want to thank the most are my students and my volunteers," Gabler said at the garden launch. "These students came together and formed a community and gave a remarkable amount of their time and their energy and their love to this project.
"You are this project," he told the team, "and we couldn't have done it without you. Thank you all, from the bottom of my heart."
Sam Ortiz, a graduate student pursing a Master of Science degree in the newly formed Agriculture, Environmental and Sustainability Sciences at UTRGV, is Gabler's first graduate student and a pivotal member of the team.
"Our vision is to have an integrated production system modeled after natural watersheds, to sustainably produce crops and seafood," Ortiz told the crowd.
When constructing the garden, they factored water scarcity into the design – which is why the hydrological connection exists.
"The design is meant to minimize water and energy use," Ortiz said. "Water is filtered out through our treatment wetlands, providing fresh water for our aquaculture ponds."
All 12 plots are on a 4-by-8 frame, he explained, and each pond is three feet deep; the wetlands start at three feet deep and slant downward to two feet in depth. The beds are above-ground and enclosed by wood.
"We have made something very new, very different and very exciting," Ortiz said. "It just goes to show you that with a little money, and a few good ideas, and a committed group of people, we can achieve things that are transformational."
Jenny Baez, a sophomore environmental science and biology major, presented Project CRAWFISH's general objectives and goals:
Produce free and nutritious food for students and the local community.
Create research capabilities in agriculture and environmental sciences.
Create teaching resources for K-12 and UTRGV students.
Engage the broader Rio Grande Valley community.
"All parts of the garden are designed to create food," Baez said, "even the plants in the wetland, which also serve to purify the water. We currently have tomatoes, hot pepper, sorghum, Swiss chard and green beans, and some flowers, growing in our raised beds."
Every season, they will bring different fruits and vegetables to the raised beds.
"We have fewer options for our treatment wetland," Baez said. "Not many crops grow in the shallow water … the three most commonly formed wetland plants are rice, lotus and taro. Those are the three growing in there right now."
SUPPORT SYSTEM
Dr. Parwinder Grewal, dean of the College of Sciences, was on hand to congratulate the group for their exemplary work.
"It is amazing what has been done," Grewal told the supporters gathered for the launch. "It is just amazing what one faculty member that you hire can accomplish. Look at the inspiring work he has done – inspiring the future generation to engage in this kind of work."
Gabler, in his remarks, thanked a long list of university, community and governmental supporters for their contributions and help in bringing Project CRAWFISH to life, and emphasized that hunger has an impact not just in other parts of the world, but in the Rio Grande Valley community.
"Food and hunger are as important to health and to justice and society as anything else," he said. "Hunger and malnutrition and access to healthy foods are still impacting human health and wellbeing. It still creates social injustice, and it still prevents people from achieving their full potential.
"Hunger and food insecurity are right here in our own backyard," he said. "They're right here in the Rio Grande Valley. They're right here in Brownsville. Together, we will feed the Rio Grande Valley."
MEDIA CONTACTS
Victoria.Brito @UTRGV.edu
UTRGV Informational Writer / 956-882-4330 
Marci.Caltabiano@UTRGV.edu
UTRGV Director of News and Internal Communications / 956-665-2742