Sub Menu Toggle
Graduating seniors show off their artsy sides during cap-decorating event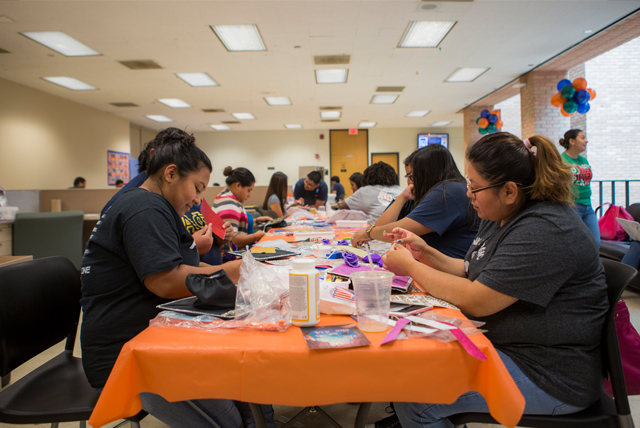 Graduating students for Spring 2017 decorate their graduation caps Tuesday, May 2, 2017, at the University Center in Edinburg. UTRGV Photo by Silver Salas 
PHOTO GALLERY
Password: gradcap
EDINBURG, TEXAS – MAY 2, 2017 – Dozens of graduating UTRGV seniors decorated their caps with ribbons, glitter and other ornaments, courtesy of the Office of Student Involvement, Tuesday, May 2.
The event is one of the last farewell salutes to students before they head into graduation ceremonies on Friday and Saturday, March 12-13.
"We want the students to express themselves by decorating their caps before their big send-off at commencement," said Cindy Mata, director of Student Activities. "We invite them to show off their creative side."
Tables were set up with colorful arts and craft accessories at both campuses – University Center on the Edinburg Campus and at the PlainsCapital Bank  El Comedor on the Brownsville Campus.
The cap-decorating event continues Wednesday, May 3, from 10 a.m.-2 p.m. and from 5-7 p.m., at the same campus locations.
For more information, contact the Office of Student Involvement at 956-882-5111 (Brownsville) or 956-665-2660 (Edinburg).
MEDIA CONTACTS
Melissa Vasquez
UTRGV Publications Editor/ 956-665-8926 
Marci Caltabiano-Ponce
UTRGV Director of News and Internal Communications/956-665-2742