Sub Menu Toggle
UTRGV named Tree Campus USA for third consecutive year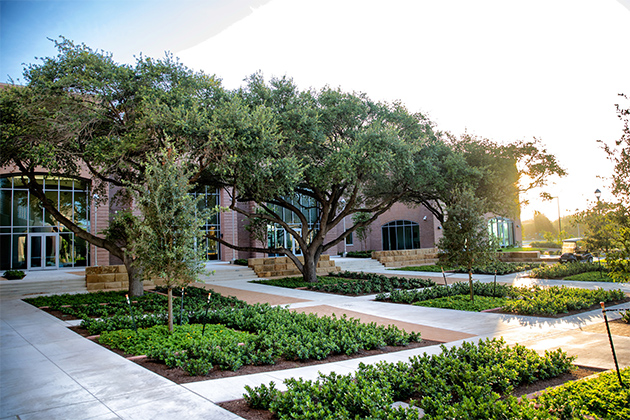 The national Arbor Day Foundation has named the UTRGV Edinburg Campus as a Tree Campus USA university for the third consecutive year. Part of UTRGV's healthy urban forest is pictured here, outside of the Medical Education Building on the Edinburg Campus. The designation reflects UTRGV's commitment to effective urban forest management and the engagement of the campus community in environmental stewardship.  (UTRGV Photo by David Pike)
By Gail Fagan
EDINBURG, TEXAS – MAY 1, 2017 – The Arbor Day Foundation has named the UTRGV Edinburg Campus as a Tree Campus USA university for a third year, for the university's commitment to effective urban forest management and its engagement of the campus community in environmental stewardship.
"By earning Tree Campus USA recognition, your campus has shown its commitment to protecting and preserving its valuable tree resources and will reap their benefits for generations of students to come," Arbor Day Foundation President Dan Lambe said in his letter of congratulations. "Your diligence in improving the environment and quality of life at The University of Texas Rio Grande Valley contributes to a healthier planet for all of us."
Tree Campus USA is a national program launched in 2008 by the Arbor Day Foundation to honor colleges and universities and their leaders for promoting healthy trees and engaging their students and staff in the spirit of conservation.
To obtain the Tree Campus USA distinction, UTRGV met the five core standards for effective campus forest management:
A tree advisory committee.
A campus tree-care plan.
Dedicated annual expenditures for its campus tree program.
Arbor Day observance.
And student service-learning project.
The Arbor Day Foundation's 2016 annual report says there are 296 colleges and universities across the United States with this recognition, with nearly $47 million collectively invested by Tree Campus USA colleges and universities in campus forest management in 2015. 
The effort to achieve the designation, first received by the university in 2014, was led by UTRGV's Office for Sustainability and it Facilities Planning and Operations Department. 
"Although this is a team effort, the ultimate recognition should go to the Department of Facilities Planning and Operations – in particular to the grounds crew, whose continuous dedication and commitment to the maintenance and beautification of our campus provides us with this designation," said Marianella Q. Franklin, chief sustainability officer for UTRGV. "We support this program in facilitating meetings, events and collecting the data required to meet the Arbor Day Foundation requirements."
UTRGV owns and maintains a healthy urban forest of more than 2,000 trees on the Edinburg Campus alone, with a 2014 estimated value of more than $5,735,000.
Beyond being a vital component of campus infrastructure and landscaping, a healthy urban forest provides substantial benefits, including providing green spaces and shade for the campus community, energy savings and reduction of carbon dioxide in the air, and support to reduce storm water runoff and soil erosion, Franklin said. 
Using the experience of the first tree inventory on the Edinburg Campus, done primarily by a team of biology undergraduate and graduate students, UTRGV's goal is to expand the tree inventory process to other UTRGV campuses and subsidiary locations.
Read UTRGV's 2016 Tree Campus Report
Learn more about Tree Campus USA and the Arbor Day Foundation here.
MEDIA CONTACTS
Gail.Fagan@UTRGV.edu
Senior Writer / 956-665-7995 
Marci.Caltabiano@UTRGV.edu
UTRGV Director of News and Internal Communications / 956-665-2742