Sub Menu Toggle
Registration underway for UTRGV Continuing Education's Certified Public Manager program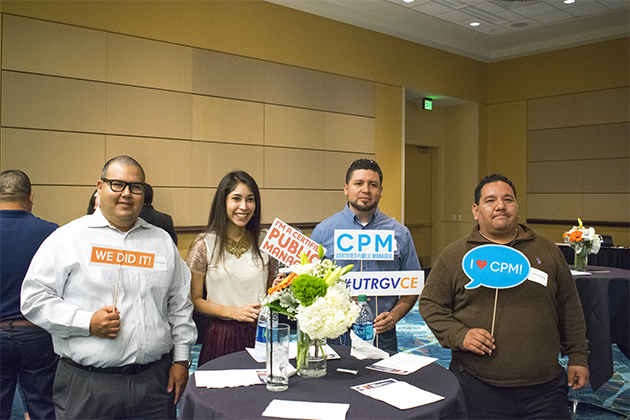 UTRGV's Office of Continuing Education held its first reunion of the Certified Public Manager Program on Friday, March 24, 2017, at the McAllen Convention Center. The reunion brought together UTRGV administrators and CPM program alumni, and hosted Dr. Howard Balanoff, of the William P. Hobby Center for Public Service at Texas State University, as keynote speaker. Registration for the sixth CPM cohort currently is underway. (Courtesy Photo)
McALLEN, TEXAS – MARCH 27, 2017 – Registration is now open for the UTRGV Office of Continuing Education's sixth cohort of the Certified Public Manager Program (CPM), which starts April 21.
CPM is designed to enhance and develop the skills of public sector managers, especially in dealing with "real-world" challenges and situations. All tracks are developed from a "practitioner's" point of view, utilizing knowledge-based skillsets that can be incorporated within one's career path. Instruction is by a team of academic and practitioner faculty.
The next cohort starts April 21 with track one, Public Personnel Administration. It will include classes on Friday, April 21, and Saturday, April 22, and again on May 19 and May 20, with full day classes on Fridays and half days on Saturdays.
Each subsequent track will follow the same schedule, with classes held at various city and county government offices to provide ample opportunities for hands-on learning.
The program is designed to be flexible, so people can join at any of the tracks and complete remaining tracks with the next cohort. However, it is recommended that people start with track one to benefit the most from the flow of topics.
Offered in partnership with the UTRGV College of Liberal Arts, UTRGV Continuing Education's 14-month Texas CPM Program consists of seven tracks geared to handling the challenges of public administration.
The CPM program is nationally accredited by the National Certified Public Manager Consortium and is cooperatively offered through the William P. Hobby Center for Public Service of Texas State University.
The CPM program is led by John Milford, graduate professional practitioner lecturer, with the UTRGV Department of Public Affairs and Security Studies (PASS). Milford has more than 33 years of professional administrative experience in local government.
Since its inception in September 2008, the program has prepared 114 participants in five cohorts for the demands of leadership. Participants complete the program with rigorous studies in leadership, public administration, quality management, organizational communication, public finance and budgeting, program evaluations, and a final capstone project that draws on skills gained throughout the program.
Continuing Education on Friday, March 24, 2017, hosted the first CPM Program Reunion. Held at the McAllen Convention Center, it brought together UTRGV administrators and CPM program alumni. Dr. Howard Balanoff, from the William P. Hobby Center for Public Service at Texas State University, was keynote speaker.
To learn more about the Office of Continuing Education's Certified Public Manager Program, visit www.utrgv.edu/ce or call (956) 665-2071.
MEDIA CONTACTS
Marci.Caltabiano@UTRGV.edu
UTRGV Director of News and Internal Communications / 956-665-2742