Sub Menu Toggle
UTRGV alumni choose education path with commitment to Teach For America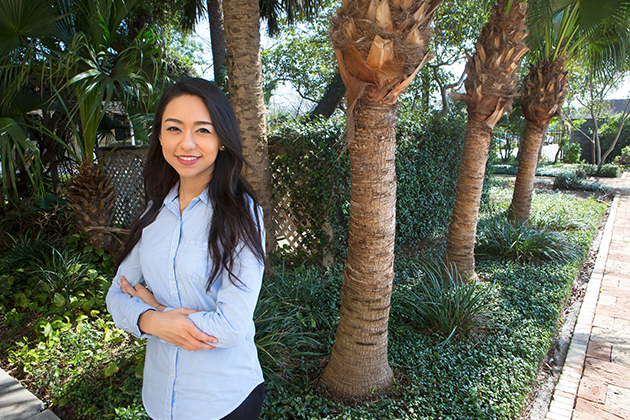 UTRGV alumna Lorena Garcia graduated in fall 2016 from UTRGV with a bachelor's degree in biology, and recently signed a two-year contract with Teach For America. She will begin her training in Houston in June. (UTRGV Photo by Veronica Gaona)
By Cheryl Taylor
RIO GRANDE VALLEY, TEXAS – MARCH 21, 2017 – After graduating from UTRGV in December 2016 with a bachelor's degree in biology, Lorena Garcia was catching up with a friend from her days at Hanna High School. The conversation turned out to be propitious.
"My friend had just finished her first semester with Teach For America (TFA) in the Houston Independent School District," Garcia said. "She had great things to say about the program and thought it would be perfect for me."
Lorena has experience working with at-risk teens in her church youth group, and with her love of science, the TFA idea quickly gelled. She applied right away.
The first in her family to graduate from college, Garcia will go through TFA training this summer. By August, she will be in her own classroom, certified to teach the high school sciences – biology, chemistry and physics.
"I'll share my enthusiasm with my students," Garcia said. "From my own experience, I know how effective hands-on teaching is, and I hope to be able to take my students on lots of field trips because that's a good way to engage teenagers."
Another recent UTRGV graduate, Abiel Cantu, is a Roma native already in his second semester with Teach For America, teaching world geography at Jimmy Carter Early College High School in La Joya, Texas.
"I originally wanted to go straight into law school," Cantu said. "However, in my junior year at UTRGV, I started volunteering in the local school district as a debate coach. I liked working with the students and started to see myself in the classroom. I decided I needed to teach before I did anything else toward my career."
ABOUT TFA
UTRGV and its legacy institutions have a growing number among Teach For America's network of 53,000 alumni. Last year, eight UTRGV graduates joined the TFA program, said Jonathan Stevens, managing director for TFA in the Rio Grande Valley, and he expects at least that many will be added to this summer's cohort.
TFA partners with communities most affected by educational inequity, according to Stevens, and TFA teachers are placed in urban and rural low-income public schools in one of 53 regions across 36 states.
Last year, TFA received more than 37,000 applications and accepted just fewer than 15 percent of those applicants to the teaching corps, he said.
"Our teachers are special," Stevens said. "The application and discernment process puts them through their paces to determine if they are a good fit, that they are committed to the program. During the intense training, corps members develop a foundation of knowledge, skills and mindsets needed to be an effective beginning teacher."
Once in the classroom, corps members continue to receive support from TFA, with one-on-one coaching, certification courses, and group sessions within their regional cohorts.
"TFA makes a commitment, just as the recruits do – we are all in this together," Stevens said.
Cantu's commitment came after carefully researching options and talking to some of his former teachers at Roma High School who had been TFA teachers. He decided to apply to TFA, and with his new bachelor's degree in political science, Cantu joined his TFA cohort for training last summer in Houston, where they lived in student housing at Rice University. This summer, Garcia's cohort will reside in student housing at the University of Houston.
After a concentrated first week of learning classroom management techniques, student motivation methods and approaches to building classroom culture, TFA trainees go straight into summer session classrooms. In this region, TFA's partner is the Houston Independent School District.
"I knew it would be intense, but it was even more than I imagined," Cantu said.
He describes rigorous training, typically starting with a 5 a.m. wake-up call, then travel to the group members' respective schools, where classes were in session from 8 a.m. to 3 p.m.
"We were always under supervision by the HISD classroom teacher and our TFA mentor," he said. "My mentor was wonderful. We had one-on-one sessions, where she would evaluate my lesson plans, listen to my ideas and offer guidance."
After classes, the TFA trainees met in group sessions to reflect on the issues of the day.
"Sharing with the others was an important part of our training; it gave us perspective," Cantu said. "We talked about our successes and what could have gone better, ways to build stronger lessons, ways to prefect our classroom culture."
NEXT STEPS FOR CANTU AND GARCIA
"I'm not sure what school, or even what town, but TFA has guaranteed me a spot in a Valley high school and I'm happy to know I'll be staying close to home," said Garcia, a Brownsville native.
She will drive to Houston on June 5, move into student housing, meet her fellow TFA recruits, and start TFA training the next morning. Between now and then, she plans to work as a substitute teacher in Brownsville and San Benito.
For his part, Cantu hopes to spend early summer teaching summer school for La Joya ISD. In the second half of the summer, he will journey to the South American country of Guyana as a volunteer with Limited Resource Teacher Training, a non-profit organization that collaborates with underdeveloped countries to train teachers within the respective countries' systems and build local capacity for professional development.
"Guyana's teacher training has limited resources. As a teacher trainer, I hope to share what I have learned over this past year," Cantu said. "And then, I'll begin my second year with TFA, with a strong probability I'll stay in the classroom a bit after that. I feel that no matter what I pursue – and law school is still a possibility – I'll be connected with education and continue to be an advocate for education."
For more information about Teach For America, contact Stevens at Jonathan.Stevens@teachforamerica.org or visit Teach For America.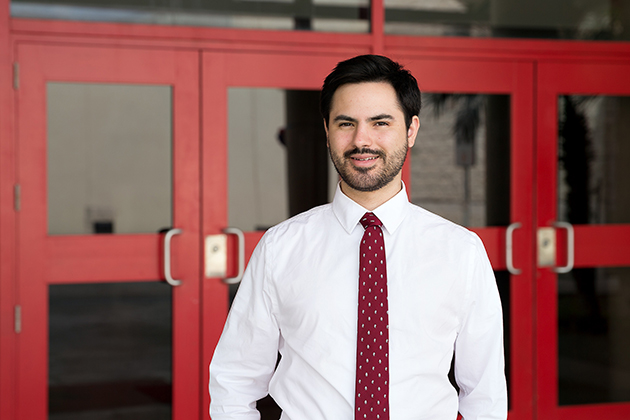 UTRGV alumnus Abiel Cantu earned a bachelor's degree in political science and is in his first year with the Teach For America program at Jimmy Carter Early College High School in La Joya. (UTRGV Photo by Paul Chouy)
                       
MEDIA CONTACTS

Cheryl.Taylor@UTRGV.edu
UTRGV Senior Writer / 956-882-8787
Marci.Caltabiano@UTRGV.edu
UTRGV Director of News and Internal Communications / 956-665-2742