Sub Menu Toggle
STDOI Director Williams-Blangero named H-E-B Distinguished Chair for Diabetes and Genomics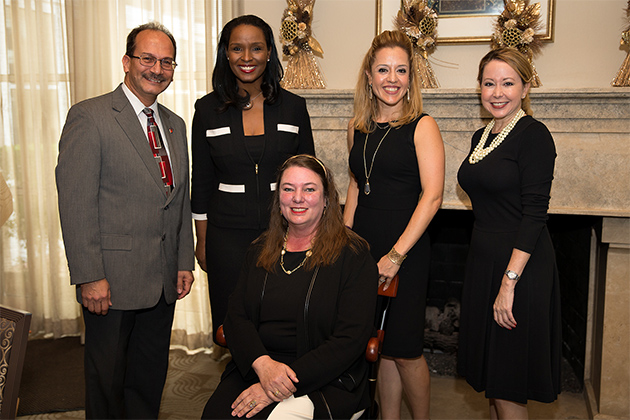 UTRGV has named Dr. Sarah Williams-Blangero (seated at center) the endowed chair of the H-E-B Distinguished Chair in Diabetes and Genomics for the South Texas Diabetes and Obesity Institute. Williams-Blangero, a genetics and infectious diseases expert, is director of STDOI. Standing, from left, are Dr. Havidán Rodríguez, UTRGV provost and executive vice president for Academic Affairs; Winell Herron, group vice president of Public Affairs, Diversity & Environmental Affairs, HEB Grocery Company LP; Linda Tovar (HEB manager of Public Affairs, Border Region; and Dr. Kelly Scrivner-Cronin, UTRGV vice president for Advancement. (UTRGV Photo by Paul Chouy)
By Jennifer L. Berghom
RIO GRANDE VALLEY, TEXAS – MARCH 9, 2017 – The University of Texas Rio Grande Valley has named Dr. Sarah Williams-Blangero as the endowed chair of the H-E-B Distinguished Chair in Diabetes and Genomics for the South Texas Diabetes and Obesity Institute.
Williams-Blangero, a renowned genetics and infectious diseases expert, is director of the South Texas Diabetes and Obesity Institute.
H-E-B in December 2014 donated $1 million to establish the H-E-B Distinguished Chair in Diabetes and Genomics, benefitting STDOI. 
"We are pleased to be able to partner with UTRGV in helping to safeguard the well-being of our Rio Grande Valley community," said Linda Tovar, H-E-B senior manager of public affairs. "We strongly believe in the critical work that Dr. Williams-Blangero and her team of researchers at the South Texas Diabetes and Obesity Institute are engaged in, and support the university's continued commitment to health and wellness research."
UTRGV President Guy Bailey said the university is grateful to H-E-B for its donation and for its continued support.
"This gift will advance critical research that will result in significant impacts at the regional, national, and global level," Bailey said.  
Dr. Steven A. Lieberman, interim dean of the UTRGV School of Medicine, where the STDOI is housed, said the endowment will help Williams-Blangero and her team in their efforts to find new, more effective treatments for diabetes, which affects about 30 percent of the Rio Grande Valley population.
"The funds from this endowment will allow Dr. Williams-Blangero and her team to apply their cutting-edge research approaches to gain greater insight into metabolic disorders including diabetes that are so common here in the Valley."
ABOUT WILLIAMS-BLANGERO
Williams-Blangero came to UTRGV in October 2014 to lead STDOI. She and her research team, which has grown to more than 50 scientists, are advancing research of diabetes and obesity that will lead to more effective treatments and improve the lives of residents throughout South Texas and beyond.
She earned her bachelor's, master's and doctoral degrees from Case Western Reserve University in Cleveland, Ohio. Before coming to UTRGV, Williams-Blangero had worked at the Texas Biomedical Research Institute in San Antonio, where she served as chair of the Department of Genetics and deputy director of the Southwest National Primate Center. 
Williams-Blangero has published more than 100 articles in scientific literature. In 2001, she was elected a fellow of the American Association for the Advancement of Science, for her contributions to anthropological genetics and health, for dedication to advancing biological anthropology, and for developing one of the premier research groups in the field. 
MEDIA CONTACTS
Jennifer.Berghom@UTRGV.edu
UTRGV Senior Writer / 956-665-7192 
Marci.Caltabiano@UTRGV.edu
UTRGV Director of News and Internal Communications / 956-665-2742