Sub Menu Toggle
UTRGV Summer Trombone Concert set for June 27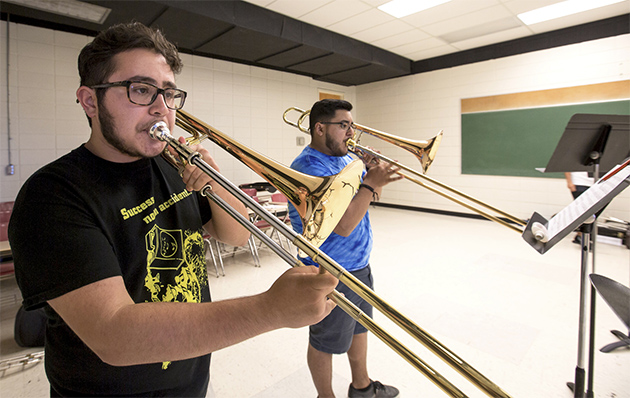 PHOTO GALLERY OF TROMBONE REHEARSAL
By Steven Masso
BROWNSVILLE, TEXAS – JUNE 23, 2017 – A group of local high school, UTRGV and TSC students led by Dr. William Haugeberg, assistant professor of Low Brass at UTRGV,  are seen here rehearsing for the upcoming UTRGV Summer Trombone Concert, 7 p.m. Tuesday, June 27, at the TSC Arts Center Main Hall, 90 Taylor Ave., in Brownsville.
The trombone choir consists of eight students, all on trombone for this performance. Haugeberg described the choir's style of music as "Bach-to-rock," and emphasized the wide range of music styles they will present during the concert.
UTRGV student Marco Betancourt, who is part of the group, said the music is complex and challenging.
"It's something I haven't really heard before," he said. "It's really great."
MEDIA CONTACT
Steven.Masso01@UTRGV.edu
Student Writer / 956-882-7684
Marci.Caltabiano@UTRGV.edu
UTRGV Director of News and Internal Communications  /  956-665-2742