Sub Menu Toggle
UTRGV students help build 'greener' tomorrow at IDEA Pharr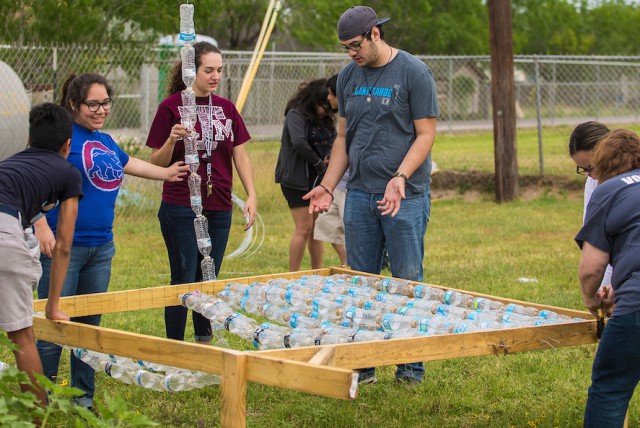 Ariana Garza (middle left), a 10th-grade teacher at IDEA Pharr Academy and mastermind behind the school's campus greenhouse, discusses how to lift the structure's wall with UTRGV junior technology major Chris Saldivar (middle right), who volunteered his time to help the high school students build their greenhouse. During the spring 2017 semester, UTRGV students and faculty from the Department of Manufacturing and Industrial Engineering and from the UTRGV UTeach Certification Program volunteered their time to help the Pharr students with their greenhouse. (UTRGV Photo by Silver Salas.)
By Melissa Vasquez
RIO GRANDE VALLEY, TEXAS – JUNE 20, 2017 – When Ariana Garza, a 10th-grade teacher at IDEA Pharr Academy, was looking for help with the design and construction of a greenhouse on her campus, students and faculty from the UTRGV Department of Manufacturing and Industrial Engineering and the UTeach Certification Program stepped up to lend hand.
Adriana Olvera, UTRGV department lecturer, and seven undergraduate students taking her Green Building Design course, volunteered to mentor Garza's 10th-grade students with their project.
In addition, Dr. Angela Chapman, UTRGV assistant professor of science education, Department of Teaching and Learning, and UTeach certification program co-director, and one of her students helped with the project.
The UTRGV student volunteers and faculty members went to the IDEA Pharr campus on Saturdays during the spring semester to help about 30 high school students assemble their cubed-shaped structure.
The greenhouse was built by stringing hundreds of recycled water bottles on a wire to create the structure's walls. Garza's students created a blueprint for the greenhouse, and Olvera and her students added a few features to the plan.
Completed in late April, the greenhouse was built to allow students to grow their own fruits and vegetables, and the added lessons were about taking care of the environment and learning how to eat healthy, Garza said.
"Adriana and her engineering students helped us make it perfect and sustainable. They even suggested a water system for the vegetables that we will be planting," Garza said.
Olvera said this was an excellent opportunity for the students to apply what they learned in the course and help their communities at the same time.
Another plus was the chance to mentor young minds and encourage them to think of engineering as future career possibility, she said.
"I hope my students get to continue doing community projects like this, and not just for class," Olvera said.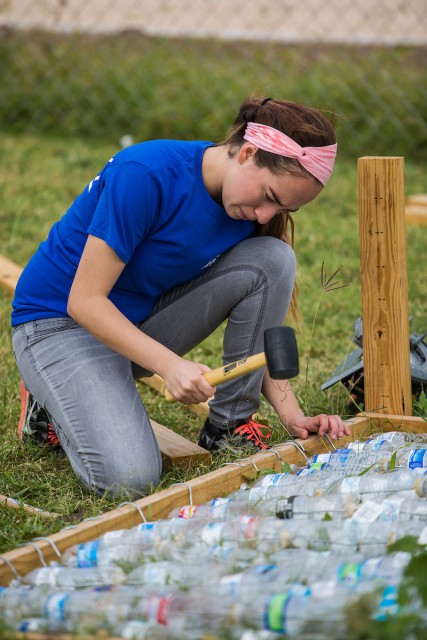 Felicia Rodriguez, an undergraduate student in the UTRGV College of Education and P-16 Integration UTeach Program, hammers down the wire that will hold the plastic bottles to construct the wood frame for a new greenhouse on IDEA Pharr Academy campus grounds. During the spring 2017 semester, UTRGV students and faculty from the Department of Manufacturing and Industrial Engineering and the UTeach Certification Program volunteered their time to assist the high school students with their greenhouse. (UTRGV Photo by Silver Salas.)
'THEY MADE A DIFFERENCE'
Garza, a UTRGV alumna currently working toward a master's degree in curriculum and instruction in the College of Education and P-16 Integration, is a former UTeach student. She said she appreciated the personal time and effort the UTRGV students contributed to help her students make the project a reality.
"I hope they walk out of this experience thrilled to know they made a difference and will continue to do so in the career they pursue," Garza said of the UTRGV students. "They are helping young minds become engineers, and they have become role models that my students aspire to be like."
Garza also praised Chapman, her mentor and former professor, for helping make the collaboration possible. Chapman got the ball rolling on the project by sending an email to faculty in the College of Engineering and Computer Science.
The greenhouse was an ideal project for Garza's students in her Catalyst course, as she wanted to incorporate science, technology, engineering and math (STEM) into the class. This was her chance to get the students thinking like engineers, she said.
"Not only did this project involve STEM, but it also helped students become more aware of the environmental issues surrounding us today," Garza said.
Tenth-grader Samantha Aleman, who is thinking of majoring in marketing and minoring in environmental engineering when she goes to college, said she really enjoyed the greenhouse experience.
"I think our school will become a better place if we do more things like this. We are going to put something here for others to see, a small legacy," she said.
Felicia Rodriguez, an undergraduate student in the UTRGV College of Education and P-16 Integration UTeach Program, plans to teach high school chemistry in the future. She said the greenhouse project motivated students to think about STEM careers and about protecting the environment. When she becomes an educator, she said, she hopes to incorporate similar projects into her curriculum.
"This project shows me that student learning does not have to be in the classroom. It can be done outside and on weekends, too," she said. "It's exciting that we can switch up the curriculum. I'm already thinking about what I can do when I become a teacher."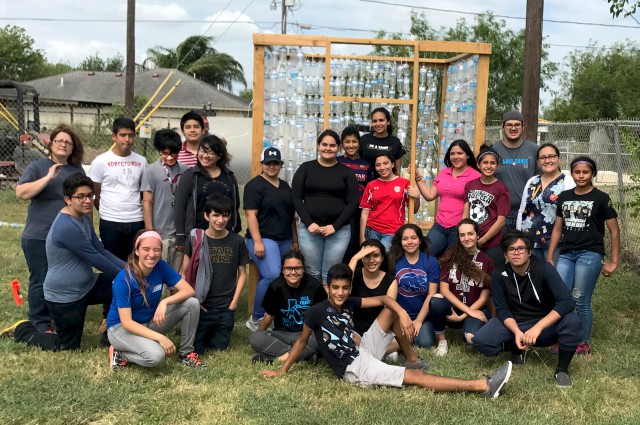 UTRGV student volunteers and faculty members volunteered at the IDEA Pharr campus during the spring semester to help IDEA students assemble a cubed-shaped greenhouse, built by stringing hundreds of recycled water bottles on a wire to create the walls. The greenhouse was built to allow students to grow their own fruits and vegetables, as well as learning to take care of the environment and how to eat healthy. (UTRGV Photo by Silver Salas)
MEDIA CONTACTS
Melissa.Vasquez@UTRGV.edu
Publications Editor / 956-665-8926
Marci.Caltabiano@UTRGV.edu
UTRGV Director of News and Internal Communications / 956-665-2742