Sub Menu Toggle
UTRGV hosts Team Mario summer camp for children on autism spectrum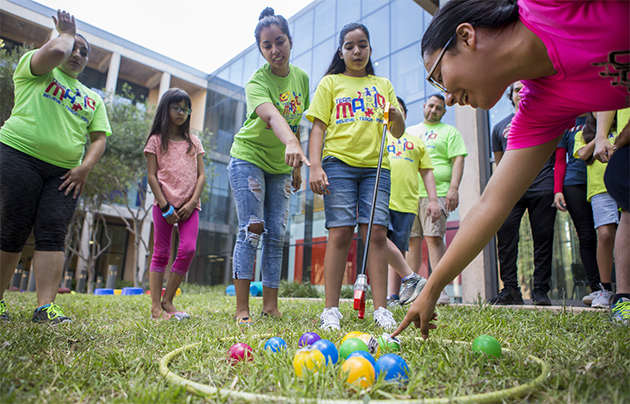 The University of Texas Rio Grande Valley for the fourth summer is hosting Team Mario Fun Fridays Summer Camp, the first and only summer camp in the Valley designed for children ages 7-15 on the autism spectrum. Team Mario camps are held to help children with autism develop social skills that will serve them well in life. (UTRGV Photo by Silver Salas)
By J. Edward Moreno
EDINBURG, TEXAS – JUNE 20, 2017 – Disney songs echoed in the halls of UTRGV's Education Building as more than 20 children participated in Team Mario's "Fun Friday" event.
The university this summer is hosting the fourth annual Team Mario Fun Fridays Summer Camp, the first and only summer camp in the Valley designed for children ages 7-15 on the autism spectrum.
Team Mario, an organization that advocates for autism awareness in the Valley, was founded by Melinda Moreno, whose son, Mario, has autism. Frustrated with the limited resources available to children with autism in the Valley, Moreno took Mario to a three-week camp in North Carolina. That experience gave her the idea to start a summer camp in the Valley for children like her son.
"At the time, there was no program like this in the Valley," Moreno said. "It is important because during the summer, there are so many activities for typical children but not really any for children who are on the autism spectrum."
During the Team Mario camp, children participate in social activities and games meant to improve their communication skills and make them more comfortable in social settings.
Shae Scott, a three-year volunteer and recent UTRGV graduate with a degree in special education, said she has seen a huge improvement in the students she has worked with.
"The cool thing about being here for three years is that I've really gotten to see these kids grow," Scott said. "Some kids who used to only say a few words and wouldn't really communicate now speak in full sentences, ask questions and greet you when you come in."
Damian Duque, 19, is a perfect example of the progress Scott is talking about. Duque first attended the Team Mario camp four years ago as a quiet, anxious camper. Now he is a volunteer at the camp and helps younger campers on the autism spectrum break out of their shell.
"I used to have trouble socializing, I would get social anxiety and wasn't really able to keep a conversation," Duque said. "Step by step, Lisa (a volunteer at the camp) has helped me when I had issues communicating."
The camp takes place every Friday from June 9 to July 7 in the Education Building on UTRGV's Edinburg Campus. For more information, contact Johnny Salinas, administrative assistant, at (956) 665-3358.
MEDIA CONTACTS
J. Edward Moreno
UTRGV Student Writer / 956-665-3639 
Marci Caltabiano-Ponce
UTRGV Director of News and Internal Communications / 956-665-2742