Sub Menu Toggle
Professor and Poet: Emmy Pérez awarded NEA poetry fellowship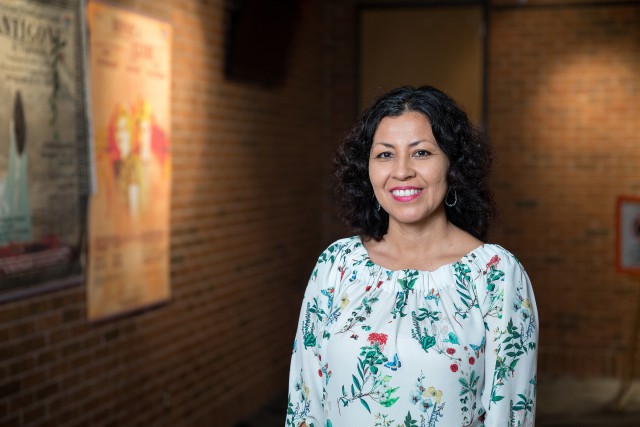 UTRGV Associate Professor in Creative Writing Emmy Perez has been awarded a highly coveted poetry fellowship from the National Endowment for the Arts. (UTRGV Photo by Paul Chouy)
By Vicky Brito
RIO GRANDE VALLEY, TEXAS – JUNE 9, 2017 – Emmy Pérez, UTRGV associate professor of creative writing and interim director of the Center for Mexican American Studies, has been selected as a 2017 Literature Fellow with the National Endowment for the Arts.
Pérez was one of 37 selected from a highly competitive field of more than 1,800 applicants in the poetry category.
"It is an honor to be selected for poetry I wrote, from a place of love, about the Texas borderlands and the Rio Grande," Pérez said, "and for topics that weigh on me, such as the dangers children face around the world due to war, violence, poverty, gender discrimination and religious persecution."
She said the application criteria and judging for an NEA grant are rigorous. Applicants must establish the minimum amount of prior publication for eligibility, and also submit a poetry sample for a panel of judges to consider.
"I think for poets, you can either have a book published in the last five years, or at least 20 poems published in at least five different literary journals," Pérez said. "I recently published a book, and I published in other places too, so I qualified. However, it's the panel judging the poems themselves that becomes the most subjective part of the process, and I feel very, very fortunate to have been selected."
Pérez's latest book, "With The River on Our Face," was published by the University of Arizona Press in fall 2016.
This NEA fellowship is meant to give writers monetary support to take time off from teaching so they can work on their poetry and develop ideas. Pérez says she will use the time to work on her next book, tentatively titled "I Am Joaquín's Mom."
She describes it as a book of poetry from a Chicana feminist perspective. The title is inspired by Corky Gonzáles' famous poem "I Am Joaquín," rooted in the Chicano Movement.
"As a relatively new mother myself, I find myself responding as a witness more and more to the difficulties related to refugee children, families and individuals in the increased militarization of borderlands, here and all over the world," Pérez said. "This is partially what the book is about. I also have pieces that examine the at times problematic nature of traditional gender roles and expectations as they relate to raising small children.
"There are celebratory poems as well," she said, "and works that I hope to write that go back to my roots in Santa Ana, California. I am looking forward to seeing how the work evolves."
Pérez said being selected for this NEA grant has made her reflect with greater appreciation on how hard her parents worked so she could go to school and learn.
"Being selected for an NEA fellowship in poetry makes me remember the sacrifices my parents made for my education, and how deeply grateful I am to my mother for taking me to the library when I was a small child, and for never discouraging me from pursuing a graduate degree or a life in the arts," Pérez said.
ABOUT NEA
The NEA is an independent federal agency whose funding and support gives Americans the opportunity to participate in the arts, exercise the imagination and develop creative capacities.
Every year since the agency was created in 1965, the National Endowment for the Arts has awarded literature fellowships to writers who have been making an impact on U.S. culture. As of 2016, 3,422 fellowships had been awarded to 2,940 writers.

MEDIA CONTACTS
Victoria.Brito @UTRGV.edu
UTRGV Informational Writer / 956-882-4330

Marci.Caltabiano@UTRGV.edu
UTRGV Director of News and Internal Communications / 956-665-2742