Sub Menu Toggle
Dr. Martha Tevis retires after distinguished 50-year career in education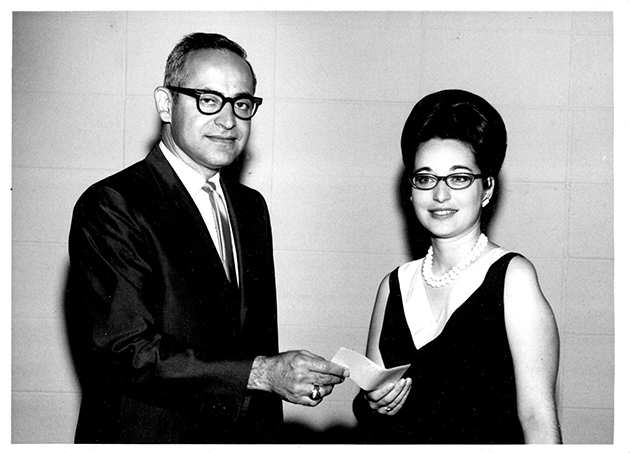 UTRGV's longest tenured faculty member, Dr. Martha Tevis, is pictured in 1968 with McAllen attorney Morris Atlas (now deceased), a long-time member of the Pan American College Board of Regents, and in May 2017, at party hosted by the UTRGV College of Education and P-16 Integration to celebrate her 50-year career before her retirement May 31, 2017. (UTRGV Photo by Paul Chouy)
By Gail Fagan
RIO GRANDE VALLEY, TEXAS – JUNE 2, 2017 – When Dr. Martha May Tevis came to teach Latin and education in 1967 at then-Pan American College, there were six buildings, 100 faculty members and about 3,500 students.
Tevis, a professor of education and the longest-tenured faculty member at The University of Texas Rio Grande Valley, said it's a good thing she enjoys change because she has seen plenty of it in her 50-year university career. 
"A lot of people don't like change. I liked change because it was always exciting," said Tevis, graduate adviser in the Doctor of Education in Curriculum and Instructionprogram, Department of Teaching and Learning in the College of Education & P-16 Integration (CEP), and program coordinator of the college's graduate secondary- and elementary-education programs.
On May 31, 2017, her long career at the university ended with her retirement, and Tevis leaves behind a legacy of service to her students and colleagues, the university and the Valley.
"For 50 years, Dr. Tevis has played a major role in the development of our college," said Dr. Patricia Alvarez McHatton, CEP dean. "UTRGV and the College of Education and P-16 Integration is what it is today because of dedicated faculty like her."
A LIFELONG CAREER IN EDUCATION
Tevis, a native Texan from Wichita Falls, earned a Bachelor of Arts with a major in Latin and a minor in English, and a Master of Arts in education with a specialization field in Latin, from Our Lady of the Lake University in San Antonio. She received her doctorate from The University of Texas at Austin, in the history and philosophy of education.
She credits her entry into a career in education to the influence of her mother, who was a teacher, and an early and avid love of reading.
"I was read to continuously, as I was the only child in the family. Reading became a real love and is a passion with me to this day," said Tevis, who established the Valerie McLamore Tevis Endowed Scholarship at the university in her mother's name.
And in 2006, the Dr. Martha May Tevis Endowed Scholarship was established to help support graduate students studying secondary education.
Her academic specialization area – equity in education, particularly the history of Mexican American education in the United States – was greatly influenced by Dr. George Sánchez, a member of her dissertation committee and the leading pioneer in the fight for equality in Mexican American education. He is included in a book she is writing on Mexican American civil rights leaders who were mentored or influenced by Sánchez.
"I've had emails recently from some of my students who have told me that they are incorporating what they have learned about Mexican American education and leaders in their classes," she said. "It just thrilled me."
Tevis' memory serves her well when recalling the university's growth and the memorable moments and colleagues of the past. One of the most significant changes was the addition of master's and doctoral degrees, she said. Prior to that, most Rio Grande Valley educators had to travel long distances to obtain a graduate education.
She describes the thousands of students she has taught as exceptional scholars.
"I have never seen students so engaged – undergraduates and graduate. I am often teaching students who are teaching all day long. Then they come over and are so enthusiastic about coming here. They are invigorated, and that does something to me," Tevis said.
Dr. Miguel Nevárez, president of UTPA from 1981 to 2004, said he frequently relied on her advice, and praised the many contributions Tevis has made.
"Just think about the impact she has made in those 50 years on students through her teaching and mentoring," he said. "I am sure Martha has had in her classes many offspring of the students she has taught over the years."
Beyond teaching, her service to the institution is lengthy and distinguished, despite physical challenges she faced due to infantile polio.
Among the many committees she has served on, Tevis said, the yearlong celebration of UTPA's 75th anniversary was one of her favorites. She also claims many "firsts" in the university's history, beyond writing the descriptions of many of its first graduate courses in education.
"I was on its first alumni board, Faculty Senate, EEOC committee and Honors Council; one of the first recipients of a university faculty award (she has received it in all of its categories – teaching, research and learning); on the first committee to write and approve the institution's maternity leave policy, and a founding member of Lambda Psi Chapter of Kappa Delta Pi – the international honor society in education," Tevis said.
A VALUABLE, PRIZED COLLEAGUE
Dr. John McBride, now retired, was her colleague for 33 years and co-directed with her the UTPA Collaborative for Excellence in Science Teaching, which helped more than 200 science and math students return to the university for a master's degree. A number of those graduates went on to become Valley school district science coordinators.
McBride praised her scholarship, hard work, dependability and legacy of service to students.
"She went the extra mile to help her students," said McBride, who served as her department chair for many years. "Students recognized her scholarship and her care and concern for them. They also recognized her honesty and integrity."
McBride called her a major force in the university's growth, development and change over the years.
"Dr. Tevis has dedicated her life and her professional career to this university. It has been a focal point of her life," he said. "She will be missed."
Dr. Shirley Mills, a fellow faculty member since 2007 who is now retired, also praised Tevis' commitment to helping her students, including providing them financial support and taking graduate students to conferences, often at her own expense.
"She is an unsung heroine to so many students," Mills said.
Mills touted Tevis' expertise in writing, and her knowledge of the history of the Valley and the university.
"She mesmerizes her listeners with all the wonderful details of the people who have influenced the Valley," Mills said.
A CARING FAMILY MEMBER TO HER STUDENTS
Former student Martha Graham, who earned her master's degree under Tevis' advisement in 2014, said she introduced Tevis to her mother at her hooding as "my school Grandma."
"I regard her as family," said Graham, who taught at UTRGV this past year and now plans to pursue her doctorate. "Somehow, she just knows what people need and she has an incredible gift for encouraging, for seeing students as whole people rather than just as collections of assignments, for pointing people in the right direction and knowing exactly how to apply her incredibly vast knowledge to help the people she cares about."
Dr. Andy Martinez, former superintendent of two Valley school districts before retiring in 2008, said Tevis was on the dissertation committee for his Ed.D. in educational leadership, which he earned in 2011.
With her encouragement and guidance, he switched the focus of his dissertation from school board governance and its effect on students to conjunto music, which he tied to education through culture, music and student learning.
"I knew she cared about us. It wasn't just a course she taught. She wanted us to succeed," he said.
ONWARD
Tevis called retirement "a new adventure," and she has no plans to leave the Valley.
"I have never fallen out of love with the Valley since I arrived," she said.
She plans to continue to do research and write, as well as remain active in the many professional organizations she has participated in over many years, including the International Society for Education Biography and the Foundations of Education group; she holds positions in both.
Tevis foresees a great future for UTRGV.
"I know that there are always bumpy roads. Nothing is accomplished without a lot of hard work and a lot of dreams and people who believe in something," she said. "I think we have always had that. We've had good leadership, and a community that has supported us, too."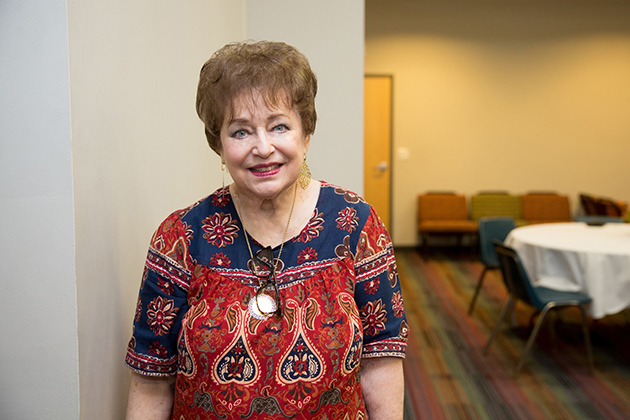 Dr. Martha Tevis
MEDIA CONTACTS 
Gail.Fagan@UTRGV.edu
Senior Writer / 956-665-7995 
Marci.Caltabiano@UTRGV.edu
UTRGV Director of News and Internal Communications / 956-665-2742