Sub Menu Toggle
UTRGV hosts International Center for Sustainability Across the Curriculum Conference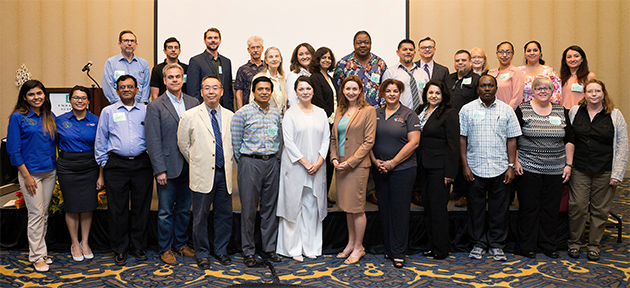 Guests from the United States and Mexico gathered at the Embassy Suites in McAllen in May to exchange ideas and share their insights, during UTRGV's International Center for Sustainability Across the Curriculum (ICSAC) Faculty Professional Development Conference. The university worked in partnership with the Association for Advancement of Sustainability in Higher Education to host the intensive, two-day faculty development program. (UTRGV Photo by Paul Chouy) 
By Deborah Fitzwater-Dewey
McALLEN, TEXAS – JUNE 1, 2017 – UTRGV recently hosted the first International Center for Sustainability Across the Curriculum Conference (ICSAC) in McAllen and welcomed guests from across the United States and Mexico.
UTRGV worked in partnership with the Association for Advancement of Sustainability in Higher Education (AASHE) in hosting the intensive, two-day faculty development program. 
Growing out of UTRGV's successful Project Sin Fronteras, the program's goal is to bring together faculty from all fields to allow for an exchange of ideas that nurtures an enriching collaborative atmosphere. It is an interdisciplinary exercise that helps faculty explore the shifts in pedagogy needed to incorporate sustainability concepts, problems, or solutions into new or existing courses.
The instructional materials, activities and presentations highlighted at the conference were drawn from experienced faculty and professionals on issues of sustainability, environment and curriculum, and supported education for sustainable development in higher education.
Dr. Havidán Rodríguez, UTRGV provost and executive vice president for Academic Affairs, and Marianella Franklin, chief sustainability officer, welcomed the 40 guests to the conference.
"Education for Sustainable Development is not something that can be mandated by legislation or policy, but depends on you, the faculty across the nation, to integrate sustainability into your teachings," Rodríguez said. "By providing holistic and sustainable education for our students, we are effecting an impact on their futures, as well as that of the rest of the world."
In the hands-on, fast-paced workshop, participants developed a transdisciplinary framing of sustainability relevant to their discipline, and designed or redesigned an existing or planned syllabus using a guided, hands-on process. Through that process, participants learned to use sustainability concepts as overlays to reorient existing content, and developed experiential instructional approaches that unfold as a narrative, bringing learners through a process of engagement, deep inquiry, decision-making and positive action.
The program, designed by UTRGV program partner Susan Santone, executive director of Creative Change Educational Solutions, provided participants with opportunities to share their insights with peers within and across disciplines. Dr. Amy Hay, UTRGV assistant professor of history, is a co-facilitator with Santone. 
In addition to the training to rework or design courses, participants were exposed to other resources UTRGV has to support their academic programs. Representatives from The Center for Teaching Excellence, the B3 Institute, Community Engagement and Assessment, International Programs and Partnerships, Service Learning, and ADVANCE outlined for the audience what services they provide.
Speakers include Dr. Alfonso Mercado, assistant professor of psychology sciences and winner of the 2017 Excellence in Sustainability Education Faculty Award; Mario Bracamontes, principal of Buell Center High School and a Pharr city commissioner; and David Rocha, an English teacher and curriculum developer. Additionally, previous participants of Project Sin Fronteras and other faculty shared their incorporation of sustainable development into their curricula. 
UTRGV received its AASHE Center for Sustainability Across the Curriculum designation in December 2016 and is one of 13 centers across the country. Close border partnerships have allowed the group to extend invitations to share experiences across disciplines and boundaries. The service learning component and the interdisciplinary nature of sustainable development is important in making the courses succeed and whole.
MEDIA CONTACTS
Deborah.FitzwaterDewey@UTRGV.edu
Office for Sustainability / 956-665-2488
Marci.Caltabiano@UTRGV.edu
UTRGV Director of News and Internal Communications / 956-665-2742