Sub Menu Toggle
Five Valley high schools represent UTRGV at National SeaPerch Challenge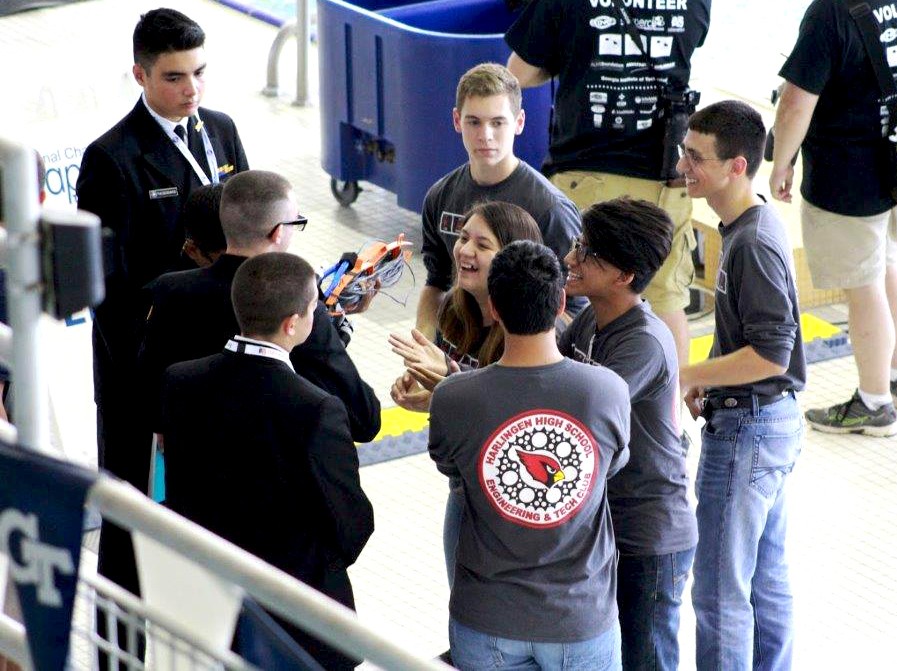 Members of the Harlingen High School Engineering and Tech team, shown here, placed 15th at the National SeaPerch Challenge in Atlanta, Georgia. (Photo courtesy of Vivian Lopez)
By Letty Fernandez
RIO GRANDE VALLEY – JUNE 1, 2017 – Teams from Harlingen High School, Harlingen Early College High School, Los Fresnos High School, San Isidro High School and Rio Hondo High School represented UTRGV in May at the National SeaPerch Challenge in Atlanta, Georgia.
The five local high school teams earned the opportunity to compete after winning at the U.S. Navy SeaPerch Challenge, the regional competition hosted by UTRGV during Hispanic Engineering, Science and Technology (HESTEC) Week last October.
SeaPerch is a K-12 underwater robotics program sponsored by the U.S. Office of Naval Research that provides students with the opportunity to learn about STEM concepts and careers while building an underwater ROV as part of a science and engineering technology curriculum.
Across the United States, 200 teams competed for top honors, and four of the Valley teams ranked in the top 99.
The Harlingen High School Engineering and Tech Club placed 15th in the nation. Team member Ryan Arnold described the experience as "inspiring" and an "eye opener."
"Seeing the best teams helped us realize that we need to work even harder to hold the title 'America's best,'" he said. "Our team met some astounding people, and we hope that in the future we can compete more effectively with them."
Los Fresnos High School placed 56th; Harlingen Early College was 59th; and Rio Hondo High School came in at 92nd.
"Hard work, long hours of practicing after school and on weekends paid off for these students," said Javier Garcia, director of STEM Programs for UTRGV. "On behalf of UTRGV, I want to thank the students, families, coaches, teachers and our event sponsors. Together, they make it possible for our future scientists and engineers to experience these competitions."
The National SeaPerch Challenge was held at the Georgia Tech Aquatics Center, home of the water events held during the 1996 Olympic Games in Atlanta.
SeaPerch is managed by the Association of Unmanned Vehicle Systems International Foundation (AUVSI).
UTRGV will host the Regional SeaPerch Competition this year on Friday, Oct.6, during HESTEC Week.
Please visit this link  for more information about HESTEC. To learn more about how to participate in this competition, contact hestec@utrgv.edu.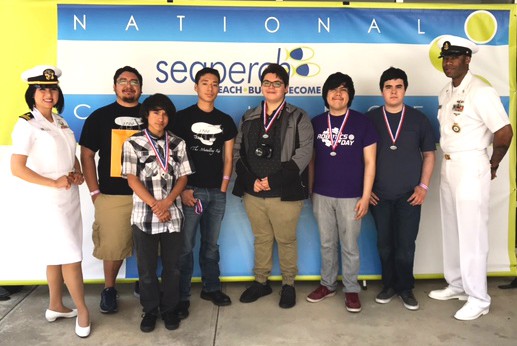 Rio Hondo High School was one of five teams from the Rio Grande Valley to compete in May at the National SeaPerch Challenge in Atlanta, Georgia. (Photo courtesy of Christopher Brotzman-Gonzales)
MEDIA CONTACTS
Letty.Fernandez@UTRGV.edu
UTRGV Community Relations Liaison / (956) 882-6535

Marci.Caltabiano@UTRGV.edu
UTRGV Director of News and Internal Communications / (956) 665-2742