Sub Menu Toggle
UTRGV ranks No. 1 in nation for accelerated online Master of Education in Educational Leadership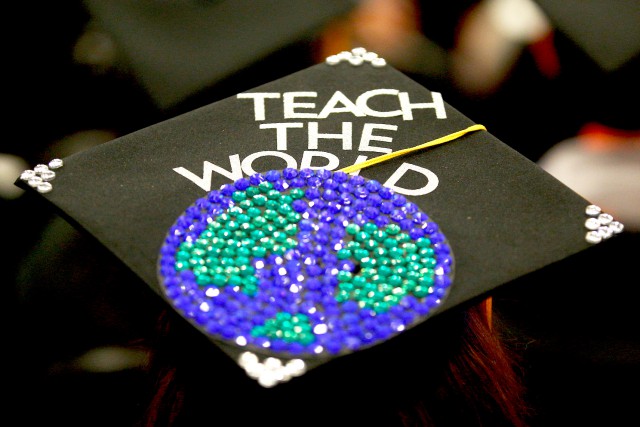 The University of Texas Rio Grande Valley has been named the No.1 best-value college in the United States for an accelerated online Master of Education degree in Educational Leadership, by CollegeValuesOnline.com, which cited cost and time to completion. (UTRGV Archive Photo by David Pike)
RIO GRANDE VALLEY, TEXAS – JUNE 24, 2017 – The University of Texas Rio Grande Valley has been named the No. 1 best-value college nationwide for an accelerated online Master of Education degree in Educational Leadership.
CollegeValuesOnline.com provided the rankings, which consider the program being able to be completed in 18 months or less, and the cost of the program.
UTRGV was ranked No. 1, and the website's editor's note that it is one of the best accelerated online master's in education degree programs in the country.
"This program was designed to develop educational leaders who are culturally responsive and are capable of serving a diverse population," the website says.
Dr. Patricia A. McHatton, dean of the College of Education and P-16 Integration, said she is pleased that CollegeValuesOnline.com recognized UTRGV's efforts to provide graduate students as many options as possible for continuing their education.
"We are committed to providing multiple pathways for entrée into and advancement in education professions," she said. "For individuals with full-time jobs and families, our accelerated online degree in Educational Leadership is a wonderful opportunity to obtain a quality education and a master's degree in a manner that meets your needs."
UTRGV's accelerated online master's degree in Educational Leadership can be completed in just 10 months. Emphasis is placed on serving English-language learners. Courses include ethics and school law, curriculum leadership for school improvement, school community relations, and administration of human resources and budgeting.
According to CollegeValuesOnline.com, all information for the rankings was drawn either directly from each school's website or from the National Center for Education Statistics' College Navigator database.
Find the complete list here: http://www.collegevaluesonline.com/rankings/graduate/accelerated-online-masters-education/
MEDIA CONTACTS
Marci.Caltabiano@UTRGV.edu
UTRGV Director of News and Internal Communications / 956-665-2742