Sub Menu Toggle
UTRGV welcomes its School of Medicine Class of 2021 with White Coat Ceremony in Brownsville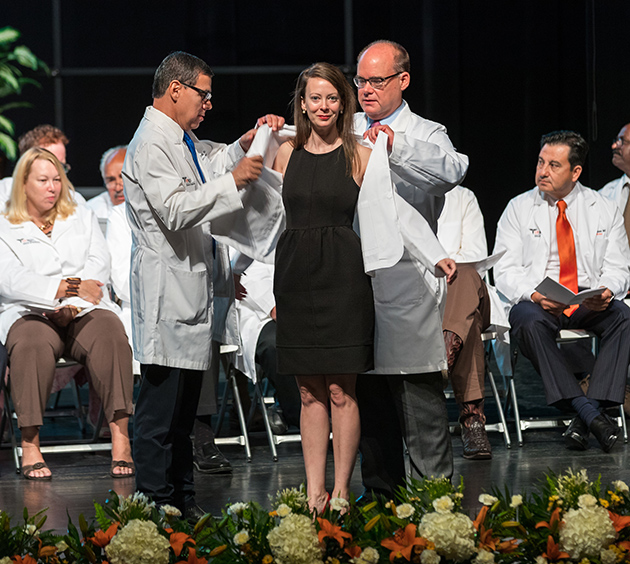 The UTRGV School of Medicine held the White Coat Ceremony for its second class of medical students, Saturday morning, July 22, 2017, at the TSC Arts Center in Brownsville. (UTRGV Photo by David Pike)
PHOTO GALLERY
PASSWORD: whitecoat (case sensitive)
By Jennifer L. Berghom
BROWNSVILLE, TEXAS – JULY 22, 2017 – The University of Texas Rio Grande Valley School of Medicine welcomed its second cohort on Saturday in Brownsville, during a special White Coat Ceremony for its newest 50 students.
"Today you will embark on a tremendous journey and arrive at a destination in four years, where you will have earned and are granted the great privilege of all: being called doctor," said Dr. John H. Krouse, the new dean of the School of Medicine and vice president for Health Affairs.
Throughout the ceremony that marks the beginning of the medical students' education and careers, Krouse and fellow School of Medicine leaders emphasized the importance of staying humble and showing compassion.
"Learn from each other, from nurses, from other healthcare professionals, but most importantly, from your patients," Krouse said. "Let them be your teachers, let them guide you and let them show you the way.
"Be kind to yourself so that you can be kind to others. Always hold humanity, and humility, as unwavering values that you live by every day."
Dr. Steven A. Lieberman, who served as interim dean of the School of Medicine before Krouse arrived earlier this month, echoed Krouse's message on humility.
There are two tools vital to physicians, he said, a compass, and a map that will help guide them through moral dilemmas they will face in their profession. Above all else, he told them, remain humble and treat all patients with respect and compassion.
"Apply your talents with the sense of obligation and integrity you would want to be shown," Lieberman said.
After the cloaking, medical student Adrian Barrera, of Rio Grande City, led his fellow medical students in taking the Hippocratic Oath – which acknowledges their primary role as caregivers –in the presence of their loved ones, school leaders and peers.
White Coat ceremonies serve as a rite of passage for medical students. Families, School of Medicine faculty, local dignitaries and others in attendance at the TSC Arts Center cheered and gave a standing ovation to the students after they received their white coats.
The Arnold P. Gold Foundation started the White Coat Ceremony in 1993 to welcome new medical students to the health care profession. Today, almost all medical schools in the United States, as well as schools for other healthcare professions, perform such ceremonies.
SOME WORDS FROM THE SECOND COHORT
Before the ceremony, medical students said they were excited to start their lifelong dream of becoming doctors.
"I really like science and I really like people, so I figured this would be a great way to integrate the things that I love," said D'Andrea "Dede" Ceasar, a Houston resident who earned her undergraduate degree in health science studies at Baylor University. "I had a grandfather who died of cancer. Seeing the way his doctors and nurses took care of him really helped reinforced why I wanted to go into medicine."
Ceasar said she chose to attend the UTRGV School of Medicine because of the opportunities it provides medical students to interact with patients earlier in their education than other medical schools.
Stacy Sebastian said she was inspired to pursue medicine while growing up in a predominantly Hispanic neighborhood in Houston. Sebastian, who earned her undergraduate degree in environmental health science at Baylor University, said she noticed disparities in access to health care in her community.
"There were definitely medical resources that were lacking, especially in healthcare problems like obesity and diabetes that could be very easily controlled, but were not because of healthcare access," Sebastian said. "I have a huge passion to work with the medically underserved and, when I came down here on my interview day, I saw the community, how the (medical) students were really involved and how the community needs the medical school here."
Michael Rotko, a McAllen native, said he decided to leave his career as a coordinator for clinical trials at UT Southwestern Medical Center and attend the UTRGV School of Medicine so he could give back to the community that supported him.   
"McAllen is so tight-knit, it's so small that your family doctors become your friends," said Rotko, who earned an undergraduate degree from The University of Texas at Austin. "They've always been someone I respected a lot growing up, so it would be cool to follow in those footsteps."
Like his colleagues, Rotko said he has a desire to help close the gaps in access to healthcare access in some parts of the Valley community.
"I grew up in McAllen … I would have to wait in line to see the community physician for hours just to get my vaccinations. and there was always such a shortage," he said. "Medicine is a way to help someone; you're helping society with a good service."
A private reception followed the White Coat Ceremony for students and their families at the TSC Arts Center.
Classes for the School of Medicine Class of 2021 start July 24.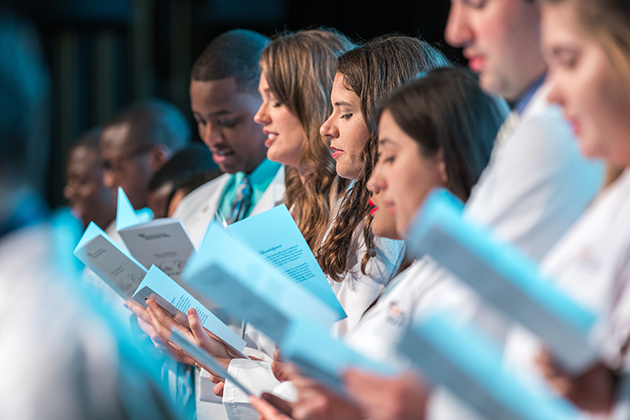 The UTRGV School of Medicine held the White Coat Ceremony for its second class of medical students, Saturday morning, July 22, 2017, at the TSC Arts Center in Brownsville. (UTRGV Photo by David Pike)
MEDIA CONTACTS
Jennifer.Berghom@UTRGV.edu
UTRGV Senior Writer / 956-665-7192
Marci.Caltabiano@UTRGV.edu
UTRGV Director of News and Internal Communications / 956-665-2742