Sub Menu Toggle
UTRGV's work and research are ongoing to help build artificial reef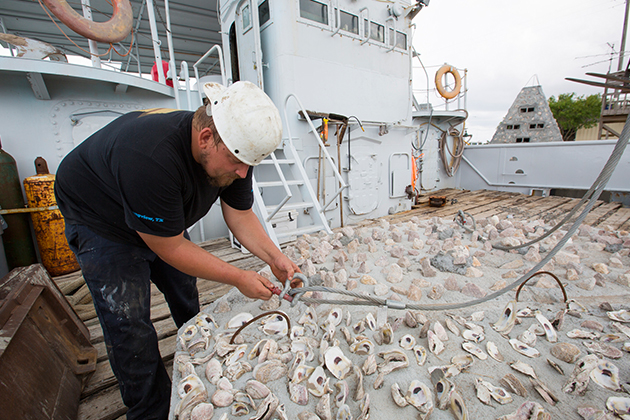 Construction continues on the RGV Reef by researchers from the UTRGV School of Earth, Environmental, and Marine Sciences and collaborators from other organizations and universities. The reef is one of the biggest artificial "low-profile" reefs in the area, designed to help maintain and grow habitat for juvenile red snapper and other fish. Referred to as the "RGV Reef," the structures are made up of limestone rubble, oyster shells and concrete. (UTRGV Photo by Veronica Gaona)
By Steven Masso
PORT ISABEL, TEXAS – JULY 13, 2017 – Researchers from UTRGV's School of Earth, Environmental, and Marine Sciences (SEEMS) in the College of Sciences, in collaboration with Texas A&M Corpus Christi and Texas A&M Galveston, are building one of the biggest artificial "low-profile" reefs in the Gulf of Mexico, designed to help maintain and grow habitat for fish like red snapper.
Commonly known as the "RGV Reef," the reef-building structures are made up of limestone rubble, oyster shells and concrete. The reef itself is located 13.9 nautical miles north of the South Padre Island jetties, and 7.4 nautical miles offshore. The reef will rest at an average depth of 64 feet.
Catheline Froehlich, a research associate at SEEMS, said the low-profile structures have high ecological importance because they are smaller and shorter than typical reef structures.
Studies conducted at UTRGV determined that juvenile fish need a habitat that is smaller, and separate from the larger reefs, in order to have a safe environment from predators.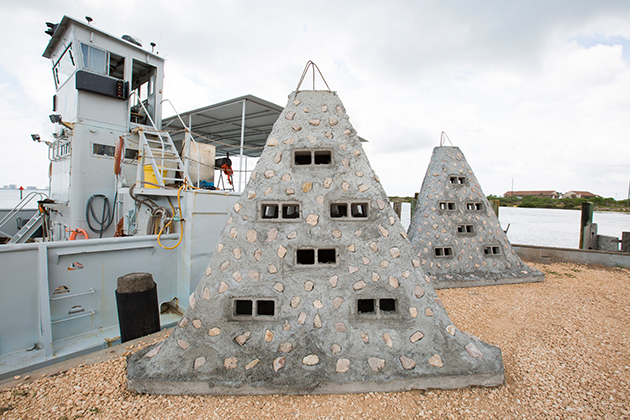 "We're hoping to increase the number of red snapper and aid the fisheries in general," said Froehlich, who holds a Master of Science in biology from UTRGV legacy institution UTB/TSC. "They have a lot of pressure right now from overfishing."
Maintaining the red snapper population in the Gulf of Mexico is not only crucial to the area's environmental balance, area leaders say, but also to the local economy: Red snapper is the area's fourth most commercial fish, and maintaining a healthy, balanced marine environment is key.
"Within a few months, we've already seen a good amount of juvenile fish in the area," Froehlich said. "It's almost an immediate effect of having a productive reef."
Froehlich said the reef project is part of a greater effort to enhance and rebuild marine life through the addition of artificial reefs. Ongoing efforts over the past decade include the sinking of the 473-foot Texas Clipper in 2007, as well as the sinking of two ships in November 2016.
Friends of RGV Reef, a non-profit organization dedicated to preserving marine life, has been key in helping fund the reef operations, and donations from across the United States have helped with the costs of building the artificial reefs.
The research behind the operation has been funded by the Texas Parks and Wildlife Artificial Reef Program and the OneGulf Grant. OneGulf is a team made up of nine institutions united to promote collaborative research and operations dedicated to restoring and protecting the environment and economy of the Gulf Coast region. Texas OneGulf is one of two consortia established by the Texas Commission on Environmental Quality to enable usage of federal funding provided through the Resources and Ecosystems Sustainability, Tourist Opportunities, and Revived Economies of the Gulf Coast States Act of 2010 (RESTORE Act).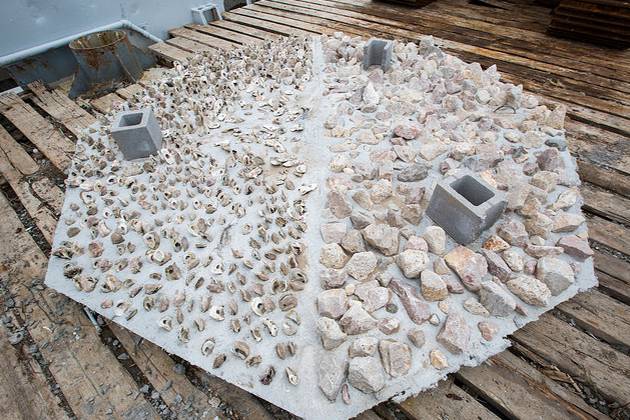 PHOTO GALLERY: https://www.flickr.com/gp/utrgvnews/8X9865
MEDIA CONTACTS
Steven.Masso01@UTRGV.edu
Student Writer / 956-882-7684
Marci.Caltabiano@UTRGV.edu
UTRGV Director of News and Internal Communications / 956-665-2742