Sub Menu Toggle
Aspiring engineers recognized at UTRGV Railway Safety camp awards ceremony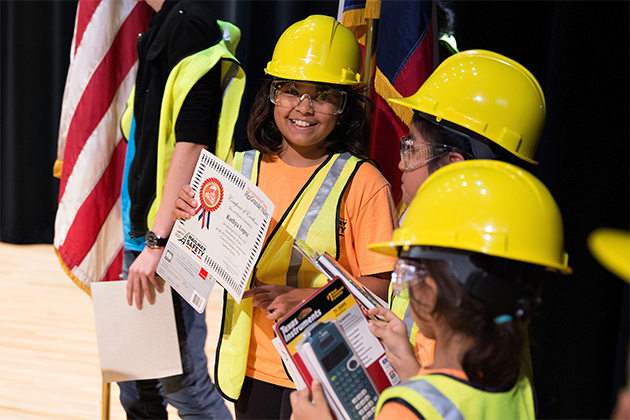 Student award recipients were all smiles as they stood proudly on stage during the UTRGV Railway Safety Summer Camp Closing Ceremony hosted by the University Transportation Center for Railway Safety (UTCRS) on Thursday, July 6, 2017 at the Performing Arts Complex in Edinburg, Texas. (UTRGV Photo by Paul Chouy)
PHOTO GALLERY
password: utcrscamp (case sensitive) 
By J. Edward Moreno
The University of Texas Rio Grande Valley throughout the month of June held its popular University Transportation Center for Railway Safety summer camps on the Edinburg Campus.
The four week-long camps make up the largest railway safety-related camp in the nation, with more than 1,000 third- through 12th-graders in attendance this year.
"We had 12 teams from elementary schools compete from around the Valley, 11 teams from middle schools and four high school teams," said Dr. Constantine Tarawneh, UTCRS Director, mechanical engineering professor, Bentsen Fellow at UTRGV and associate dean for Research.
"It was a very fierce competition – two teams in the elementary division were so close, we declared both as winners," he said.
During the camps, students learned important concepts of science and engineering while working on projects like magnetic levitation train kits and Lego Mindstorms robots. Once students completed their projects, they competed against the other campers in their week-long cohort.
Winners from the four cohorts competed July 6, and were recognized that evening at a special awards ceremony at the UTRGV Performing Arts Complex on the Edinburg Campus.
In attendance was U.S. Rep. Vicente Gonzalez (TX-15), who delivered the keynote address. The students' families and friends also got to hear from Santiago Navarro, manager of the Technology Transfer Program, in the U.S. Department of Transportation's Office of the Assistant Secretary for Research and Technology.
THE WINNING TEAMS
Elementary school winners (TIE) – The Fantastic Four
Iris Delgado – Los Fresnos ISD  
Zoe Lozano – Los Fresnos ISD
Mareli Cruz – Valley View ISD
Paulina Garza – Valley View ISD
Elementary school winners (TIE) – The Piglets
Kathya Lopez – La Feria ISD
Katalina Loay – La Feria ISD
Amber Gutierrez – La Feria ISD
Middle school winners: The Bot Flies
Asarias Benavides – La Feria ISD
Austin Ernest – Child of UTRGV Faculty/Staff
Juan Luevano – Child of UTRGV Faculty/Staff
High school winners -- (No team name)
Sarah Park – Child of UTRGV Faculty/Staff
Daniel Hernandez – Edinburg CISD
Juan Lopez – South Texas ISD
Learsi De Hoyos – Hidalgo ISD
MEDIA CONTACTS
J. Edward Moreno
UTRGV Staff Writer / 956-665-3639 
Marci Caltabiano-Ponce
UTRGV Director of News and Internal Communications / 956-665-2742