Sub Menu Toggle
UTRGV ADVANCE Leadership Institute luncheon launches Spring 2017 cohort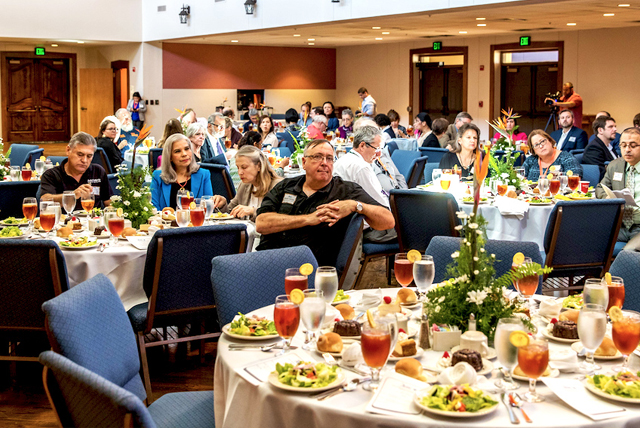 The UTRGV ADVANCE Leadership Institute held its 2017 kick-off luncheon on Tuesday, Jan. 24, 2017, in the PlainsCapital Bank El Gran Salón on the Brownsville Campus. Dr. Patricia McHatton, dean of the College of Education and P-16 Integration, was keynote speaker. (UTRGV Photo by David Pike)
PHOTO GALLERY:    http://utrgv-umc.photoshelter.com/gallery/20170124-ADVANCE-Leadership-Luncheon-Kick-off/G0000bvJ2ByGvO58/C0000CGaoQZCiNqs
By Vicky Brito
BROWNSVILLE, TEXAS – JAN. 24, 2017 –  The University of Texas Rio Grande Valley held an  ADVANCE Leadership Institute  luncheon, Jan. 24 at the PlainsCapital Bank El Gran Salón on the Brownsville Campus.
The institute, now in its fifth year of operation, is a  five-year institutional transformation project aimed at increasing the representation and advancement of women, especially Hispanics, in STEM fields by creating a supportive workplace and a family friendly environment that nurtures the careers of all faculty.
The luncheon was attended by UTRGV administration, deans and professors.
The Spring 2017 ADVANCE cohort is comprised of 20 faculty members across disciplines, including the School of Medicine. Of those 20, there are 13 women, and seven of those are faculty in STEM fields.
Each year, the institute trains 20 faculty members in leadership workshops held throughout the spring semester. Since its inception in 2012 at UTRGV legacy intuition UT Pan American, the institute has inducted 100 faculty members, 71 of them women.
Opening remarks were given by Dr. Ala Qubbaj, vice provost for faulty affairs and diversity, who serves as co-chair of the UTRGV ADVANCE Leadership team.
"The main purpose of this leadership institute is to enhance faculty leadership and help train and prepare our current and future leaders at UTRGV," Qubbaj said.
Keynote speaker Dr. Patricia McHatton, dean of the College of Education and P-16 Integration, spoke about her experiences and opportunities in leadership roles, and about the importance of diversity in leaders.
"I think a part of what we need to do is change the narrative about how we talk about leadership because we position it as this very, at-times negative, difficult, challenging place for women," McHatton said "I think these are the challenges we need to overcome, because diversity matters."
ABOUT ADVANCE
The  National Science Foundation  created the  ADVANCE  program   in 2001 to develop systemic approaches to increase the representation and advancement of women in academic science and engineering careers and contribute to the development of a more diverse science and engineering workforce.   As of 2014, the NSF had awarded 297 grants to 199 institutions.  
For more information on ADVANCE at UTRGV, visit  www.utrgv.edu/advance .
MEDIA CONTACTS
Victoria.Brito@UTRGV.edu
UTRGV Informational Writer / 956-882-4330
Marci.Caltabiano@UTRGV.edu
UTRGV Director of News and Internal Communications / 956-665-2742