Sub Menu Toggle
UTRGV Tuba Euphonium Ensemble to perform in Washington, D.C., at U.S. Army Band workshop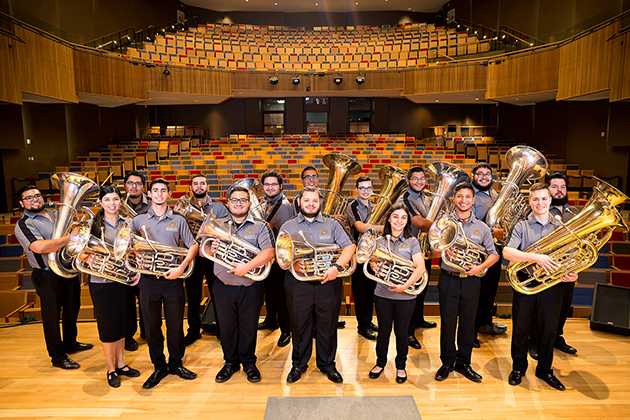 The UTRGV Tuba/Euphonium Ensemble has traveled extensively and now will go to Washington, D.C., to perform on Feb. 2 at the annual U.S. Army Band Tuba Euphonium Workshop. The UTRGV ensemble, made up of the 16 student musicians shown here, is the only collegiate ensemble invited to perform at the workshop. (UTRGV Photo by Paul Chouy)
RIO GRANDE VALLEY, TEXAS – JAN. 17, 2017 – The UTRGV Tuba/Euphonium Ensemble, one of the most traveled ensembles in the UTRGV School of Music, is adding Washington, D.C., to its long list of major performance appearances. 
The 16 student musicians that make up the ensemble will perform Feb. 2 at the annual three-day U.S. Army Band Tuba Euphonium Workshop.
Performance is by invitation only, and this year, the UTRGV group was the only collegiate ensemble invited to perform.
The workshop is held annually in Fort Meyer, Virginia, home of the U.S. Army Band "Pershing's Own," the premier band of the United States Army.
As part of the performance, the UTRGV ensemble will perform a world premiere of a new piece composed by Dr. Justin Writer, UTRGV associate professor of composition, which was written specifically for the performance at the workshop. 
The UTRGV Tuba/Euphonium Ensemble was founded in 2009 by Dr. Scott Roeder, associate professor of tuba/euphonium. In that time, the group has been one of the most active collegiate tuba/euphonium ensembles in the nation, performing at multiple conferences around the world including three International Tuba/Euphonium Association conferences in Austria, Indiana University and the University of Tennessee, and at multiple regional conferences every year.
The UTRGV ensemble will perform again this year at the Texas Music Educators Association State Music Conference, marking the third time in the past five years the group has been invited to perform at that event.
For more information about the workshop, visit http://www.usarmyband.com/tuba/
Watch the performance via live stream from YouTube at https://www.youtube.com/watch?v=MWT8geVM7lw
MEDIA CONTACTS

Marci.Caltabiano@UTRGV.edu
UTRGV Director of News and Internal Communications / 956-665-2742