Sub Menu Toggle
Kranz's historic, 1970s race relations class has lasting impact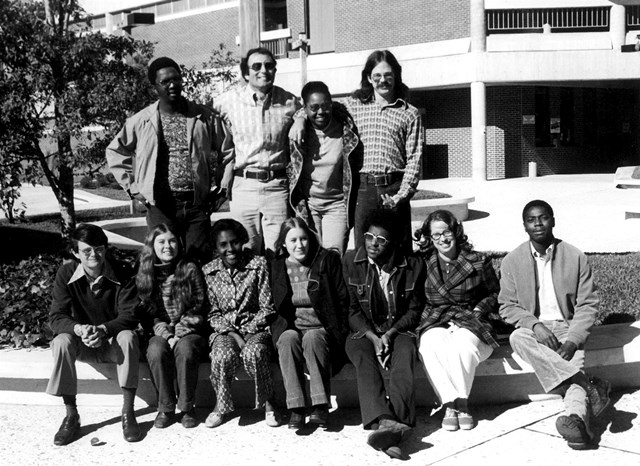 Dr. Peter Kranz, now a professor of educational psychology at UTRGV, taught a race relations course from 1972 to 1977, while he was on the faculty at North Florida University in Jacksonville. The course, "Human Conflict: Black and White," was revolutionary in that time and place, where segregation was common and racial strife was still simmering. He is shown here (standing, second from left), with the fourth cohort of the class, in fall 1973. (Courtesy photo.)
By Gail Fagan
RIO GRANDE VALLEY, TEXAS – FEB. 24, 2017 – A revolutionary race relations class conducted by Dr. Peter Kranz in the 1970s soon will be the subject of a book that chronicles the class's indelible impact on its students, and its possibilities to address racial and ethnic discord today.
  
Kranz, who came to then-UT Pan American as a faculty member in 2002, is a professor of educational psychology at The University of Texas Rio Grande Valley.
When Kranz taught the course, "Human Conflict: Black and White," from 1972-77 he was a faculty member at North Florida University in Jacksonville, where segregation had been common and racial strife was still simmering.
The classes, each with 10-12 students with race (black and white) and gender equally divided, included a no-holds-barred discussion of racial feelings, a weekend trip to a Historically Black College/University and a one-week stay in a home with a family of another race.
"The whole essence of the class was that we have much more in common than differences – but we didn't know that until we spent time together," said Kranz, who currently teaches courses in counseling in UTRGV's College of Education and P-16 Integration.
Several reunions of the classes' members have taken place since, the first in 1995, which was the subject of a national "PBS News Hour" segment and an article in the Wall Street Journal. The most recent reunion was in November 2016 in Jacksonville.
TOUGH TALK, LASTING BONDS
Kranz said he didn't teach the class with "political correctness," using classroom techniques that allowed students to speak their mind – including the sharing of racial jokes and stereotypes – without being interrupted or threatened.
He said he wanted to make sure the class was relevant to the time and made an impact on their lives.
"I had no idea of the power and impact of the class," he said. "I asked each student, 'How do you feel about the other group?' Then I put it on the blackboard. There were times when people walked away angry.
"Some things shared in that class had never been talked about publicly," he said.
Kranz also brought in controversial speakers, like the leader of the local White Citizens Council, a white supremacy group, and assigned required readings, like the "Autobiography of Malcom X" and "The Confessions of a White Racist." He also had students maintain a log of their experiences.
In interviews and retrospectives written about the class, students have described him as "tough" and the class as "life changing."
As they got to know each other as individuals, the students said they started to "link together," especially when they started visiting some of the black universities, where the white students had their first experience of being in the minority.
"It made me cognizant of the insidious nature of racism," said one white female in the class, who described the palpable fear of her black classmate while escorting her into town during their university visit.
In the home visits, hosted by area families, one black student said the only knowledge he had of white family life was from 1960s and '70s TV shows, where the wife and husband always slept in separate beds.
He recalled being surprised to see only one bed in the bedroom of his white host and subsequently learning through spending the week there that "white families are the same as black families."
Another student, a white male, said he learned to "accept people as they are," and that both white and black families had essentially the same goals – "to raise our children and make the American Dream come true."
EVOLUTION OF AN AGENT OF CHANGE
Kranz, who is Jewish and white, said his background was extremely culturally diverse, growing up in New York City where his mother was a social worker and his father a theater stage manager.
"Acceptance of differences was the norm," Kranz said of his upbringing.
In 1964, he was shaken by the murder of a childhood friend, Michael Schwerner, one of three civil rights workers abducted and killed in Mississippi in an act of racial violence that received national attention.
After receiving his Ph.D. in child psychology in 1969 from Utah State University, Kranz was further influenced by a racial confrontation training course he took in 1970, taught by Price Cobbs and William Grier, both black psychiatrists and authors of "Black Rage."
The book, published in 1968 shortly after the assassination of Dr. Martin Luther King Jr., was a seminal one, examining the growing anger by blacks regarding continued institutionalized discrimination. It helped set Kranz on this path to affect positive change in racial attitudes.
"Looking back, I felt I had something to give and connect," Kranz said. "Here were two groups (black and white) that knew very little about one another – many had negative connotations about the other group. I wanted them to really know each other as people."
He also credited a supportive university environment. The class offered at the then-brand new university, which opened in 1972, was made possible under a Venture Studies program at NFU, which encouraged the creation of innovative advanced courses for non-majors.
"They said, 'Go do it,'" he said. "And you really felt energized to go out and try to make the world a better place."
A BOOK AND LESSONS FOR THE FUTURE
Kranz, who keeps a busy speaking schedule across the country talking about the class, now has a book proposal in the works with author Terry Clarke, a much published novelist, writer with Huffington Post and director of publishing at Astor & Lenox.
The book, "An Arena of Truth: Human Conflict in Black and White," is based on his research of the era and extensive interviews with Kranz, the students, host families, and others.
Clarke calls Kranz a "brave man."
"This was the first such class ever to be offered in an American university, and its methods remain unprecedented in American education," he said.
The book will tell the story through real human occurrences and stories, Clarke said, and will include an essay about why this kind of confrontation group Kranz was doing then would still be valuable today.
Its many participants have talked about the need to reintroduce it to an even younger audience.
"Now we are very politically correct in public," said one of the host family members. "But racism is still alive and well and more dangerous now."
Clarke said today, the class would also include another change.
"Since then, there has been this tremendous immigration to the United States of people from all over the world," Clarke said. "We are going to make a pitch for the idea that, in those communities, no matter what their color, language or ethnicity would be – if they are encountering the kinds of discrimination that black people were encountering in the 1970s, these kinds of confrontation groups would be a good idea for them, too."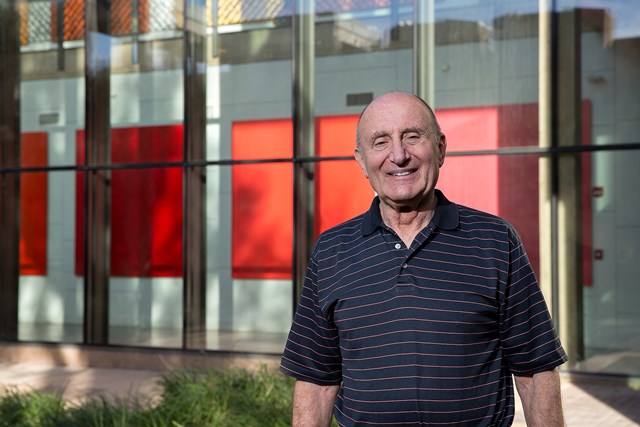 Dr. Peter Kranz, professor of educational psychology at UTRGV, and a revolutionary race relations class he taught in Florida in the 1970s are the subject of a book in the works by writer Terry Clarke, about Kranz and the impact of the class on its students. Kranz says the lessons learned then have the potential to address racial and ethnic discord today. (UTRGV Photo by Paul Chouy.)
MEDIA CONTACTS
Gail.Fagan@UTRGV.edu
Senior Writer / 956-665-7995
Marci.Caltabiano@UTRGV.edu
UTRGV Director of News and Internal Communications / 956-665-2742