Sub Menu Toggle
Peruvian educators visit UTRGV College of Education & P-16 Integration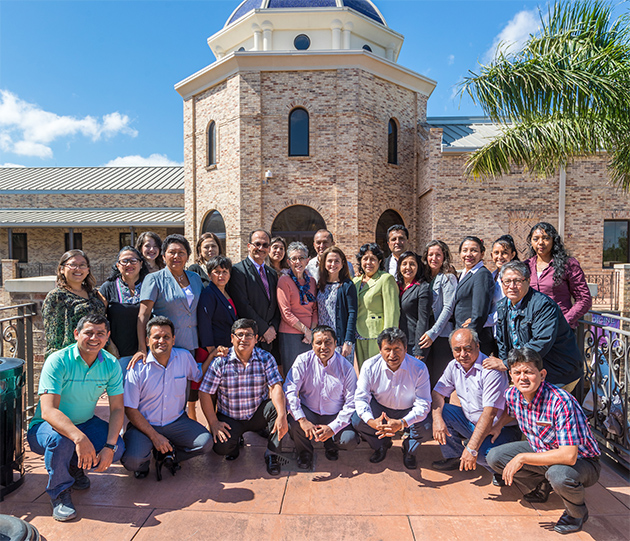 The UTRGV College of Education and P-16 Integration hosted a group of 22 education specialists from Peru on Feb. 17, 2017, on the Brownsville Campus. UTRGV Provost Havidán Rodríguez and Dr. Patricia A. McHatton, dean of the College of Education & P-16 Integration, welcomed the group to the day-long program, which included exchanges of ideas and experiences in education, comparisons of strategies in bilingual education, and presentations from UTRGV educators. (UTRGV Photo by David Pike)
By Cheryl Taylor
BROWNSVILLE, TEXAS – FEB. 22, 2017 – The University of Texas Rio Grande Valley College of Education and P-16 Integration recently hosted a group of 22 education specialists from Peru on the Brownsville Campus.
Dr. Patricia Alvarez McHatton, dean of the College of Education and P-16 Integration, welcomed the group to a day-long program that took place in Salón Cassia of Main Building.
"It is an honor for us to welcome you today to share our experiences and learn from one another," McHatton told the visitors. "We hope to give you information and examples of the different programs and initiatives we focus on in preparing bilingual teachers and our programs in reading and writing. And we are especially interested in hearing from you about your experiences in preparing teachers, and how you address bilingual education."
Led by Raquel Villaseca, coordinator of the research unit for the improvement of elementary education at Universidad Peruana Cayetano Heredia (UPCH) in Lima, Peru, the group included province education directors, education ministers, project coordinators and program teacher trainers working with Amazonia Lee, an initiative of the United States Agency for International Development (USAID).
Dr. Alma Rodríguez, associate professor of Bilingual & Literacy Studies and associate dean for assessment and accreditation, led the UTRGV component of the itinerary, giving an overview of UTRGV and the College of Education and P-16 Integration departments and programs.
Dr. Havidán Rodríguez, UTRGV provost and executive vice president for Academic Affairs, briefed the group on the university's growth and the impact its medical school will have on the region.
Rodríguez emphasized the importance of bilingualism at UTRGV, with 90 percent of the university's students being Spanish speakers.
"Our graduates – whether they are educators, nurses, doctors or engineers – have an advantage in their careers as bilingual professionals," Rodríguez said. "Bilingualism plays an important role in the economic and political impact of South Texas and beyond, as the United States interacts with its Latin American neighbors."
A number of UTRGV professors addressed the delegation, including:
Dr. Kip Hinton, assistant professor of Bilingual and Literacy Studies, who spoke about the Master of Education in Bilingual Education and the college bilingual journal.

Dr. Janine Schall, department chair of Bilingual and Literacy Studies, who gave an overview of reading and literacy programs.

Dr. Carmen Garcia-Cáceres, faculty in the Department of Teaching and Learning, and several of her student teachers, who gave a presentation on Read 3, a literacy initiative between UTRGV and H-E-B, now in its sixth year.
UPCH's Villaseca, president of the Asociación Peruana de Lectura and vice president of the Latin American committee for literacy development of the International Literacy Association, gave a presentation on the Amazonia Lee literacy program.
UPCH has partnered with USAID on this literacy initiative, which started three years ago in Peru, Bolivia and Ecuador. In Peru, UPCH has implemented the program in schools located in two remote, academically at-risk provinces, San Martin and Ucayali.
Targeting first-, second- and third-graders, Amazonia Lee is designed to help children establish strong reading and writing foundations that will enable them to advance in academics.
Villaseca said the data have shown, after almost three years, a clear improvement over previous curriculums, as well as literacy testing that outshines students in some of the low-risk areas.
USAID will evaluate the efficacy of Amazonia Lee in several months, at the end of the three-year commitment. Educators involved in the program hope the vastly improved literacy scores will convince USAID to approve and fund the program for another three years.
Provost Rodríguez said he hoped the day's visit would result in numerous opportunities, including future student- and faculty-exchange programs.
"Let's take advantage of this to be the beginning of a long, fruitful relationship to expand the reach of both our universities," he said.
After spending all day Friday, Feb. 17, on the UTRGV Brownsville Campus, the delegation enjoyed a day on South Padre Island, where the Gulf of Mexico gave them their first glimpse of the Atlantic Ocean. On Sunday, Feb. 19, they went to Austin, where they visited some of the KIPP Austin Public Schools and The University of Texas at Austin. 
The group had previously visited Brownsville's Yturria Elementary School and Gallegos Elementary School, and met with representatives from Brownsville Independent School District on Wednesday, Feb. 15, and Thursday, Feb. 16.
MEDIA CONTACTS
Cheryl.Taylor@UTRGV.edu
UTRGV Senior Writer / 956-882-8787 
Marci.Caltabiano@UTRGV.edu
UTRGV Director of News and Internal Communications / (956) 665-2742