Sub Menu Toggle
UTRGV selected to participate in national student success project
•'Frontier Set,' funded by Gates Foundation, provides $6M grant to AASCU and six member institutions to close opportunity gaps
•UTRGV awarded individual grant of $640,000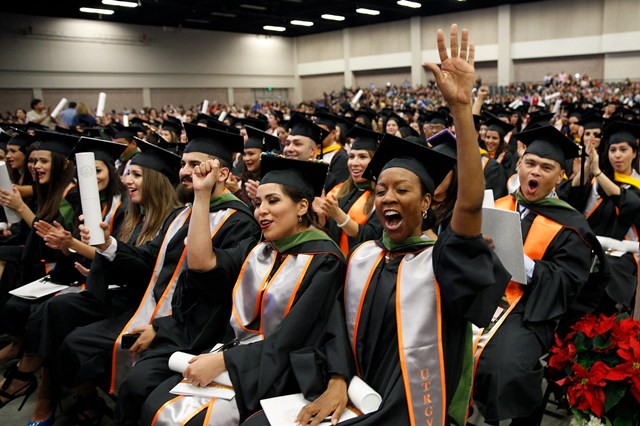 WASHINGTON, D.C. – FEB. 21, 2017 – The University of Texas Rio Grande Valley has been selected, along with five other universities in the American Association of State Colleges and Universities (AASCU), to participate in a national initiative called the "Frontier Set" project, funded by the Bill and Melinda Gates Foundation.
AASCU received a $6 million grant to work with the cohort of six high-potential regional member institutions, including UTRGV, which already are integrating evidence-based solutions and showing significant improvement in their student success – transforming key aspects of their educational and business models.
UTRGV will be awarded an individual grant of $640,000, which will be augmented by a number of different kinds of support throughout the life of the Frontier Set project.
The other five AASCU institutions selected to participate are:
CUNY Staten Island.
New Jersey City University.
The University of North Carolina at Greensboro.
Northern Arizona University.
Sam Houston State University (Texas).
Frontier Set (FS) identifies strategies to improve graduation rates, especially for low-income, first-generation and students of color.
George L. Mehaffy, AASCU vice president for Academic Leadership and Change, informed UTRGV of its selection for participation in FS.
"Your campus was selected because you are already recognized as a national leader in the work of student success," Mehaffy said in a letter to UTRGV. "Our hope is that over the next four years, you and the other campuses in this project will get better at this work, reflect on what factors contributed to your success, and disseminate promising practices to the rest of higher education." 
UTRGV President Guy Bailey said being chosen to participate in Frontier Set is a wonderful opportunity for the university – especially given its core tenets, one of which is student success.
"We are excited about the possibilities that participating in the Frontier Set project will generate," Bailey said. "UTRGV students are our first and foremost priority, and this is a pivotal initiative that supports our stated commitment to all of the project's strategies for bolstering the success of our students."
AASCU will work with associations from other sectors of higher education, each with their own member institutions, to create a comprehensive set of ideas for institutional transformation across sectors.
UTRGV and the other five AASCU member institutions will accelerate their own institutional improvement work, share ideas and best practices with other institutions in the consortium, and disseminate best practices to other higher education institutions.
"This is great opportunity for UTRGV to work with institutions across the country that all share the same goal – helping students reach their educational and career goals," said Dr. Kristin Croyle, UTRGV's vice president for Student Success.
Dr. Havidán Rodríguez, provost and executive vice president for Academic Affairs, said UTRGV consistently has worked to establish an environment in which students of all financial and cultural backgrounds have a level playing field for learning.
"We want all students who entrust us with their education to know that they are our priority, and that we will make the most of every initiative – especially key projects like Frontier Set – to make sure our institution is an incubator for their long-term success," he said.
ABOUT THE FRONTIER SET PROJECT
The Frontier Set brings together 31 institutions and support partners representing the diversity of higher education, around ambitious goals for student success through institutional transformation.
It is composed of state systems, Historically Black Colleges and Universities, Association of Public and Land Grant Universities' Coalition of Urban Serving Universities, and University Innovation Alliance members. Sites joining in 2017 include community colleges partnering with the Aspen Institute, and four-year regional comprehensive universities partnering with AASCU.
The FS is a community of innovative thought leaders working together to drive institutional transformation and close opportunity gaps for every student, and they are charged with accelerating progress by sharing the "how" surrounding implementation and transformation. Their mission is to share in-progress work, build sustainable relationships, reflect openly and capture best practices to accelerate progress.

FS sites will focus on institutional transformation, including the integration of three key solution areas:
Redesigned Planning, Advising and Student Services
Digital Learning and Next Generation Digital Courseware
Developmental Education Reform and Supports for Learning
Concurrently, it will strengthen capacities that enable implementation and integration of the key solutions, including leadership, culture, strategic finance, IT infrastructure, institutional research and data, and policy.
All Frontier Set work focuses on the long-term outcome of significantly increased student completion rates. All FS participating campuses are committed to the following three goals.
Making it Work: Accelerate student success gains on their own campus by integrating solutions and strengthening capacities. 
Understanding What Works: Seek to understand how their own campus is transforming itself, by exercising rigorous introspection and transparency.
Sharing What Works: Collaborate and share what the institution is learning with other participating campuses and with the rest of the AASCU member schools.
The FS teams from each of the six selected member institutions convened with the entire FS Network in San Diego, Cal., on Feb. 1 to launch the four-year project.
ABOUT THE AASCU
The American Association of State Colleges and Universities is a Washington, D.C.-based higher education association of more than 400 public colleges, universities and systems whose members share a learning- and teaching-centered culture, a historic commitment to underserved student populations, and a dedication to research and creativity that advances their regions' economic progress and cultural development. These are institutions Delivering America's Promise of Opportunities for All.
MEDIA CONTACTS
Jennifer Walpole
AASCU / (202) 478-4665
Marci.Caltabiano@UTRGV.edu
UTRGV Director of News and Internal Communications / (956) 665-2742