Sub Menu Toggle
UTRGV med students spend month in the field, engage with underserved population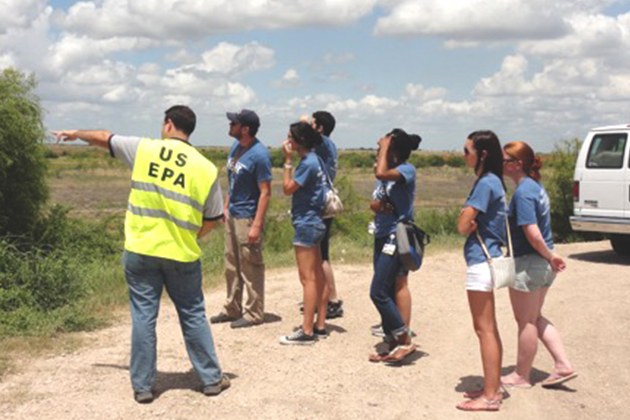 Medical students attending the South Texas Environmental Education and Research (STEER) Program at the UTRGV School of Medicine recently accompanied a U.S. Environmental Protection Agency representative to the Donna Reservoir and Canal Superfund Site, where testing has shown fish contain high levels of polychlorinated biphenyls (PCBs), known cancer-causing chemicals. (Photo courtesy of STEER Program)
By Cheryl Taylor
HARLINGEN, TEXAS – FEB. 9, 2017 – The South Texas Environmental Education and Research (STEER) Program at The UTRGV School of Medicine has been selected to receive the university's 2017 Community Engaged Scholarship Champions Award.
Dr. Beatriz Tapia, assistant dean for faculty development, professor in the Department of Pediatrics and director of the STEER Program, will formally accept the recognition at the Faculty Excellence Awards ceremony on May 4.
"We are delighted to achieve this award that recognizes our purpose of reuniting medicine and public health," Tapia said. "This program has served as a national model for other medical schools to incorporate environmental health into their curriculum."
Designed for current and future health professionals, STEER transforms students by providing a community-based educational experience that allows them to make the connection between the environment, public health and medicine.
"STEER's learning experience in environmental exposures, public health and primary prevention is a crucial supplemental experience to enhance the average medical education," Tapia said.
Enrollees are from throughout the United States, as well as from Africa, Eastern Europe, Central America, Canada and Mexico.
UTRGV School of Medicine students may choose to take the course as an elective.
"Students find themselves in a new learning environment every day that allows them to link theory to practice," said Dr. Noe Garza, associate research scientist and lecturer in Family and Preventive Medicine at the UTRGV School of Medicine.
Garza coordinates all phases of the STEER program rotations.
During the intensive four-week course, students visit more than 45 local officials, community programs and health services throughout the Rio Grande Valley. Speakers provide in-depth education and detailed discussions that cover a variety of public health and environmental medicine concerns, and offer hands-on learning opportunities in the field.
Community partners in the STEER program include:
The U.S. Department of Homeland Security Border Patrol.
Bayview Detention Center.
U.S. Fish and Wildlife Service.
U.S. Department of Agriculture.
And the Brownsville Community Health Center, a Federally Qualified Health Center (FQHC).
"The program takes the students out of their comfort zone, to places such as a Homeland Security detention center for undocumented immigrants," Garza said. "There, they witness doctors, physician assistants and all manner of healthcare personnel serving detainees, many of whom have never had access to medical care."
Students visit underdeveloped neighborhoods, called colonias, including Brownsville's Cameron Park, and learn about community organizations such as Proyecto Juan Diego. They learn from community health worker programs such as Proyecto Azteca, Migrant Health Promotion, and Operation Lone Star, the military/civilian emergency preparedness exercise that provides care to underserved populations.
"This is an eye-opening four weeks for all STEER students, even those who may be originally from South Texas," said Garza, who is with the students during every rotation throughout the program. "For those from elsewhere, it is in many cases the students' initial experience seeing poverty first hand, and their first opportunity to engage with residents of poverty-level communities where children live in environmentally unsafe conditions."
Tapia said many students who come to South Texas for the first time are unfamiliar with common border community practices, such as community health worker programs. Students learn about the Mano a Mano Promotora program, which trains lay workers, called promotoras, on health-related issues. By accompanying promotoras on house calls, they experience how these workers are often the first connection with health information for many low socio-economic residents of colonias.
"The hallmark of the STEER Program is a recognition of how environment impacts health," Tapia said. "Through this one-month immersion, students' awareness is heightened, and they learn approaches to prevent these hazards and work toward a common goal of healthy, vibrant communities, no matter where we live."
ABOUT THE AWARD
The Community Engaged Scholarship Champions Award is sponsored by the Division of Governmental and Community Relations, the Office of Engaged Scholarship and Learning and the Office of the Vice Provost for Faculty Affairs and Diversity.
"Given that Community Engagement is one of UTRGV's core priorities, we are committed to recognizing and promoting the incredible work our faculty and students are doing in partnership with the community," said Dr. Ala Qubbaj, vice provost for Faculty Affairs and Diversity.  
The competitive criteria included evidence of mutual benefit and shared decision-making in the community/academic partnership, demonstration of positive impact on the community, depth of integration of scholarship, and positive impact on faculty, students and the university as a whole.
"Selecting a winner was difficult because all the programs submitted for consideration were excellent and deserving programs," said Veronica Gonzales, vice president for Governmental and Community Relations.
ABOUT STEER
STEER is in the Department of Pediatric Medicine at The University of Texas Rio Grande Valley School of Medicine (UTRGV - SOM). The STEER program began in 1996 in Laredo, Texas, with the support of the Center for South Texas Programs and the Regional Campus in Laredo. In 2004, recognizing the increasing need for innovative public health training at the Texas-Mexico Border, Dr. Leonel Vela, Senior Associate Dean for Education and Academic Affairs of UTRGV's School of Medicine in Harlingen, enlisted STEER's director, Dr. Claudia Miller, to create a STEER program in Harlingen. The UTRGV School of Medicine continues STEER's mission and vision.
MEDIA CONTACTS
Cheryl.Taylor@UTRGV.edu
UTRGV Senior Writer / 956-882-8787
Marci.Caltabiano@UTRGV.edu
UTRGV Director of News and Internal Communications / 956-665-2742