Sub Menu Toggle
UTRGV Brownsville graduates reflect, look to opportunities for the future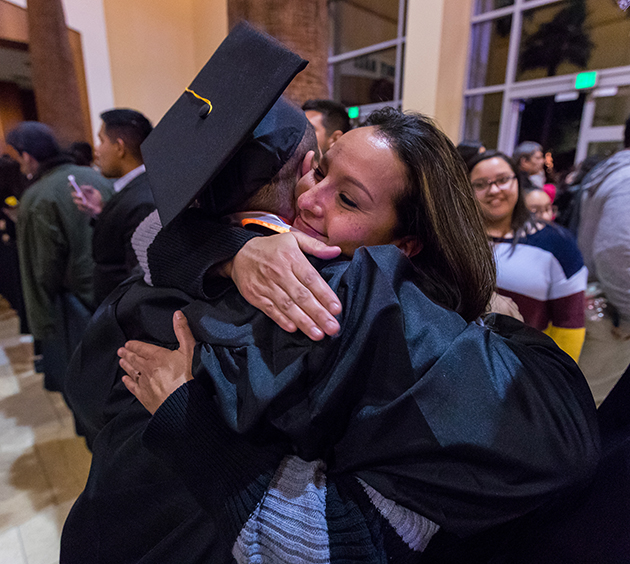 About 2,700 UTRGV students received their diplomas this weekend, as The University of Texas Rio Grande Valley graduated its latest crop of Vaqueros at the Fall 2017 commencement ceremonies. The first of four ceremonies, shown here, was Friday evening at the McAllen Convention Center. (UTRGV Photos by David Pike)
COMMENCEMENT PHOTO GALLERY
Password: grad (case sensitive) 
By Vicky Brito
RIO GRANDE VALLEY, TEXAS – DEC.  15, 2017 – Almost 2,700 students received their diplomas this weekend, as The University of Texas Rio Grande Valley graduated its latest crop of Vaqueros at the Fall 2017 commencement.
The first of four ceremonies was held Friday evening at the McAllen Convention Center. Originally scheduled to be celebrated outside on the Brownsville Campus Student Union Lawn, the ceremony had to be moved to the indoor McAllen venue because of the extremely inclement weather forecast for Friday evening. The event was pushed back to 7 p.m. to accommodate travel times from Brownsville. 
UTRGV President Guy Bailey told the graduates, family and friends at the ceremony that a university is only as good as its students.
"The whole measure of the success of a university is the success of its students," he said. "We have no measure of success independent of your success."
One of those success stories is Jessica Alanis, 26, from Brownsville. She is a 2009 graduate of Lopez Early College High School, and on Friday received her bachelor's degree in educational technology. She previously had earned an associate degree and has been working in graphic design since then.
The mostly online student applauded UTRGV for offering online courses that enabled her to advance her education while retaining a full-time job as a graphic artist.
"It had been three years since I graduated with an associate degree and I was extremely nervous about going back to school with a full-time job. But I was reassured by my advisers that UTRGV could offer me the opportunity to earn my bachelor's degree online," she said. "For the past two years, the majority of my classes were online and I've been extremely impressed with UTRGV's online program. It inspired me to pursue a career in online education, and I thank UTRGV for having this opportunity available for students like me."
Alanis said one lesson she learned from her undergraduate experience is to not put restrictions on her dreams, including her educational pursuits.
"I hesitated to continue my education for many reasons. One of them was that I felt I was too far behind, seeing that other people my age already had earned their bachelor's degree years before me," Alanis said. "After interacting with students of all ages in my program, I learned that no matter your age, you have a right to pursue your passion."
Alanis plans to continue on to graduate school and pursue a career as an online instructor.
Adriana Gutierrez, 21, is a 2014 graduate from Valley Christian High School in Brownsville. She was highly involved on campus during her time at UTRGV, and was a member of the UTRGV Street Team and the International Student Organization.
She received her Bachelor of Arts in Communication on Friday and reflected fondly on her time spent at UTRGV.
"I am beyond thankful for all the amazing memories I made next to my friends, the guidance of my mentors, and my parents making such a great effort to provide me with the ultimate education," she said. "My college experience was definitely much more gratifying than I could have ever asked for." 
Gutierrez, who is originally from Matamoros, Mexico, plans to apply for an Optional Practical Training visa, which would allow her to work in her field in the United States and gain valuable work experience.
One of her on-campus coworkers, 22-year-old Vicente Martinez, on Friday received his Bachelor of Business Administration in accounting.
Martinez, a 2014 graduate of Brownsville Early College High School, said UTRGV opened his eyes to all the possibilities there are for him in the future.
"My time here has been truly magical," Martinez said. "I had the pleasure to meet so many amazing people in this university that helped me become the person I am today. Even though we might be a small university, there is so much diversity."
Martinez said he hopes to relax and travel as he embarks on the next chapter in his life. But, most importantly, he hopes to find a job and move to San Antonio.
"I plan to leave for four or five years, then come back and help my community with all the knowledge and skills I attained while living in a different city," he explained. "I genuinely want to create a change in this world. I am not sure when it's going to happen or how, but I am going to create change no matter how small or big."
In keeping with UTRGV tradition, the Friday commencement ceremony concluded with the ringing of the University Bell by Martinez and Amanda Castillo, who received her Bachelor of Arts in Communication.
Commencement continued with three Saturday ceremonies at the McAllen Convention Center:
9 a.m. for the Robert C. Vackar College of Business and Entrepreneurship and the College of Health Affairs.
1 p.m. for the College of Engineering and Computer Science, College of Education and P-16 Integration and College of Sciences.
5 p.m. for the College of Fine Arts and College of Liberal Arts.
ABOUT UTRGV
The University of Texas Rio Grande Valley (UTRGV) was created by the Texas Legislature in 2013 as the first major public university of the 21st century in Texas. This transformative initiative provided the opportunity to expand educational opportunities in the Rio Grande Valley, including a new School of Medicine, and made it possible for residents of the region to benefit from the Permanent University Fund – a public endowment contributing support to the University of Texas System and other institutions.
UTRGV has campuses and off-campus research and teaching sites throughout the Rio Grande Valley including in Boca Chica Beach, Brownsville (formerly The University of Texas at Brownsville campus), Edinburg (formerly The University of Texas-Pan American campus), Harlingen, McAllen, Port Isabel, Rio Grande City, and South Padre Island. UTRGV, a comprehensive academic institution, enrolled its first class in the fall of 2015, and the School of Medicine welcomed its first class in the summer of 2016.
MEDIA CONTACTS
Victoria.Brito @UTRGV.edu
UTRGV Informational Writer / 956-882-4330 
Marci.Caltabiano@UTRGV.edu
UTRGV Director of News and Internal Communications / 956-665-2742