Sub Menu Toggle
About 2,700 Vaqueros celebrate major milestone at UTRGV's Fall 2017 Commencement ceremonies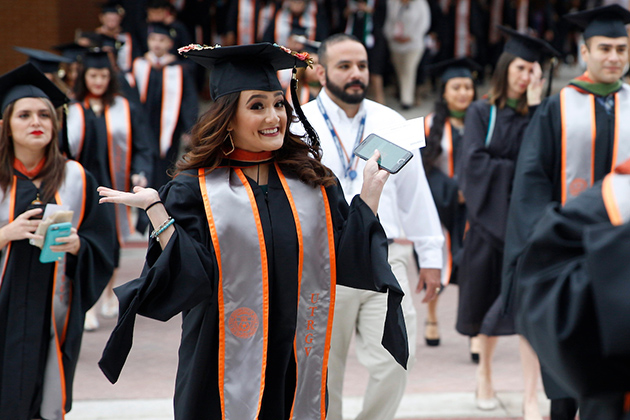 The second day of UTRGV's Fall 2017 commencement was Saturday, Dec. 16, with three ceremonies held at the McAllen Convention Center. Family and friends cheered on the graduates from the UTRGV Edinburg Campus. A ceremony for Brownsville-based UTRGV graduates was held Friday evening. (UTRGV Photos by Paul Chouy)
COMMENCEMENT PHOTO GALLERY
password: commencement  (case sensitive) 
By Melissa Vasquez, Jennifer Berghom and J. Edward Moreno
McALLEN, TEXAS – DEC. 16, 2017 – This holiday season is a little merrier for prospective graduates who participated in the second day of UTRGV's Fall 2017 commencement ceremonies on Saturday, Dec. 16.
Held at the McAllen Convention Center, excited family members and loved ones packed the facility for four ceremonies, cheering on the prospective graduates from the UTRGV Edinburg Campus.
UTRGV President Guy Bailey congratulated the Vaqueros on a milestone that will forever change the course of their lives and that of their families. He said he is awed by the talents and dedication that brought them all to this point in their lives, and asked them to remember to thank those who helped them along the way – faculty, family and friends.
"Always remember as you go forward that you did not do this alone," Bailey said. "This is their degree, as well."
He also told the graduates that, as they commence on this new journey, to always remember to give back to their communities.
"What your life will be defined by is not what you do, but by the impact you have on other people," he said.
GRADUATES SAY OPPORTUNITIES ARE MANY AT UTRGV
Graduates said they are grateful for the experiences they have had as UTRGV students and credit the university with opening so many doors to their desired careers.
Lourdes Melgarejo, 21, who received her Bachelor of Arts in English education with an ESL endorsement, said she is grateful to the faculty members who mentored her. She plans to pay it forward by moving to Philadelphia to teach English to ninth-grade students who are English-language learners.
Melgarejo, who is originally from Laredo but moved to the Sharyland area her freshman year of high school, said she chose to attend UTRGV because of the opportunities the university offered and its proximity to her family's home. Some of the opportunities she values most include volunteering with AmeriCorps to help high school students prepare for college, and participating in Breakthrough Collaborative, a program that provides educational programs in underserved areas and offers training to college students aspiring to become teachers. 
"I would like to say thank you so much to UTRGV, my professors, and everyone who was able to form a community at UTRGV. If it weren't for them, I wouldn't be graduating with honors and going on to inspire others, just as they have inspired me," Melgarejo said. 
Bryan Ramos, 28, who received his Bachelor of Arts in Mass Communication, said UTRGV provided him with opportunities to jump-start his career.
"I got involved on campus by working for The Rider, the UTRGV student newspaper, which gave me amazing opportunities to meet different students and staff," said Ramos, who served as the newspaper's sports editor. "UTRGV has been wonderful in the classroom and everything I could ask for in a university."
Ramos, who is from Edinburg, said he chose to major in mass communication because he enjoys telling stories and believes broadcast and print journalism was the right route for him. In addition to working at The Rider, Ramos has also done freelance writing for local publications. He plans to continue freelancing while he searches for a full-time job as a sports journalist.
ENJOY YOUR SUCCESS
Fall graduation celebrations had kicked off Friday evening with about 600 prospective graduates from the UTRGV Brownsville Campus, who walked the stage at the McAllen Convention Center. Traditionally scheduled to be held outdoors on Friday evening on the Brownsville Campus Student Union Lawn, commencement for Brownsville-based students had to be moved to the indoor McAllen venue because of inclement weather forecasts for Friday evening.
A total of 2,693 prospective graduates walked during all four ceremonies.
Before concluding the joyful ceremonies, Dr. Patricia Alvarez McHatton, UTRGV interim provost and vice president for Academic Affairs, shared a few words of encouragement with the new university alumni.
"Graduates, while you may think you reached the end of your journey, in reality, this is simply a layover as you explore new beginnings and consider what the next chapter in your life will be," McHatton said.
"Enjoy every moment as you move forward. Relish your mistakes, as those are where you will learn the most. And celebrate your successes, big and small."
ABOUT UTRGV
The University of Texas Rio Grande Valley (UTRGV) was created by the Texas Legislature in 2013 as the first major public university of the 21st century in Texas. This transformative initiative provided the opportunity to expand educational opportunities in the Rio Grande Valley, including a new School of Medicine, and made it possible for residents of the region to benefit from the Permanent University Fund – a public endowment contributing support to the University of Texas System and other institutions.
UTRGV has campuses and off-campus research and teaching sites throughout the Rio Grande Valley including in Boca Chica Beach, Brownsville (formerly The University of Texas at Brownsville campus), Edinburg (formerly The University of Texas-Pan American campus), Harlingen, McAllen, Port Isabel, Rio Grande City, and South Padre Island. UTRGV, a comprehensive academic institution, enrolled its first class in the fall of 2015, and the School of Medicine welcomed its first class in the summer of 2016.
MEDIA CONTACTS
Jennifer.Berghom@UTRGV.edu
UTRGV Senior Writer / 956-665-7192 
Marci.Caltabiano@UTRGV.edu
UTRGV Director of News and Internal Communications / 956-665-2742