Sub Menu Toggle
Legendary bassist Eddie Gomez and his Jazz Trio to open Patron of the Arts Season at UTRGV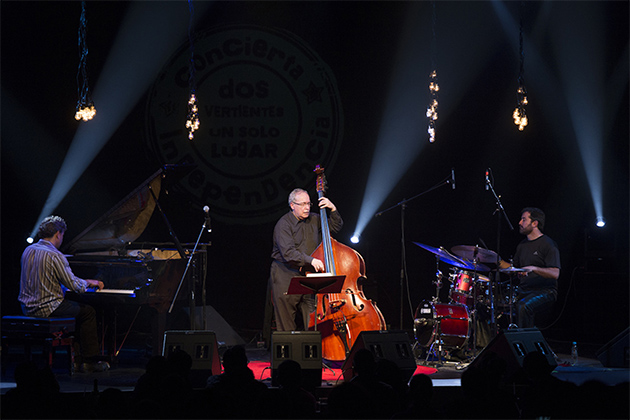 EDINBURG, TEXAS – AUG. 31, 2017 – The Performing Arts Complex on the Edinburg Campus will be filled with the sounds of legendary bassist and two-time Grammy award winner Eddie Gomez and his Jazz Trio, 7 p.m. Monday, Sept. 11.
Gomez will open the 2017-2018 Patron of the Arts season, which promises a great lineup of distinguished guest artists, faculty and student concerts scheduled throughout the year at venues in Edinburg and Brownsville.
"Eddie's unique sound and style can be heard on hundreds of recordings spanning the worlds of jazz, classical, Latin jazz, rhythm & blues, popular and contemporary music, said Dr. Dahlia Guerra, Assistant Vice President for Public Art. "We are thrilled that he will be here to launch our season."
Patron of the Arts is the performance and membership series of the UTRGV School of Music and has provided Valley residents and visitors excellent artistic programs for more than 30 years. Patron members enjoy season passes to events in Brownsville at the TSC Arts Center and at the PAC on the UTRGV Edinburg Campus.
The UTRGV Office of Public Art and the College of Fine Arts enrich UTRGV and Rio Grande Valley communities with culture through the arts.  Under Guerra's direction, the Office of Public Art and the School of Music has brought national and world-renowned performances and productions to UTRGV and the community.
Gomez's concert is open to the general public. Tickets are general admission: $15, $10 for seniors, and $5 for students.
For tickets, visit http://patron.utrgv.edu or call (956) 665-3881 or (956) 882-7025.
For a schedule of events, go to http://patron.utrgv.edu/ 
MEDIA CONTACTS
Letty.Fernandez@utrgv.edu
UTRGV Community Relations Liaison / (956) 882-6535 
Marci.Caltabiano@UTRGV.edu
UTRGV Director of News and Internal Communications / 956-665-2742