Sub Menu Toggle
UTRGV celebrates successful year with two Convocation ceremonies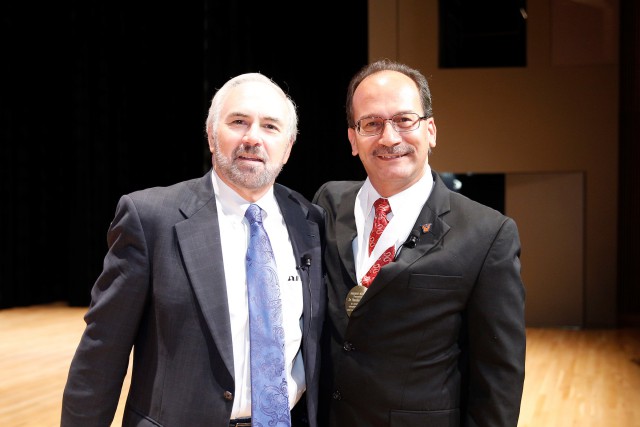 UTRGV President Guy Bailey and Dr. Havidán Rodríguez, provost and executive vice president for Academic Affairs, pose after the first of two 2017 Fall Convocations. Bailey presented Rodríguez, who is leaving to accept a position as president of University at Albany in New York, with a UTRGV Presidential Medallion to commemorate his time at UTRGV. (UTRGV Photo by Paul Chouy)
RIO GRANDE VALLEY, TEXAS – AUG. 22, 2017 – The UTRGV Division of Academic Affairs celebrated the accomplishments of its faculty, students and staff during two 2017 Fall Convocations, held Monday, Aug. 21, on the Edinburg Campus, and Tuesday, Aug. 22, in Brownsville.
Convocation celebrates the accomplishments of the past year, including grants and awards for faculty and students, new academic programs, gifts from donors and services to better serve students.
This year's Convocation was bittersweet, as it marked the final event for Dr. Havidán Rodríguez, UTRGV provost & executive vice president for Academic Affairs, who has accepted a position as the 20th president of the University at Albany in New York, effective mid-September.
Dr. Patricia McHatton, dean of the UTRGV College of Education and P-16 Integration, is serving as interim provost and vice president for Academic Affairs.
At the Convocation, UTRGV President Guy Bailey awarded Rodríguez, who served as president ad interim of UTPA during its final year, a gold UTRGV Presidential Medallion.
PHOTO GALLERY – Brownsville Convocation: https://utrgv-umc.photoshelter.com/galleries/C0000OxOMyzQL3z4/G0000edgHlgCvuOU/20170822-Faculty-Convocation-BC-DP
PHOTO GALLERY – Edinburg Convocation: https://utrgv-umc.photoshelter.com/galleries/C0000OxOMyzQL3z4/G0000p_gUw5QNRng/20170821-Faculty-Convocation-EC-PC
PASSWORD – Both Galleries: convocation (case sensitive)
MEDIA CONTACT

Marci.Caltabiano@UTRGV.edu 
UTRGV Director of News and Internal Communications / 956-665-2742