Sub Menu Toggle
Watch party: Hundreds gather at UTRGV to witness solar eclipse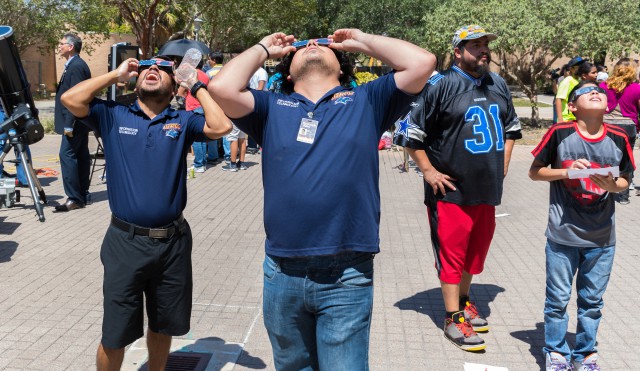 Members of The University of Texas Rio Grande Valley community gathered on the Edinburg Campus on Monday, Aug. 21, 2017, along with families with small children, Boy Scouts, soccer players and others, to watch the historic total solar eclipse. The total eclipse is when the New Moon passes between the Earth and the Sun and casts its shadow on Earth, appearing to block out the sun. In Edinburg, only about 50 percent of the sun was blocked out at its peak hour, with totality experienced in other parts of the country. (UTRGV Photo by David Pike)
SOLAR ECLIPSE PHOTO GALLERY: https://utrgv-umc.photoshelter.com/galleries/C0000CGaoQZCiNqs/G0000wFxwPdOfF2c/20170821-Eclipse-EC-DP
By J. Edward Moreno
EDINBURG, TEXAS – AUG. 21, 2017 – More than 400 people gathered at the UTRGV Edinburg Campus Learning Center on Monday afternoon to bear witness to the much-anticipated solar eclipse.
Though South Texas only experienced seeing the moon cover about 50 percent of the sun at its peak hour, many people from around the Valley came to share in the historic event.
Juan Meza, an Edinburg resident, had waited outside of the Learning Center since 9 a.m. to get free solar eclipse viewing glasses, courtesy of the Society of Physics Students. It was his first time ever to see a solar eclipse.
"I've never seen a solar eclipse before, and what better way to see it than at a university, around people who know what they're talking about," Meza said.
The viewing event was organized by the Society of Physics students, who provided 100 viewing glasses. The glasses are crucial, as it is dangerous to look directly at the eclipse without proper eyewear. Another 200 glasses were donated by faculty in the UTRGV Physics department, and 40 were donated by the Astronomy department. With a total of 340 free glasses, many attendees shared with those around them.
Danielle Valdez, a physics major and president-elect of the Society of Physics Students, said she last saw a solar eclipse in 2009, and was inspired by that experience to organize this event.
"It's something that I feel everyone should experience in their lifetime, and I'm happy that so many people showed up to share in this moment," she said.
The next solar eclipse to be visible in North America is expected to occur in 2024.
MEDIA CONTACTS
J. Edward Moreno
UTRGV Staff Writer / 956-665-3639
Marci Caltabiano-Ponce
UTRGV Director of News and Internal Communications / 956-665-2742