Sub Menu Toggle
Area teachers participate in UTRGV's special workshop, Culturally Relevant Education in Social Studies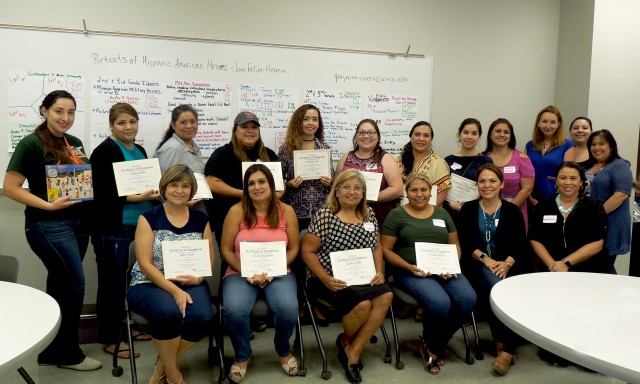 Dual Language K-5 teachers recently participated in a special workshop titled "Project Culturally Relevant Education in Social Studies (CRESS), offered by the UTRGV Center for Bilingual Studies and the UTRGV Center for Mexican American Studies. Shown here are (standing, from left) Lucero Martínez (UTRGV, CBS), Diana Castillo (McAllen ISA), Natalia Alvarado (PSJA ISD), Luz Salinas (PSJA ISD), Socorro Cantú (McAllen ISD), Elizabeth Rivera (Edcouch-Elsa ISD), Erika Peña (McAllen ISD), Adelaida Galindo (McAllen ISD) Lorena Noriega (PSJA ISD), Amy Weimer (UTRGV, associate director of CBS ), Yajaira Rivera (UTRGV, CBS/CMAS), Maritza De La Trinidad (UTRGV, assistant professor of Mexican American History and History). Seated, from left, are Yadira Torres (McAllen ISD), Norma Echnzarreta (McAllen ISD), Juanita Castillo (PSJA ISD), Fernanda Sánchez (PSJA ISD), Joy Esquierdo (UTRGV, Director of Center for Bilingual Studies), and Stephanie Alvarez (UTRGV, associate professor of Mexican American Studies). (Courtesy Photo)
RIO GRANDE VALLEY, TEXAS – AUG. 10, 2017 – The UTRGV Center for Bilingual Studies and the Center for Mexican American Studies recently brought Dual Language K-5 teachers to campus for a special workshop titled "Project Culturally Relevant Education in Social Studies (CRESS).
The workshop, held July 27-28, brought together K-5 Dual Language teachers from Edcouch-Elsa ISD, McAllen ISD and PSJA ISD. It was made possible by a Humanities Texas grant aimed at delivering a series of workshops led by humanities scholars on the integration of Mexican American Studies into a social studies elementary curriculum.
The inspiration for the summer workshop was the result of a joint presentation on Project CRESS by Dr. Joy Esquierdo, associate professor of Bilingual and Literacy Studies, and Dr. Stephanie Alvarez, associate professor of Mexican American Studies and MAS program director, during the RGV Texas Association for Bilingual Education conference in January.
At the conference, Esquierdo and Alvarez presented on the importance of going beyond bilingual and biliterate, to include bicultural in the classroom.
"Language does not happen within a vacuum," Alvarez said. "It is intimately connected to culture and history. If we teach language outside of a socio-historical and cultural context, we are doing so one dimensionally.
"Moreover, we are not tapping into all of our students' tremendous resources that will make them successful. It is when students truly value their culture and know who they are as an individual, a community and a people that we will see them do spectacular things and succeed beyond our imaginations," she said.
Over the two days, the teachers attended the following lectures from UTRGV professors:
Dr. George Díaz, on the history of the emergence of the U.S.-Mexico border.
Dr. Amy Cummins, on culturally relevant children's literature that may be incorporated into a social studies curriculum.
Dr. Maritza De La Trinidad, on Mexican American civil rights, immigration and labor histories.
Chicana poet and Borderlands History Scholar Carolina Monsivais, on the history of the border and its connection to Chicana poetry.
After each lecture, teachers worked to develop lessons appropriate for their grade levels. They not only utilized the content from the presentations in their lessons, but also aligned the information to curriculum standards.
 
"The goal of Project CRESS is to provide opportunities for teachers to work with a Mexican American Studies curriculum and find creative ways to integrate the information into Social Studies lessons for children in their classrooms," Esquierdo said. "After working with these phenomenal teachers, I'm excited about the culturally relevant lessons teachers designed and shared during the workshops. The connection between language, literacy and culture is critical for both teaching and learning, and how that is presented to students is impactful in multiple dimensions."
Erika Peña, a third-grade teacher from McAllen ISD, agreed that cultural relevance is critical to a Mexican American Studies class.
"How could you know where you are going, without knowing where you come from," she said.
Other teachers, like fourth-grade teacher Fernanda Sánchez of PSJA ISD, spoke of the workshop's impact.
"I am in awe," she said. "Thank you for this information. I will treasure it and pass it on to my students. I am motivated to do research and educate myself on my heritage."
School districts and/or principals interested in having a CRESS Workshop should contact Yajaira Rivera at the Center for Bilingual Studies and Center Mexican American Studies at yajaira.rivera@utrgv.edu.
ABOUT UTRGV
The University of Texas Rio Grande Valley (UTRGV) was created by the Texas Legislature in 2013 as the first major public university of the 21st century in Texas. This transformative initiative provided the opportunity to expand educational opportunities in the Rio Grande Valley, including a new School of Medicine, and made it possible for residents of the region to benefit from the Permanent University Fund – a public endowment contributing support to the University of Texas System and other institutions.
UTRGV has campuses and off-campus research and teaching sites throughout the Rio Grande Valley including in Boca Chica Beach, Brownsville (formerly The University of Texas at Brownsville campus), Edinburg (formerly The University of Texas-Pan American campus), Harlingen, McAllen, Port Isabel, Rio Grande City, and South Padre Island. UTRGV, a comprehensive academic institution, enrolled its first class in the fall of 2015, and the School of Medicine welcomed its first class in the summer of 2016.
MEDIA CONTACTS
 
Marci.Caltabiano@UTRGV.edu 
UTRGV Director of News and Internal Communications / 956-665-2742